In this third entry in our Rivals of Humorama Series, we're going to start a sub-series featuring the four Wolf Books as they were known: Nifty, Pack O' Fun, Wham!, and Zip! (see the top row of covers above). We don't have the exact dates for this line of digests, published by Dearfield, but they do appear to have been running during the 50's at the same time Humorama was apparently selling very well. Unlike Humorama, they consisted only of cartoons and had no pin-up photos. Another difference is that some of them were in color, although most were black & white. Third and most interesting, each one had its own "mascot," a character who would star in about 20 cartoons each issue. The mascots are shown below:

The Wolf Book Mascots, Nick, Zippy, Packy, and Tessie.
In some ways, the most interesting of the four was Touring Tessie who starred in Wham!, and we'll begin with it and with her. She was the only one of the mascots whose name was not alliterative with respect to her title, that is, whose name did not begin with the same consonant as the digest's name, the others being Nifty Nick, Zippy Zip, and Packy Phunn (Pack O' Fun). Why they didn't name her "Wendy Wham" or "Wilma Wham" we can't say. She was also the only female, and as she got around (possibly in more ways than one) while touring different locations, we would hope that she just might have gotten herself turned over someone's knee a few times. Unfortunately up to the present time we have found nothing closer to a Tessie spanking than a painful shot in her behind, which we'll see somewhere in due course. But there were two semi-spankings in Wham! and we'll take a look at the first of them now.
Artist unsigned but may be Gerald Green. From the September 1957 issue of WHAM!. Posted by the Web-Ed on 3/18/2016 (Click to double-size).
Tessie doesn't appear in this cartoon, which was part of a mini-series of its own in the September 1957 issue of WHAM!. The running plot involving Russian spies (this was of course during the Cold War) is so silly we don't think it necessary to reproduce the other cartoons, but in this one Boris greets Olga by smacking her rear end! Olga doesn't seem to mind, but strangely Boris doesn't look much like he's enjoying himself. That was one of the many problems with communists - no sense of enjoyment in life.
Of course this is not a first-rate spanking cartoon by any means: no OTK position, the bending-over position is just so-so, and the situation is neither particularly interesting nor funny. By comparison the "spankers" over at Humorama were just hitting their stride: better artwork than before, regular use of the OTK position, better gags, etc. Still, here it is, perhaps only because Wolf was Humorama's rival and was striving, in a small way, to emulate its success. It does at least have a few "stinging effect" lines around Olga's bottom.
The art is unsigned but we think it's Gerald Green, one of Wolf's mainstays and in fact the designer/artist of Nifty Nick. He also sold to Humorama, but not very often. One of Green's unfortunate problems is that he draws the female behind rather poorly, round and oversized, although it's not as bad here as it is when he tries to show the character really bending over. We'll see a few examples of that probably over on the CSR Forum as we go along, so stay tuned!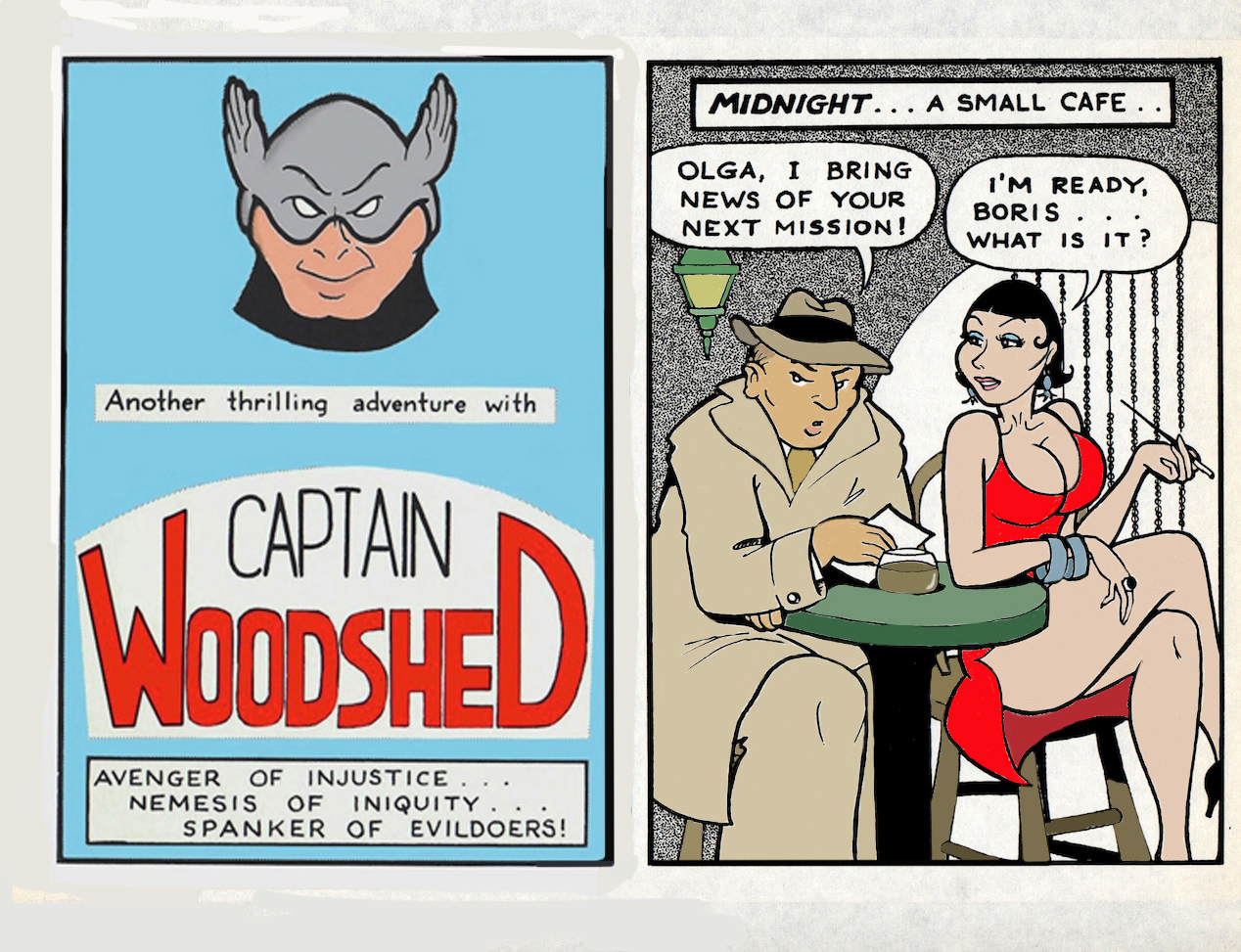 Captain Woodshed and the Spies (click to double-size). © Dan Rivera.
It was almost time to "go to press" with this page when something about Boris and Olga finally registered deep in the musty, frightening corridors of our mind: surely CSR Resident Artist Dan Rivera had done a Captain Woodshed adventure involving spies and spanking some time ago? And when we checked, there it was: Captain Woodshed and the Spies! Even more amazingly, the spies are named Boris and Olga! We don't think there's a word for "anticipating something that unbeknownst to you had an antecedent decades earlier" but there should be. This is in fact the second time Dan has managed to do this - perhaps it just goes to show how completely he's absorbed the culture of that era.
This adventure is not currently available on Dan's Gallery over on the Forum, or here on the main site, but perhaps that will change in the future.