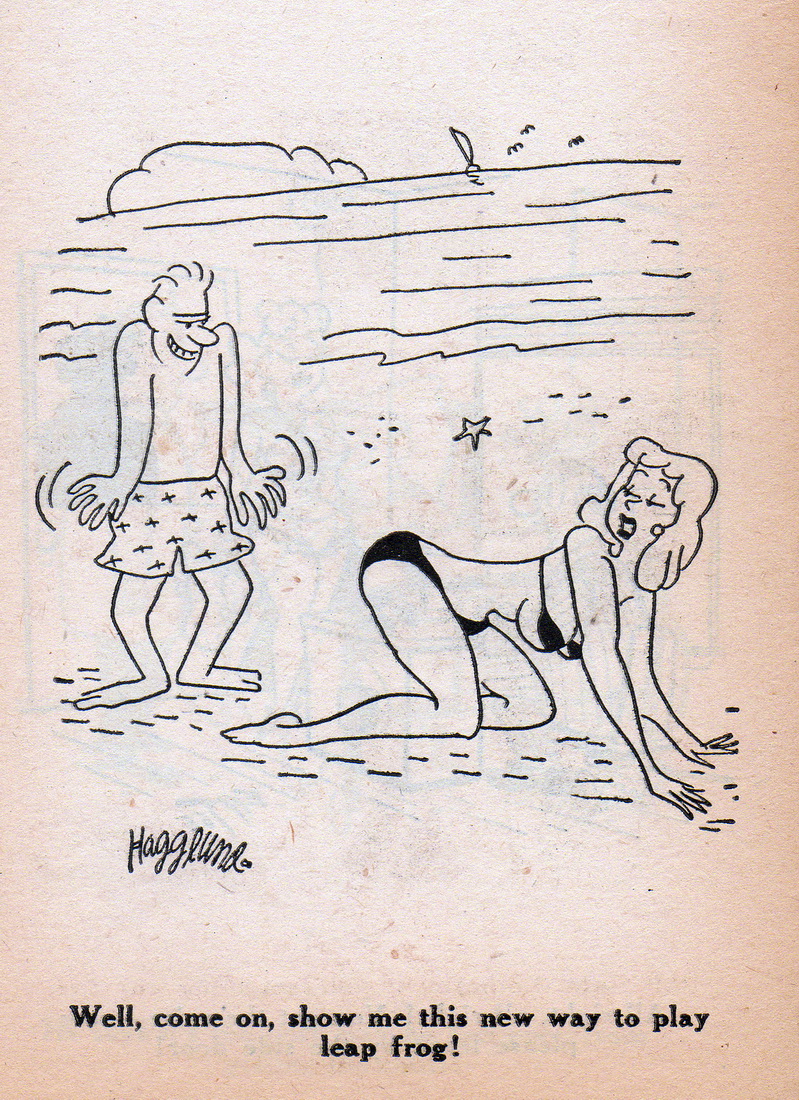 Art by Irv Hagglund. From an unknown issue of Showgirls. Posted by the Web-Ed on 3/11/2016 (Click to double-size).
How do you sneakily get a woman into spanking position so you can give her a good swat? That was the question that must have inspired Irv Hagglund to come up with this answer: pretend you're playing leap-frog! Possibly this answer may be considered unlikely, but it works for us. Anyway, choosing the beach is a good setting as it assures that the spankee will be wearing only a bikini offering minimal protection, and once on her hands and knees will be in a rather vulnerable position.
Strangely, considering he thought of all that, Hagglund didn't really position our bikini-girl here too carefully: her back is properly arched, but her thighs should be vertical, which would swing her buttocks up into good position. Our sneaky spanker is obviously trying to conceal his intention, but his shaking hands (is he ambidextrous and trying to decide which hand to spank with?), sly grin, and line of sight pointing right at her derriere are dead giveaways.
This kind of gag has been seen before in this gallery as it's yet another variation of the old "Bend over, get a swat" routine from burlesque (e.g. Bill Ward's Touch the Floor for a Big Surprise). We may not have mentioned it before, but there is a variety of practical joke called "The Snare" that sometimes appears in the hazing ceremonies of fraternal organizations and employs this type of gag. Basically the initiate is lured into some type of situation in which he or she is suddenly put into position to get spanked or paddled, which is basically what we have here.
The artist, Irv Hagglund, actually had a comic strip for several years called Henry Henpeck and often contributed to men's humor magazines, including Humorama and its rivals. This cartoon is from an issue of Showgirls that came into our possession without a cover or indicia, thus we have no idea what the year was. No OTK positioning, but then this might be before the first OTK humor cartoons appeared in 1955. Probably it dates from the mid to late 1950's.