The Wolf Book Mascots, Nick, Zippy, Packy, and Tessie.
In the second entry of our Wolf Book sub-series, we turn next to Nifty and its mascot Nifty Nick. Looking at their portraits side by side above (Nick was designed by Gerald Green while Zippy was designed by sometime Humorama contributor J. Oakes), Nick looks like an older, seedier version of Zippy: you can picture Zippy trying to use his gift of gab to get some girl "unzipped," so to speak, but with Nifty Nick you can add to that probable mob connections! Nick does not figure into the two spanking scenes from Nifty, strange as that seems. Let's take a look at the first one now.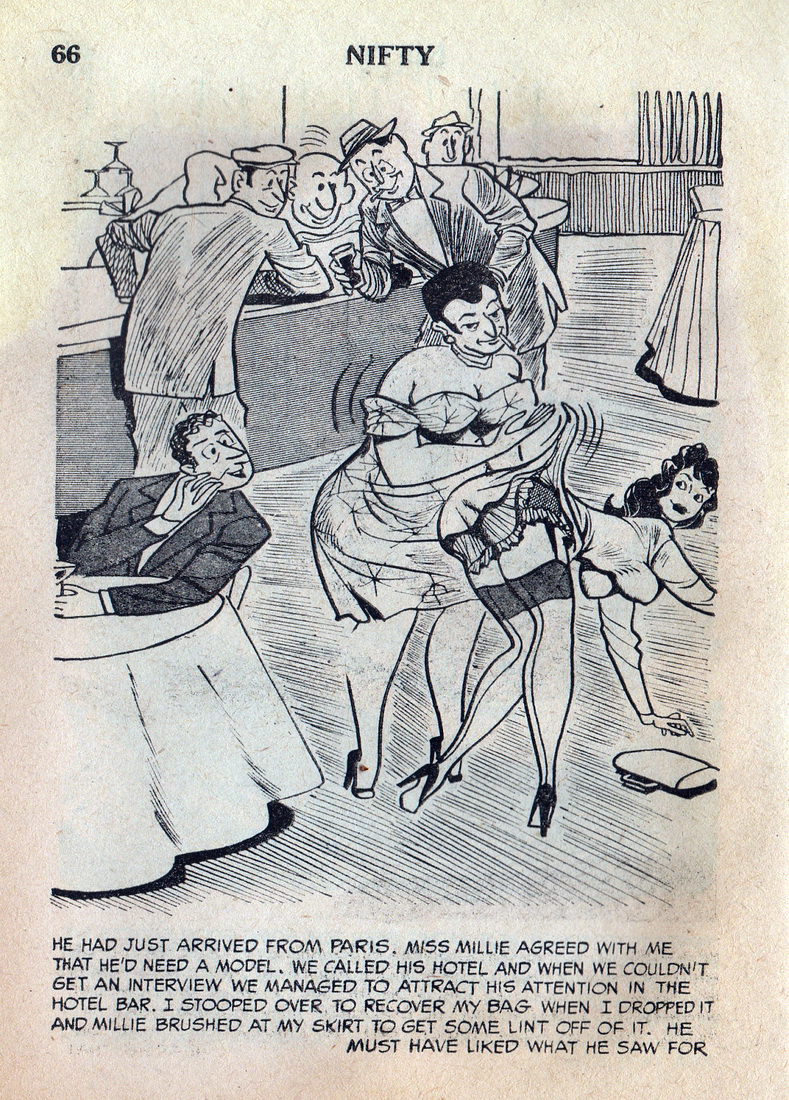 Artist unsigned but is thought to be Gerald Green. From the February 1958 issue of NIFTY. Posted by the Web-Ed on 3/25/2016 (Click to double-size).
As we explained last time, one of the things that made the Wolf Books different from Humorama is that they customarily had multi-cartoon mini-series in addition to regular one-panel gag cartoons. Usually the mascot starred in such a mini-series at the beginning of the digest, but just as Tessie was absent last time, so too Nifty Nick is nowhere to be seen in this silly little story, which reads as though it were written by a tired author toiling late at night - and perhaps it was. A French model, being managed(?) by Miss Millie, tries to get an important man's attention in a hotel bar by dropping her purse and bending over to pick it up. This action did indeed get the man's attention as it did the four others at the bar, and 5 Frenchmen can't be wrong! Millie helps by giving the model a swat on the pretense of removing some lint from her skirt, thus providing the gentlemen present with an act that looks like it came out of Burlesque. (We also touched upon the old "Bend over, get a swat" gag from Burlesque last time).
This is probably one of Gerald Green's best efforts, for we believe him to be the artist. He draws the bending-over model reasonably well here - take it from us when we say that we've seen many other of his bending-over positions and they're generally not this good. The model has a nice grin on her face, proving she doesn't mind getting the occasional swat now and then. The bar patrons aren't bad, looking something like Bo Brown's comedic characters but not quite as good. Miss Millie is perhaps just a little too butch, but at least she gives an effective swat.
Overall, this is an o.k. effort, but way behind (ahem!) where Humorama was at this point, with The Big Six having fully developed their advanced techniques with the ink wash and conte crayon, and generally employing the OTK position in their spanking cartoons.