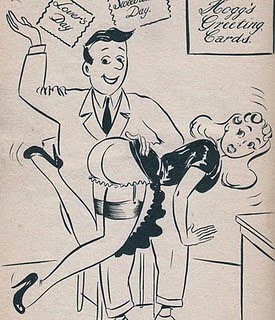 Spanking Day at the Greeting Card firm? No caption available, but we still like this Morrice cartoon because of the good OTK positioning and the pretty spankee with well-drawn cami-knickers and a worried expression. (Click to go to the detail page).
3. GEORGE MORRICE (? - ?)
Gags: Some of Morrice's gags seem to be variations on themes originated by the Five (marriage counsellor, cop spanks scofflaw) while others seem more distinctly British (maid spanks her miss, butler spanks mistress). A few of them, like the wife asking her husband to cane her before he looks at the car she smashed up, may be original. Perhaps these were the early efforts, and he later tried to be more like the Five, who between them sold so many cartoons to Abe Goodman. The execution is always at least adequate. All Morrice's spankings are disciplinary with, of course, humorous overtones.
Women: They are generally young and pretty, but not exaggerated. The lower legs are often a little long, just like Homer's. Perhaps their best feature is the typical expression Morrice gives them - they know this is going to hurt, and they're worried about it! Like DeCarlo, Morrice used relatively few lines to convey expression, but his style was completely different. And like Stiles, Morrice sometimes seemed to have trouble drawing the cami-knickers properly, making them look something like a half-slip, but with no panties – yet we don't get a bare bottom either!
Spanker: Runs the gamut from teacher, husband, butler, even the milkman gets a chance! They are typically disciplinary figures who don't seem to have any ulterior, lascivious motives in delivering the spanking as DeCarlo's usually do, but a few of them follow in the footsteps of the DeCarlo men and seem to be having a pretty good time.
Positions: The OTK position is used almost exclusively (one time a wife bends over for her husband's cane).
Implements: Only member of the group to ever employ a slipper or the cane, most of the time the hand is used.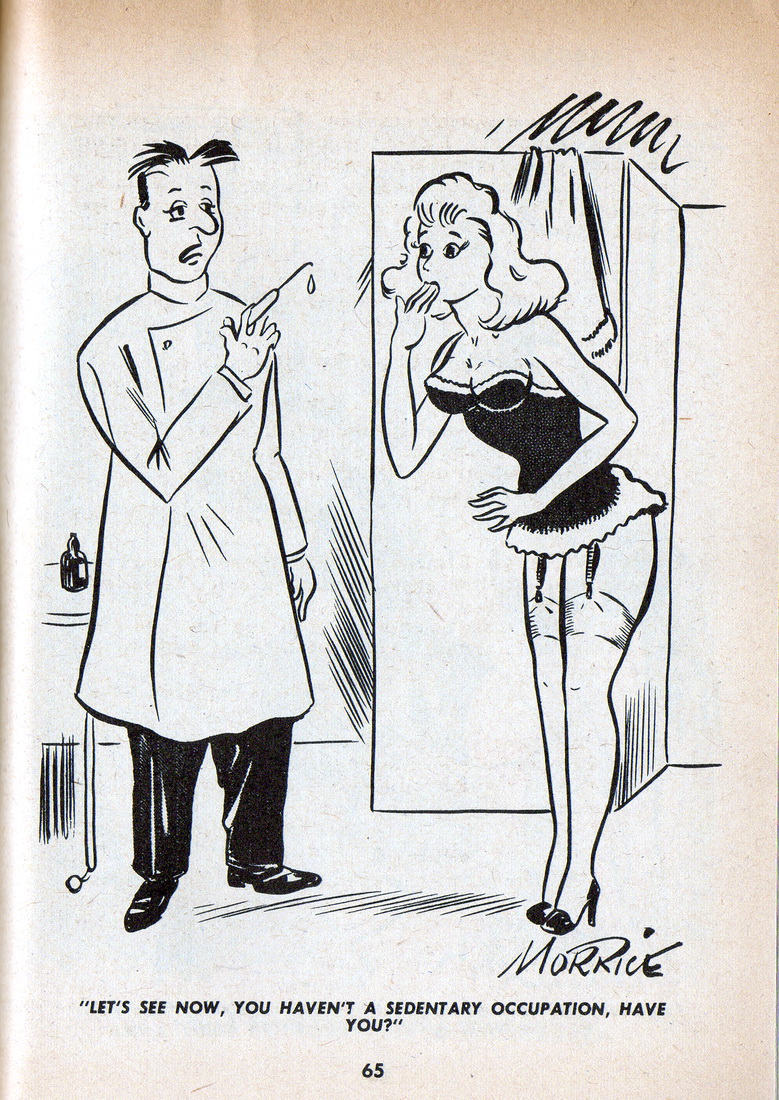 A Morrice non-spanking cartoon, set in the doctor's office, in which a pretty girl is about to receive an injection. As with his "spankers," our delight comes from her discomfiture as she realizes just where she's going to get it. Boy, does she look worried! (Heh-heh!). Click to double-size.
Drawing Style: Very hard to put into words. The critic should be able to come up with something more specific than "old-fashioned" or "British", and yet those are the words that come most readily to mind. His style is rather sparse, making do with relatively few lines, and has an emotional restraint that recalls the Victorian era, or at least what we in America think of when we visualize that era. And yet it does get the job done without excess fuss. Morrice was a decent artist, but without the flash and polish of a Bill Ward or the sheer technique of a Kirk Stiles. His cartoons are very good from the standpoint of humor, and invite comparison with DeCarlo for that and other reasons even though the two men's styles are completely dissimilar.
Eroticism: The simple lines, loose-fitting and occasionally maladroit cami-knickers, and the restraint embodied by the British stiff upper lip sometimes limit the erotic potential of Morrice's cartoons. At other times a cute spankee, tight-fitting cami-knickers, and good OTK position enhance the eroticism.
F/F: Only one example known, Maid Spanks Her Miss. My suspicion is that he tried this having seen Ward's many examples in an attempt to sell more cartoons to Abe Goodman. I don't know too much about the British market for cartoon humor, but it couldn't have been too great or Morrice wouldn't have expended so much effort at Humorama, where his rate could only have been $15 per cartoon at most.
Attitude Toward Spanking: The Overbarrel Theory might suggest an interest in spanking since Morrice drew ordinary-sized bosoms, but because his positioning is not always practical the Hugob00m Hypothesis leads to the opposite conclusion, that he had little personal knowledge or interest in spanking. It's impossible to say with any certainty, but it does seem that the "spanker" made up a large portion of the cartoons Morrice submitted to Goodman. That could have been because he thought that's what Goodman would buy (and if so, he was certainly right!) or it could have been because he really enjoyed doing them. My impression is that the former explanation is correct, for Morrice was going to a lot of trouble to sell to Humorama, sending in his cartoons from overseas.