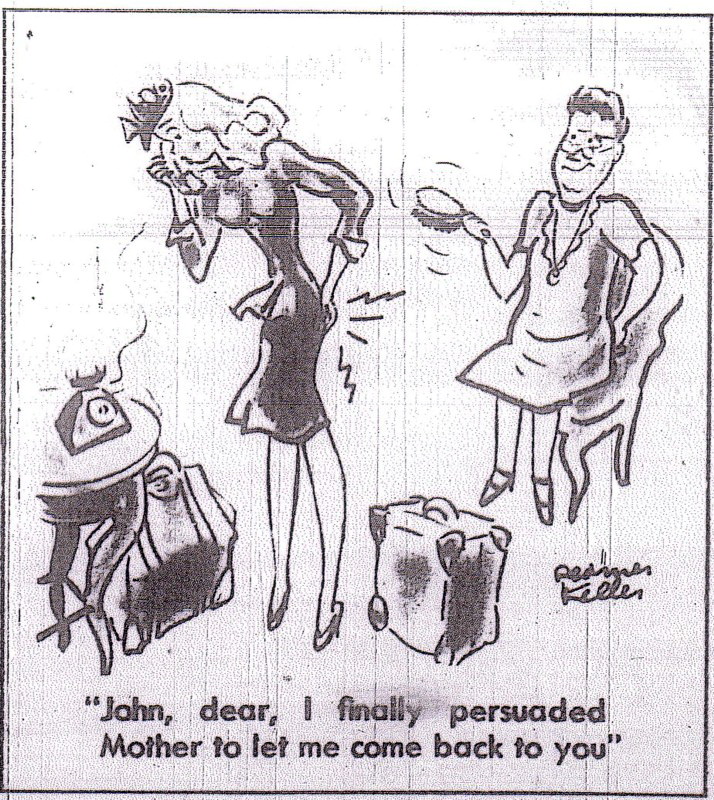 Original source unknown. Art by Reamer Keller. Posted by the Web-Ed on 05/13/2016 (click to double-size).
Maternal spankings were not very common in the Humorama digests, probably because they sacrificed any possible erotic element as well as the usual humorous ones (e.g. boss uses "spelling errors" excuse to turn secretary over his knee because he enjoys spanking her). Only two come to mind: Kirk Stiles' Helpful Mother-in-Law, but even there the wife's mother is only assisting the husband, and a F/M Mother/Son scene from Bill Ward, about which the less said the better (it will not be posted on CSR). Therefore this item, which comes from an unknown source that does not appear to be Humorama, is a little unexpected: a new wife goes home to mother (this is what young brides sometimes threatened to do in the old days), but instead of sympathy she gets a good spanking! In an attempt at face-saving, she tells her husband that she's persuaded her mother, but in truth it was her mother who persuaded her - with a hairbrush!
It's actually a pretty good gag, one of the type in which an adult gets spanked by a parent, but these usually appeared in comics rather than men's humor magazines (for example, Susie Q.). And while we don't know for sure, it is likely that this cartoon first appeared in such a humor magazine, or perhaps even in a periodical of more general interest such as The Saturday Evening Post. Reamer Keller, the artist, contributed to many magazines going back to the 1930's, including the Humorama digests (his Wrist-Watch Spanking there is still his only other known spanking work).
Keller had a sketchy style which was certainly adequate for the caricature sort of cartoon, and which permitted him to be remarkably prolific, producing in some weeks 50 cartoons, but which was less erotic than the more technically difficult and time-consuming ink wash employed by Stiles, Dan DeCarlo, and Bill Wenzel or Ward's conte crayon at Humorama as the 1950's advanced.