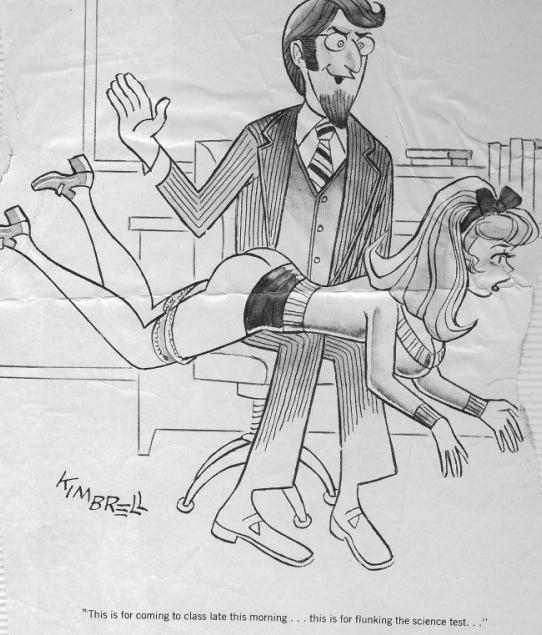 Original source unknown. Art by Woody Kimbrell. Posted by the Web-Ed on 05/20/2016 (click to increase in size).
Woody Kimbrell's career as a cartoonist went back at least to the early 1950's when he worked on the Little Lulu comic strip and also contributed to the Humorama digests. Strangely, he contributed no adult spanking cartoons to Humorama nor anywhere else we know of until he did this one (of course it is possible he drew some spankings in Little Lulu). No record of where it came from exists. Usually, we're careful to record an item's origin in a special notebook or by a descriptive naming of the image file, but in this case we can find no record of where we got it. If someone contributed this a few years ago, just contact us and we'll update this page accordingly.
We suspect that we're stretching the definition of "Humorama Rival" quite a bit in this case as the slick-looking paper suggests a men's magazine like Penthouse rather than a cheap-paper humor digest, but we'll go ahead since this is the type of cartoon that could have appeared in Humorama and did, except for the bared bottom, in George Morrice's After School Spanking, and since Kimbrell contributed to Humorama and probably other humor mags.
The humor isn't bad, being much like the Morrice cartoon referred to above, as long as we remember this "schoolgirl" is an 18-year-old and not some little kid. One is supposed to doubt that OTK spanking has been sanctioned by the school board, as bending over for the paddle is (or was) the norm, but then again, we did once witness the OTK position being used in conjunction with a yardstick, of all things - and in high school! (We've witnessed quite a range of spankings in our life, as long-time CSR readers will remember from many of our past recountings). The OTK position is average and the expressions are very good, with the spankee surprised and the spanker enjoying himself quite a bit. Overall, this cartoon is good enough that we wish Kimbrell had done some others (and if we find any, we certainly won't keep them a secret!).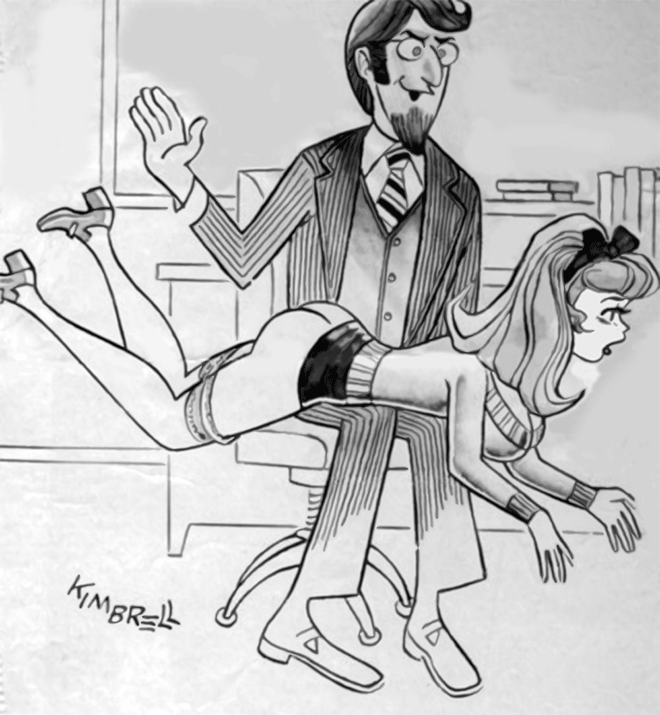 Art by Woody Kimbrell; animator unknown. (click to increase in size).
We found this animated version somewhere - as with the original cartoon we don't remember exactly where. It's a good animation with some nice motion of the target area and we wish we knew whom to credit for it. Some digital alterations to the background strongly suggest that the animator used the same source we did - a scan of the cartoon probably after it was extracted from some magazine.