From the October 1964 issue of Stare (Web-Ed's collection. Click to double-size.) Stare, by the way, was not a good place to find spanking cartoons - the early issues didn't have many cartoons of any type, and the only "spankers" we know about in it only showed up after first being printed somewhere else.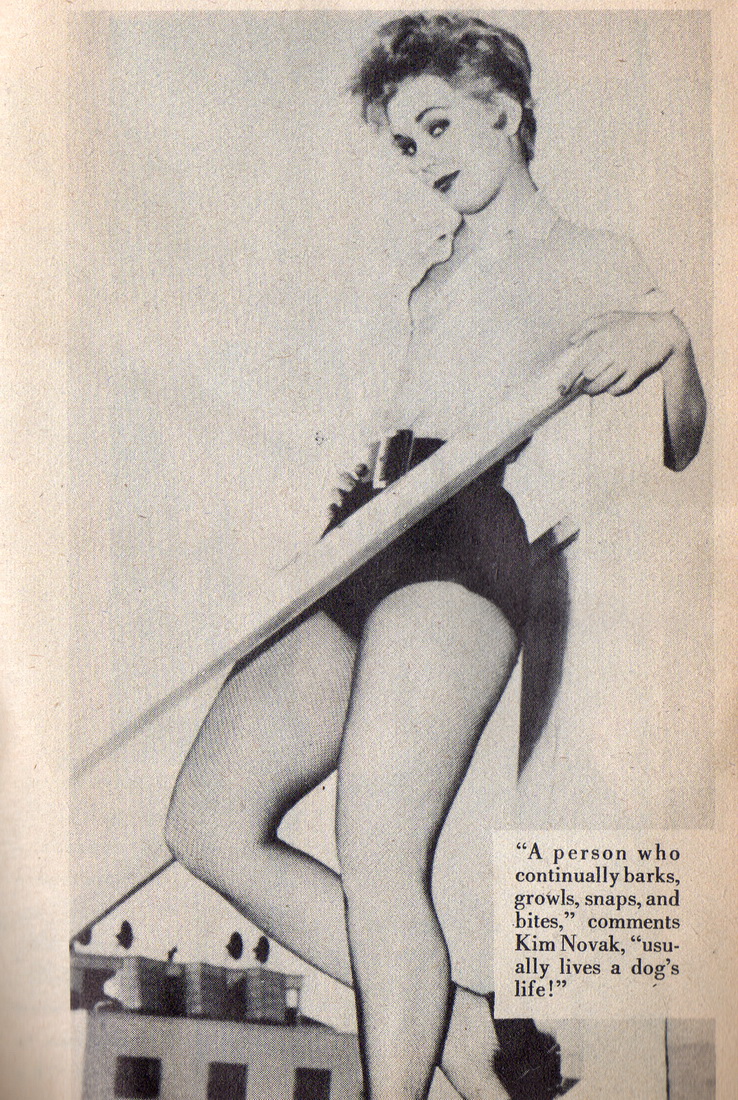 From the October 1954 issue of Stare (Web-Ed's collection. Click to double-size.)
Next, let's take a look at some pin-ups (c'mon guys - force yourselves!). These first two aren't really in spankable position, but to us they do seem just plain spankable. On the far left we have Laya Raki, a German-born actress whose photos occasionally wound up in the pages of Humorama. Now, one common "flaw" that many women have (through no fault of their own) is too-short buttocks, that is, the distance from the top to the bottom of the bottom is disproportionately short. It's like men with too-short biceps - nothing you can do about it. You can certainly spank these women, but it seems to us there's just not as much target area as we'd like. You can see that's one problem Miss Raki didn't have - we can easily imagine fitting a 3-1/2 inch wide paddle right across her seat with ease!
At near left, we have Kim Novak, from exactly ten years earlier in 1954. Now by that time, she had moved from Chicago to L.A. and was just starting to break into pictures there. She ended up with a more successful film career than Laya, but we'd guess the photo we see here dated back two or three years earlier to when she was still modeling in Chicago. Humorama digests featured many good-looking models, including of course Bettie Page, but Novak may very well have been the most beautiful woman ever to appear in its pages. No, she's not in spanking position, so we'll just have to use our imaginations. We certainly have no trouble picturing her as a spankee!