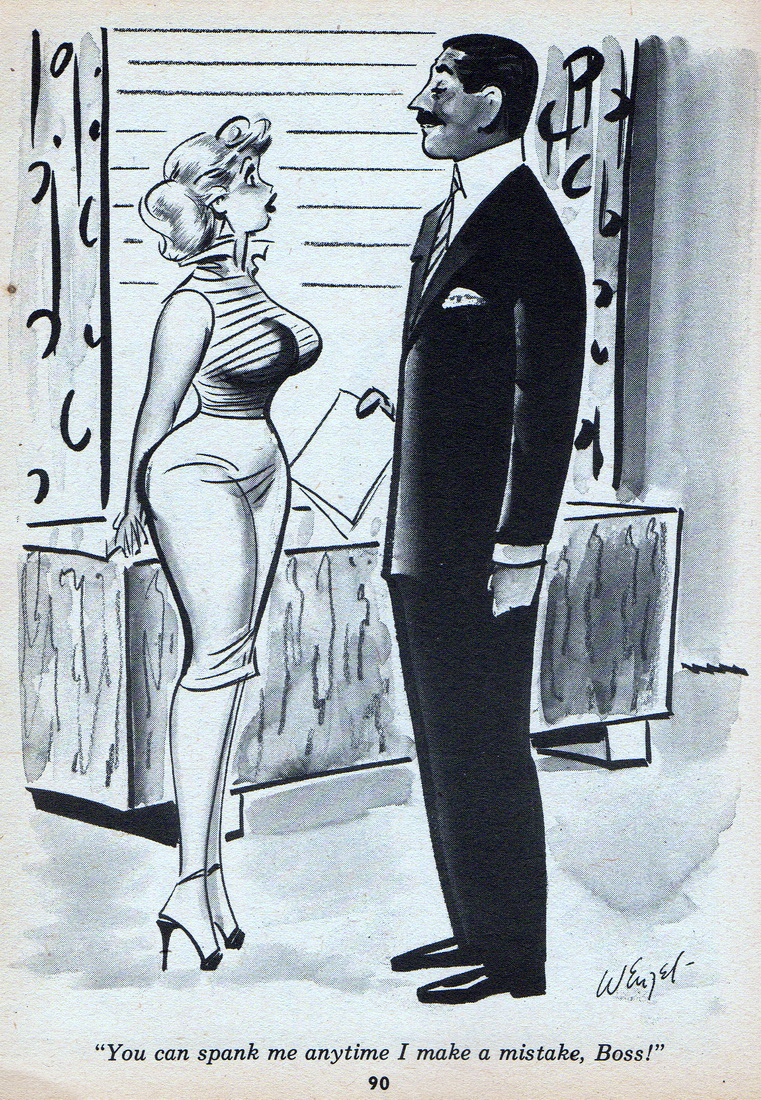 Probably the most durable of all the spanking-themed cartoons were those featuring secretaries getting the OTK treatment. They provided plenty of gag material and a ready supply of pretty girls in a recognizable setting. From the man who invented the form, Bill Wenzel, we have this cartoon in which a secretary isn't actually spanked but makes it clear to her boss that it's absolutely o.k. with her if she is: "You can spank me anytime I make a mistake, boss!" And she's quite spankable, too - Wenzel not only gave her a well-rounded bottom, her posture and expression are completely submissive! For that reason, this cartoon is probably the most erotic one of the group seen here.
We found this one in the April 1970 issue of Laugh Digest, but it had certainly appeared earlier. We'd guess from the style it dates from the late 50's. (Click to double-size.)
[06/07/2013 Update: We later confirmed that this cartoon's first appearance was in the April, 1957 issue of Joker.]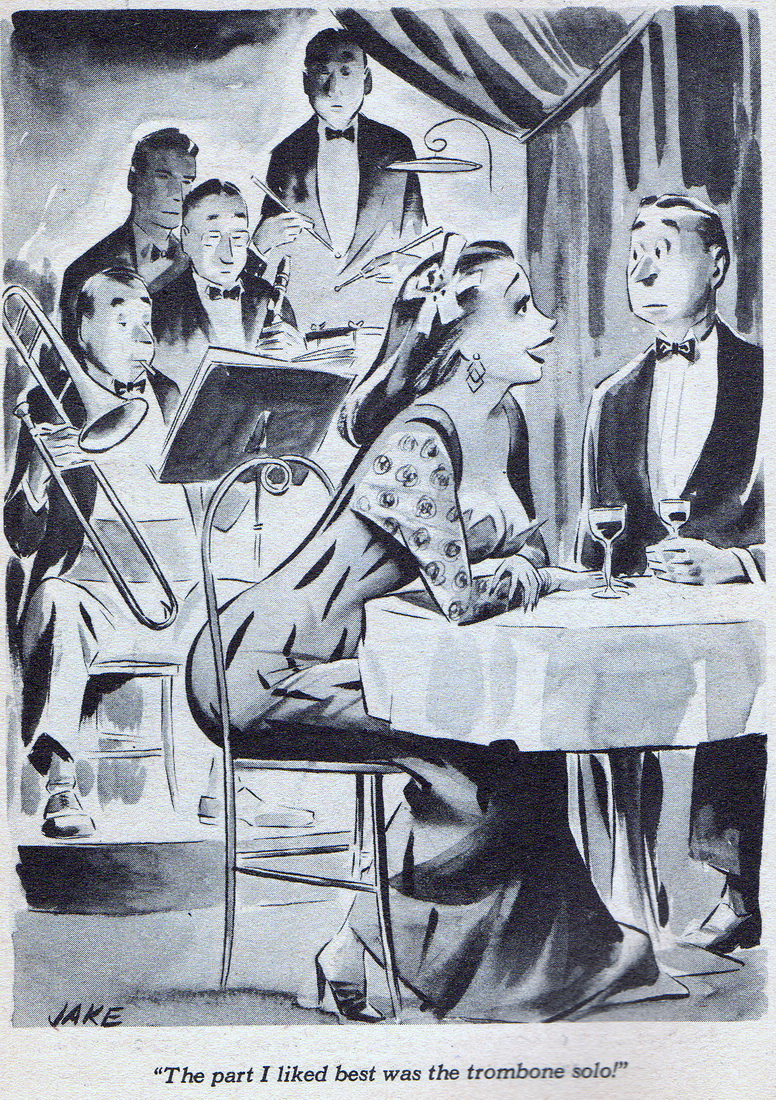 From Breezy (December 1954, Web-Ed's collection. Click to double-size.)
We've written often of the Humorama "Big Five" spanking artists - Bill Ward, Bill Wenzel, Kirk Stiles, Dan DeCarlo, and Homer Provence - but there was another Humorama artist who was more than a match for any of them, and it is a great pity that he didn't do any true "spankers" for a reason we'll explain in a moment - Jack Cole. Cole had worked in comics for years, in fact even doing a couple of spanking scenes in Plastic Man (a character he created, by the way, and one of the all-time great super-heroes - the M/F one may be seen in Police Comics #73). As the comics industry waned in the 1950's, Cole branched out into strips with Betsy and Me and, in a completely different style, cartoons for Humorama (which he signed "JAKE") and Playboy.
Now, Hugh Hefner at Playboy paid a much higher rate than Abe Goodman did at Humorama, and we therefore believe that Cole's work for Humorama took place before he became established at Playboy in 1954 - one year before Wenzel did the first "spanker". The timing is critical because if our theory is correct, it means that Cole left Humorama just before the "spanker" became fashionable, which explains why he never did one. He did, however, do a couple of cartoons in which spanking is mentioned or implied.
In the first of these, seen at left, a woman sitting near a band onstage remarks that the part she "liked best was the trombone solo!" The joke here is that the trombone's slide would be poking her in the behind every time it was extended, and it's a funny one even if this constitutes a very strange form of "spanking". Her escort's expression seems to say, "How am I supposed to deal with this?"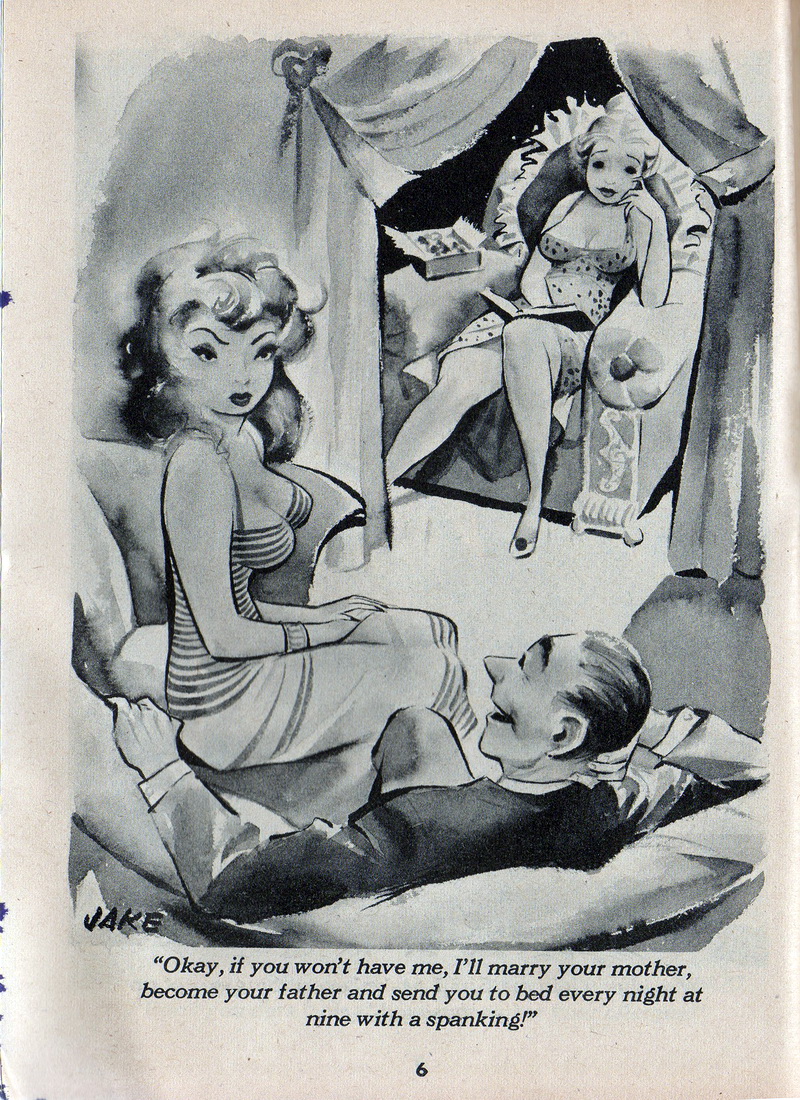 More widely-seen is this one in which a man, apparently not getting anywhere with a pretty young thing, informs her that if she won't have him, he'll "marry your mother, become your father, and send you to bed every night at nine with a spanking!" Non-disciplinary erotic spanking is clearly implied here, even though on the surface he appears to be talking about the paternal variety. She doesn't seem especially receptive to this suggestion, but there's an air of haughtiness about her that suggests to us she genuinely deserves to be taken OTK.
We extracted this one from the July 1961 issue of Romp, but it had certainly first appeared years earlier since Cole was dead by then. (Click to double-size.)
All of this suggests that the subject of erotic spanking was becoming less taboo in a period that probably began in the late 1940's and then accelerated during the 50's when more adventurous magazines like Playboy were featuring first bare bosoms (1953) and then behinds (c. 1957). There were some mentions of spanking before this, for example Robert Harrison's Beauty Parade in 1948 (see Frontier Romances #1 for a short discussion) and even earlier in Hot Stories, the erotic aspects seem rather carefully muted. A thorough inquiry into exactly when erotic spanking could be hinted at more or less openly would require more materials from the 1930's and 40's than we have available to us at the present time.