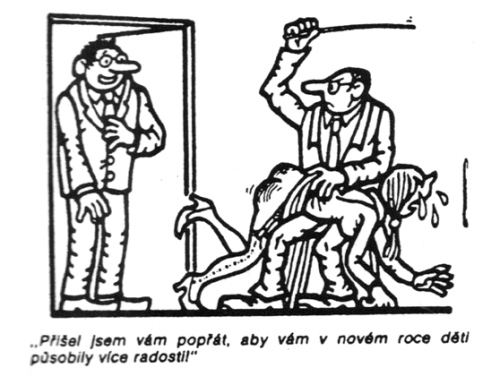 "I've come to wish you, that your kids will bring you more joy in new year!" Art by Neprakta. Originally appeared in the Czech humor magazine Dikobraz, date unknown. Translation by Michal Valášek. Posted by the Web-Ed on 10/11/2013
We begin a series now of six cartoons by the Czech cartoonist Neprakta. These are rare items from the Czech humor magazine Dikobraz provided to us by Tiptopper (and a "tip" of the cap to him for sending them in). We have no idea who Neprakta's influences were; all we can say is that he draws in a "cartoony" as opposed to a realistic style. As we don't speak the language we tried to use a translator to help us with the caption. It appears to be something like "I've come to help you wish the kids a happy New Year!" It doesn't look too happy for the spankee, however - we believe the use of a switch of some kind for spanking is common in Slavic countries.
10/25/2013 Update: Michal has translated the caption for us, and his translation appears below the cartoon. He explains that from the context, the wishing man is probably a neighbor who's annoyed by the cries from the frequent spankings.
Trying to evaluate Neprakta's art is rather difficult, especially since we don't know what kind of constraints he was up against in the Czech Republic (e.g. was he hampered by a shortage of artist's materials that are common in the West?), so we'll hold off on that until next time.