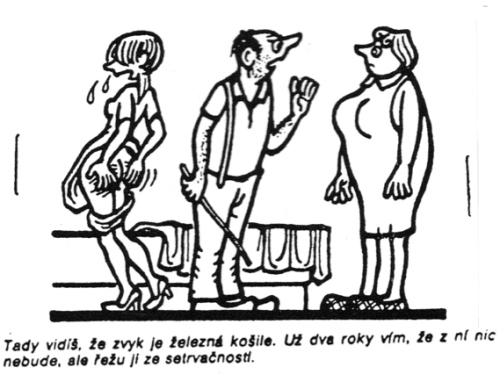 "You see, a habit is a shirt made of iron. I know that she'll be good-for-nothing two years already. But I can't stop caning her." Art by Neprakta. Originally appeared in the Czech humor magazine Dikobraz, date unknown. From the collection of Tiptopper. Translation by Michal Valášek. Posted by the Web-Ed on 10/18/2013.
For the second of six cartoons by the Czech cartoonist Neprakta, we have what is obviously a domestic discipline scene. It appears a father is explaining to his wife why he has given their daughter a switching. Even with a translator, we couldn't render the caption into sensible English; it seems to be something about the daughter's bad habits. [Note: see below for a later update. The translation is correct now.]
There are a number of differences between this and the great Humorama spanking cartoons, for instance the switching is fairly severe, which tends to undercut the humor, and as we noted last time Neprakta draws in a "cartoony" style that is worlds apart from Bill Ward's highly-polished effects. This undercuts the other pole of the spanking cartoon - its eroticism. (Of course, there is no one "correct" style, and had we chosen Reamer Keller's Wrist Watch Spanking to represent the Humorama corpus, we'd have an example not as far in drawing style from Neprakta's.)
Generally, a "cartoony" style must be evaluated by how well it tells a story and captures a personality, since it can't rely on giving pleasure by its sheer beauty. As caricatures, the characters here are drawn pretty effectively, which testifies to the artist's skill, yet we cannot reconcile these three attributes of the cartoon: (1) shorthand caricature drawing style which supports humor over eroticism; (2) severity of the spanking, which then undercuts the humor; (3) The father/daughter pairing, which veers back toward humor and away from eroticism but which isn't enough by itself to make the cartoon really funny.
10/25/2013 Revision: Michal from the Czech Republic provided us a better translation of the caption than our attempt, which ran "See here Zelezna's bad habits - after two years of this, they'll be gone."