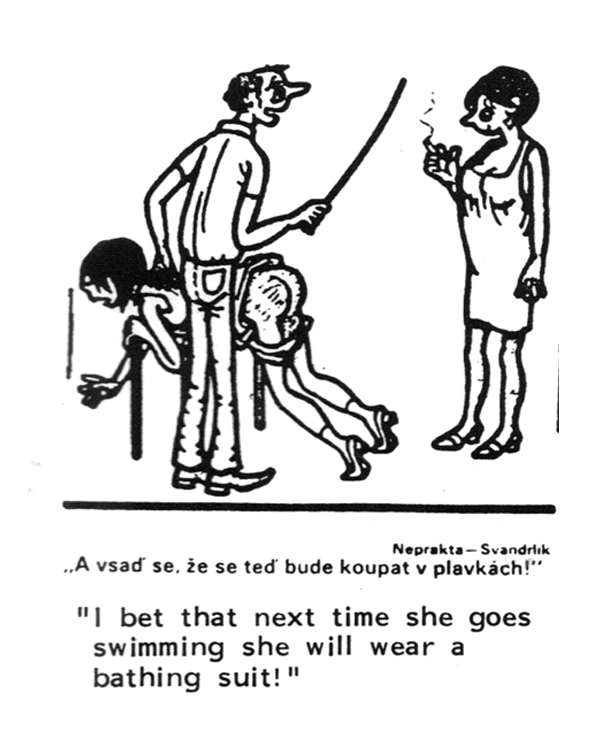 Art by Neprakta. Originally appeared in the Czech humor magazine Dikobraz, date unknown. From the collection of Tiptopper. Posted by the Web-Ed on 11/22/2013.
In the last of the six cartoons by the Czech cartoonist Neprakta supplied to us by Tiptopper we have another domestic scene in which a father canes his daughter for skinny-dipping. The artist employs a somewhat heavy line, so it's unlikely that his drawing loses much through the photostatic reproduction process as did, say, Dan DeCarlo's Humorama work before we got some good-quality scans of it, but what we see is the work of a skillful caricaturist, able to convey meaning with only a few lines. The significant limitation of such a style is that it's never very erotic. Still, since as we have observed elsewhere eroticism and humor stand at opposite poles in a spanking drawing, this style will support humor and with Neprakta it certainly does.
In our previous two installments, we learned from Michal Valášek that Neprakta seemed fascinated by spanking, particularly by the fact that the bottom was routinely bared even though in any other circumstance nudity was strictly frowed upon:
"What I like on Victorian times is the strict upbringing of youth and adult alike. It was forbidden to even just talk about naked human body. But if someone young causes some trouble, they whipped his bare behind. It was unacceptable to show naked body during lovemaking, but in spanking it was just fine."
We would suggest that it is very probably just this kind of revelation, but encountered at an early age, that is responsible for creating the true spanko in the first place. Indeed, in England the Victorians (whom Neprakta referred to indirectly) were troubled rather than fascinated by this very point. It is believed by some that the reason the cane largely replaced the birch in England was that birching was traditionally done on the bare buttocks whereas the cane could be felt through the slacks that boys wore at the time (also through the dresses worn by maidservants).
We'd like to thank Tiptopper, who supplied these rare items to us, and Michal for translating #1-5 and providing us with so much information about the artist. It's possible that Michal will be able to supply us with more of Neprakta's cartoons in the future, in which case this series will resume.