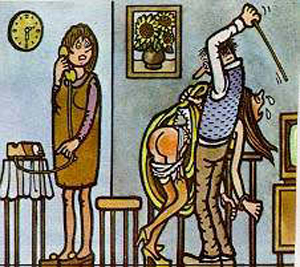 Art by Neprakta. Posted by the Web-Ed on 12/06/2013.
Having recently completed a series of the six cartoons by the Czech cartoonist Neprakta, we realized we had at least one more in our files, probably salvaged from Underground-Animations. The file name was apparently a translation of the original caption and ran thus: "Yes sir, she is already home from the dance. Right now she is thinking about you."
Apparently the father here thought 2:30 A.M. was too late for his daughter to be coming home from her date. This one is quite similar to Neprakta #4 in style and content, not really erotic and with an almost sardonic humor that takes a little getting used to for those of us more accustomed to the lighter humor of Dan DeCarlo and Bill Wenzel, or their modern equivalents like Nik Zula or CSR Resident Artists Dan Rivera, Hugob00m, and Overbarrel. As we have observed before, Neprakta is a very gifted caricaturist who seemed fascinated by spanking, especially the fact that the spankee's bottom was usually bared for the occasion.