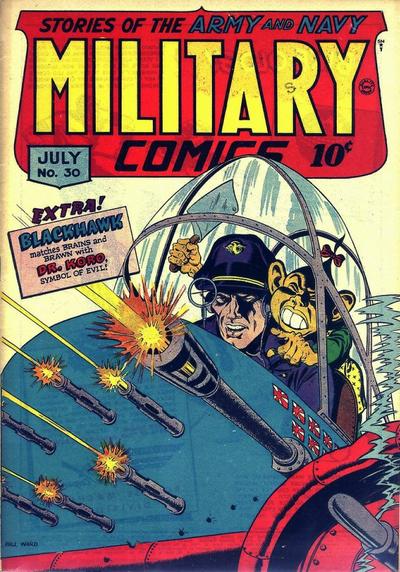 Ward's early comics work on Blackhawk, from Military Comics #30 (July, 1944).
Bill Ward is probably the best-known of the Five to spankos today except possibly for DeCarlo. Like DeCarlo, he started in comics, doing mostly layouts for the Jack Binder shop which had a contract with Fawcett. Later he moved on to Quality where he drew Blackhawk. Upon being drafted into the Army in 1942, he created his own strip, Torchy, which he continued at Quality after the war was over.
Something I'd always wondered about is why Ward left comics to work at Humorama, which paid peanuts. One possibility was that he didn't like pencilling romance books when he wasn't allowed to ink them as well (to save time, pencilling and inking are usually two separate tasks when the assembly-line process is used in comics). Not only did Ward not care for what various inkers did to his work (a lot of other artists feel the same way), he didn't have much time for Torchy any more, and Gill Fox had to do most of her stories. And when Fredric Wertham put Torchy on his "unfit" list, her days were numbered and Ward must have been very angry with Wertham and discouraged about the comics industry.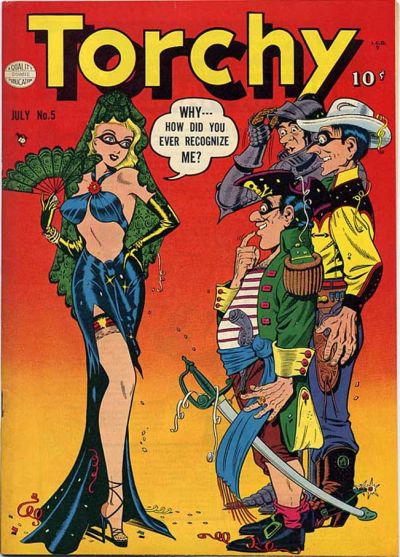 By the time Torchy got her own book, Bill Ward was so busy with Romance comics that he could only find the time do some of her covers and stories. This is one of them, the cover of Torchy #5 (July, 1950). Published by Quality.
Ward made some biographical notes that helped me to complete the picture. First, he had begun selling his cartoons to Goodman at Humorama as far back as 1946, earlier than I had realized. Thus when comic-book sales began going down around '52 – '53 and with them his page rate, he had something to fall back on. Second, I had imagined Ward left comics around that time, but he said that he hung on at Quality until the end in 1956 and didn't look for more work elsewhere because there wasn't any. (For more on this period in comics, see my article The Effects of the Comics Code on Spanking in Comics, Part 1.) Third, Ward had started working for Cracked magazine, the most successful of the many MAD-imitators, as soon as it hit the stands in 1954. It seems, then, that from about 1956 – 1966 Ward made his living from Cracked, turning out an unknown number of pages, and Humorama, where he may have been selling as many as 30 cartoons per month! That would have been $450 right there, plus whatever he made at Cracked (I'll guess it was something like $50 per page for story and art), plus foreign and reprint fees from Humorama (they didn't pay much, but at least they did pay something for reprints, and apparently there was a lot of foreign demand for Ward's work). It may not sound like a lot of money to readers today, but you could support a family on that kind of income in the '50's and '60's.
It's less clear how much money Ward could have brought in during the last thirty years of his life. We know he still produced new work for fetish publications, for we have seen some of his later spanking stuff here at CSR, but the rates they paid could not have been high. On the other hand, Ward had a lot of fans by then and is known to have been selling his original art (we saw an ad in Fetish Times, a very weird paper to which he contributed). Until 1983, he would also still have been getting some domestic and foreign reprint fees from Humorama, so perhaps the combined income from these three sources was sufficient.