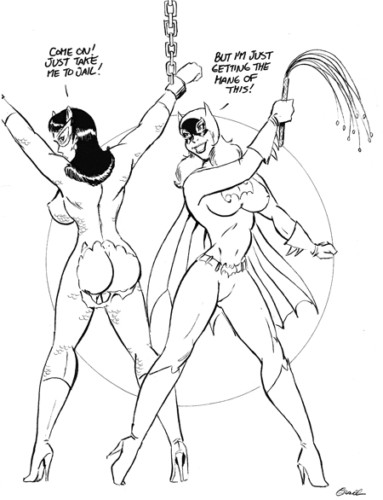 Artist unknown. Characters © DC Comics Inc. (Click to increase in size)
We've remarked on Batgirl's submissiveness before, thus she makes a less-than-ideal spanker. Still, there's a logic to having the heroes spank the (female) villains, so it makes some sense for Batgirl to spank Batman's old nemesis Catwoman. The implement here is Catwoman's own weapon, the Cat O' Nine Tails, which in the 60's was seldom shown in use, no doubt for fear of seeming too kinky in the Code era. (We'll explain why we mention the 60's in a moment; as for the Comics Code Authority, you can read all about it here.) Now the "cat" was traditionally applied to the back, but of course the bare buttocks are to be much preferred, and Batgirl apparently agrees as she's torn out the seat of Catwoman's costume - mighty embarrassing for Catwoman when she's taken to the desk sergeant at the local precinct for booking! And that can't happen too soon for Catwoman, who's imploring Batgirl, "Come on - just take me to jail!"
O.K., now back to the 60's - Catwoman has worn many costumes since her debut way back in 1940 (in Batman #1, as a matter of fact), and this is the one she wore during that decade. It is similar to the one designed for Julie Newmar in the Batman TV series. The artist here must have wanted to suggest that decade, which is also when the second Batgirl (Barbara Gordon, the one pictured here) first appeared. (And don't worry if you don't remember what the first Batgirl looked like, since we'll see her warming Catwoman's seat next week). Speaking of the artist, we wish we knew who he was, for he draws both characters quite sexily and gives Catwoman a nice spankable bottom, but we can't make out his signature. We would of course prefer a different position, such as OTK, and a different implement, such as a paddle, but this is still a good example of superhero spanking art.