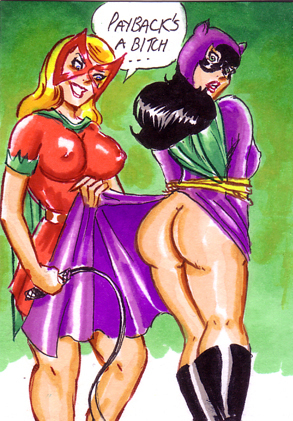 Art by Joe Gravel. Characters © DC Comics Inc.
This one is very similar to the Batgirl/Catwoman scene we saw last time: Batgirl has bound the helpless Catwoman and bared her behind for the purpose of applying Catwoman's own weapon, the Cat O' Nine Tails. There are basically two differences in the composition - Catwoman is wearing her old costume from the 1940's (revived in the 80's) and this is the first Batgirl, Betty Kane.
Now it's been awhile since we've seen this Batgirl here in this gallery - since Batwoman Spanks Two Batgirls back in 2007 as a matter of fact - and we removed that art at the artist's request, but if you want to see the full explanation of who Batwoman and the two Batgirls are, just follow the link. Short version: this Batgirl was Batwoman's neice and appeared during the 1960's in a small number of stories, generally to provide a sub-plot in which she's pursuing the original (Dick Grayson) Robin. We certainly wouldn't mind seeing more spanking art with this Batgirl, preferably with her on the receiving end.
The art is by Joe Gravel, who has appeared many times in this gallery and over on the CSR Forum as well, but as many times as he's featured Batgirl(2) (Barbara Gordon) this is the only time we have ever seen him use Betty Kane in a spanking scene. Gravel shows his usual strengths here - good comic exaggeration, as for example of Betty's boobs and a nice round bottom on Catwoman, without the sexual explicitness that appears in some of his other works, making them unsuitable for CSR.