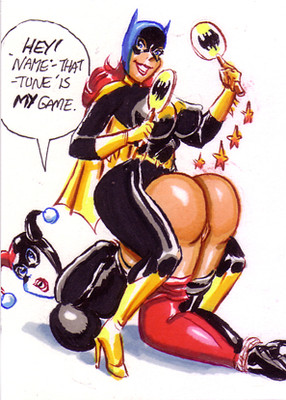 Art by Joe Gravel. Batgirl and Harley Quinn are © DC Comics Inc. Posted by the Web-Ed on 07/10/2015.
This cartoon appears to be a continuation of Harley bongo-spanks Batgirl, but we didn't know it existed at the time we posted the earlier one. Later on, while searching cartoon porno sites, we found a treasure-trove of previously unknown works by artist Joe Gravel, including this one. Batgirl uses the same astride-the-spankee position that Harley had earlier used on her, which is only fair.
Batgirl evidently decided to improve her drumming, or her spanking, or both, by using twin Bat-Paddles on Harley's bare derriere. Now that's some kind of music-making!