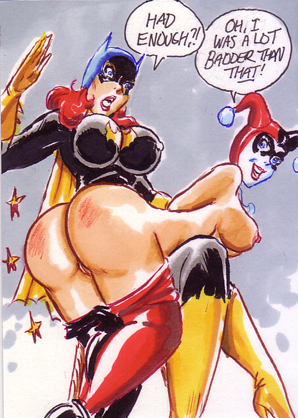 Batgirl spanks a naughty Harley Quinn, who confesses she's earned even more spanks - hmmm... Characters © DC Comics Inc. Art by Joe Gravel. Posted by the Web-Ed on 06/25/2015.
As we mentioned last time, Joe Gravel apparently felt very comfortable with the pairing of Batgirl and Harley Quinn. This time, Harley (with her weight back to normal) is getting it good and hard from Batgirl, yet she still confesses she hasn't had enough. Well, it isn't the first time we've been led to believe Harley is into it. Good humor from Joe Gravel, who delivers his trademark oversize boobs and round butts.
Even though we've seen them many times now, every now and then it probably doesn't hurt to remind readers who these characters are. We first discussed the Batgirl/Harley pairing in Batgirl paddled by Harley Quinn and explained that Harley was created to be a kind of moll for The Joker in Batman: The Animated Series. This is, of course, the Barbara Gordon Batgirl (Batgirl #2 - see Batwoman Spanks Two Batgirls if you're confused about this).