<!- IMAGE ->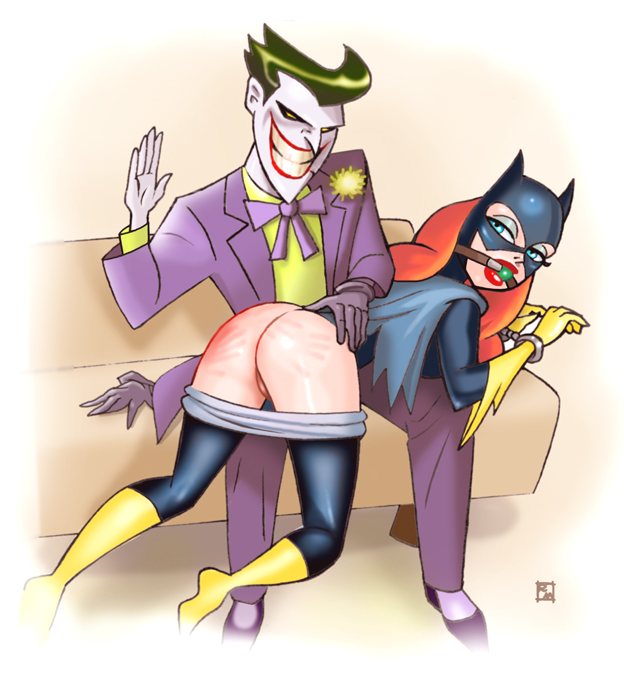 Characters © DC Comics Inc. Art by Rafaele Marinetti. Posted by the Web-Ed on 12/31/2009
In the previous two entries of our series "Batgirl Hits Bottom", we saw the Joker spanking Batgirl with a hairbrush and a riding crop. Now for our 10th entry, we have something completely different... the Joker giving BG a nice hand spanking! Really, this is getting to be a habit - every time Batgirl goes up against the Joker, she winds up getting spanked. So far she's 0 for 4 (the first time, remember, she let the Harlequin of Hate get away and it was Batman who spanked her for it). We would imagine that at this point, the mere mention of the Joker's name is enough to cause Batgirl to start rubbing her bottom. "Joker!" -- heh, heh. Just kidding, BG.
Of course, if she keeps reacting the way she does here, relaxed and ... almost enjoying the spanking, people will start to whisper that she's secretly into it, "just like Wonder Woman". There's sure to be some behind-the-back snickering every time she enters a room: "Well, I don't expect she's in any hurry to sit down, ha-ha." You know how some people are, always gossiping about the secret spanking habits of every superheroine in town.
Art by Rafaele Marinetti, who did the fine commission of Batman paddling Batgirl for us earlier this year. Nice clean lines, and the Joker's suit never fit better. This is one of the few Marinetti spankings we can think of in which the OTK position is used. Interestingly, the Joker has removed the glove on his spanking hand - is that as a courtesy to Batgirl, or do you suppose he enjoys it more that way?
Next Entry

Previous Entry