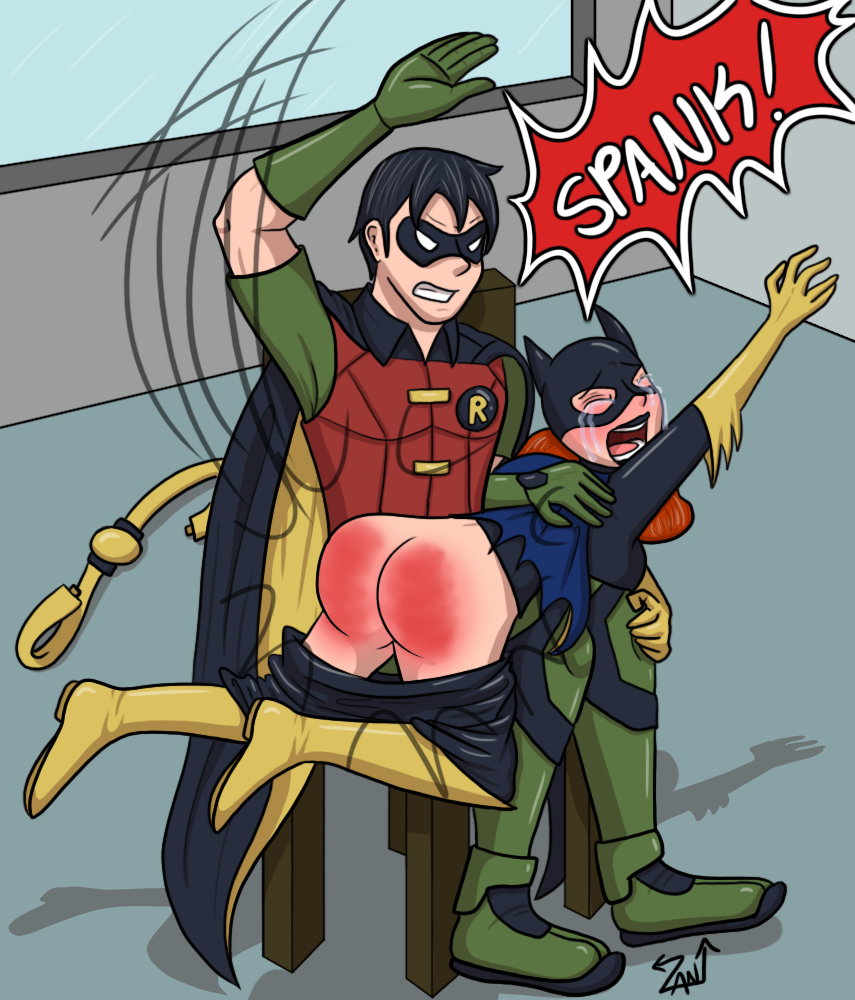 Art by Zani. Characters are © DC Comics Inc. Commissioned for Chicago Spanking Review and Posted by the Web-Ed on 05/27/2016 (click to double-size).
Let's get this year's Super-Spanking Summer off to a swinging start with this piece which we commissioned from Zani. The DC Universe has gone so crazy, with so many alternate versions of characters (we forget - is it three male and 1 female versions of Robin?) that we wanted something nice and simple that wouldn't require one of our famously (or infamously) complex explanations as to who the heck our spanker and spankee were. So here we have the original Robin the Boy Wonder spanking the Barbara Gordon Batgirl (yes, she was the second Batgirl, not the first, but she's by far the best known one).

Zani should be familiar to CSR readers by now, as we have seen several examples of her work:

This is a vigorous spanking with good OTK positioning and fine expressions showing Robin's determination and just how much Batgirl is feeling the sting! Determined to get to the bottom of the problem, Robin has completely discarded Batgirl's belt and lowered her tights. A cute touch is the "SPANK!" sound effect done in the style of the old comic books, or the old 60's TV series for that matter.

Zani is still open to doing more commissions, by the way. Contact her at this address if you're interested. As you can see, she works hard, and her rates are low.