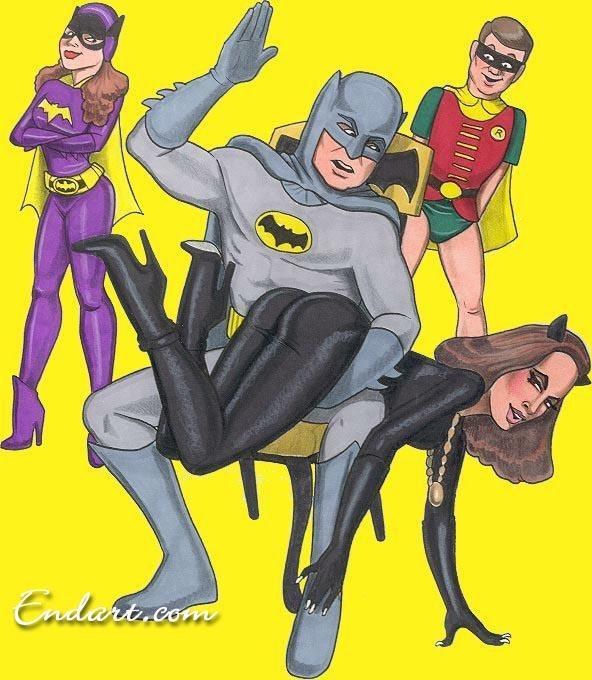 Art by Endart (click to increase in size). Characters are © DC Comics Inc. Posted by the Web-Ed on 08/03/2013.
Endart drew this one a number of years ago. It's a fine piece of supervillainess spanking, and the only reason it hasn't appeared in this gallery before now is that we make it a point not to repost artwork which has been placed on a pay site by the original artist. As Endart retired several years ago, taking down his site, we've recently seen his Wonder Woman Spanks Batgirl and we're going to look now at one of his several takes on the Batman characters as they were depicted in the 1966-69 television series.
Accordingly, you can see the strong resemblances between his Batman and Adam West, between his Catwoman and Julie Newmar, and to a lesser degree, between his Robin and Burt Ward and between his Batgirl and Yvonne Craig. For the benefit of younger people who somehow never saw the old show, we have placed some photos below for reference.
The OTK positioning is excellent here with Catwoman's rear end raised high, and the expressions are quite interesting: Batman looks stern, Catwoman's sly smile indicates she's secretly desired the OTK treatment for some time, Robin's eyes are bugging out, and Batgirl's attitude is the most subtle of all, indicating an obvious satisfaction at seeing Catwoman receive her just punishment with perhaps just a hint that she wouldn't mind a trip over the Bat-knee herself.