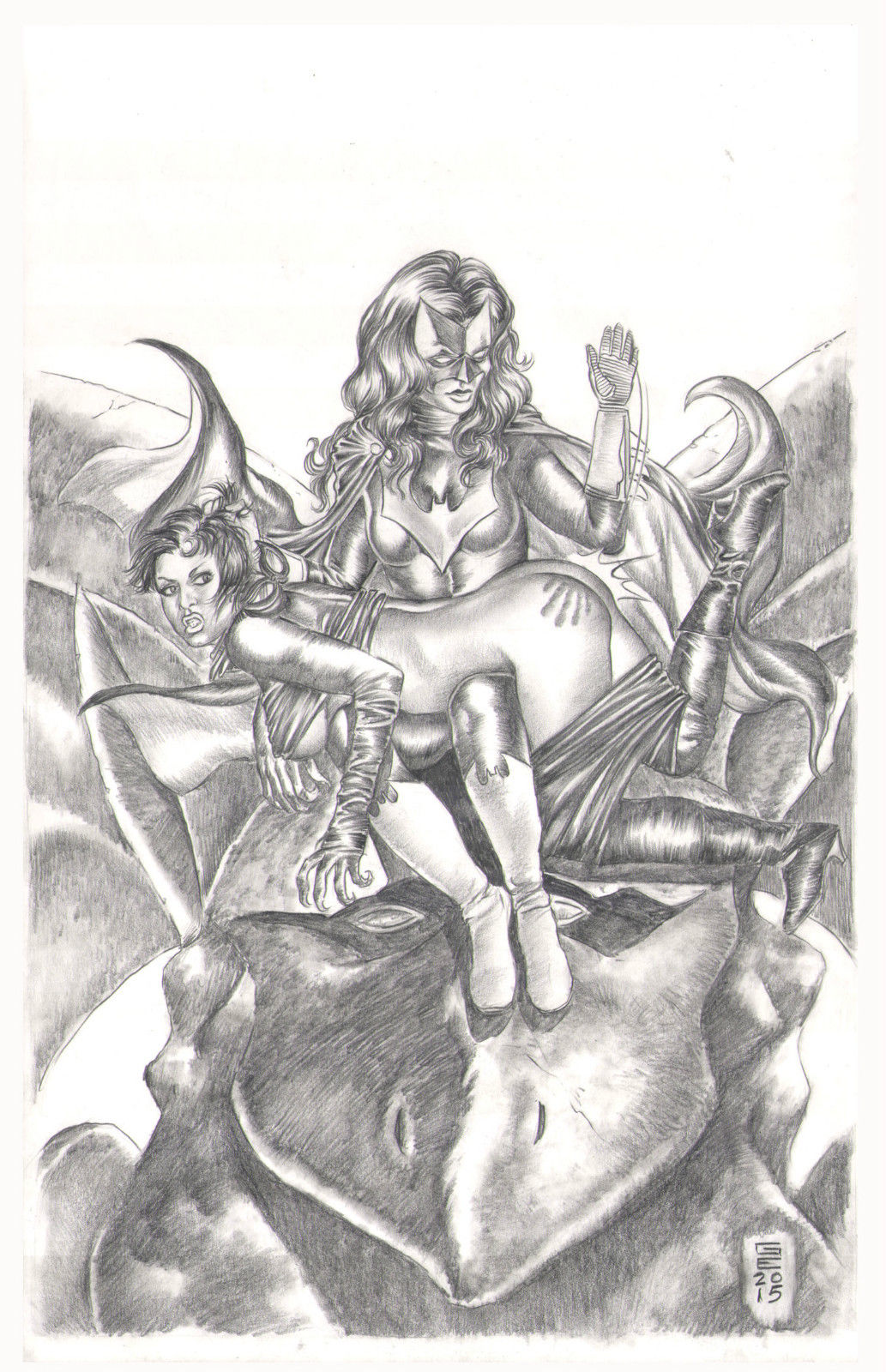 Art by Gene Espy. Characters © DC Comics Inc. (Click to triple-size).
We saw Batwoman spanking Catwoman last time and commented that it was a natural pairing. This one is a different: the OTK position is used, and done superbly, and it looks very disciplinary with Catwoman quite unhappy to have an outline of Batwoman's hand imprinted on her behind! A striking compositional feature is that Batwoman appears to be seated on the huge head of a statue, perhaps of a bird of prey. As for Catwoman, judging by the intensity of this spanking she won't be seated anywhere (at least comfortably) for some time!
This is a very technically-accomplished piece with its fine linework completely under control. The artist is Gene Espy, whom we haven't seen for a while on CSR (back in Supergirl Spanked by The Hulk #2 and Emma Frost Gets Her Seat Defrosted, which were non-spanking pieces turned into after-the-spanking ones by Doctor Cylon). This is the first true spanking of his we've seen. Espy does accept commissions, and we'd guess this was one of them. Given its excellence, we hope that he gets more spanking-themed commissions in the future, especially some M/F ones.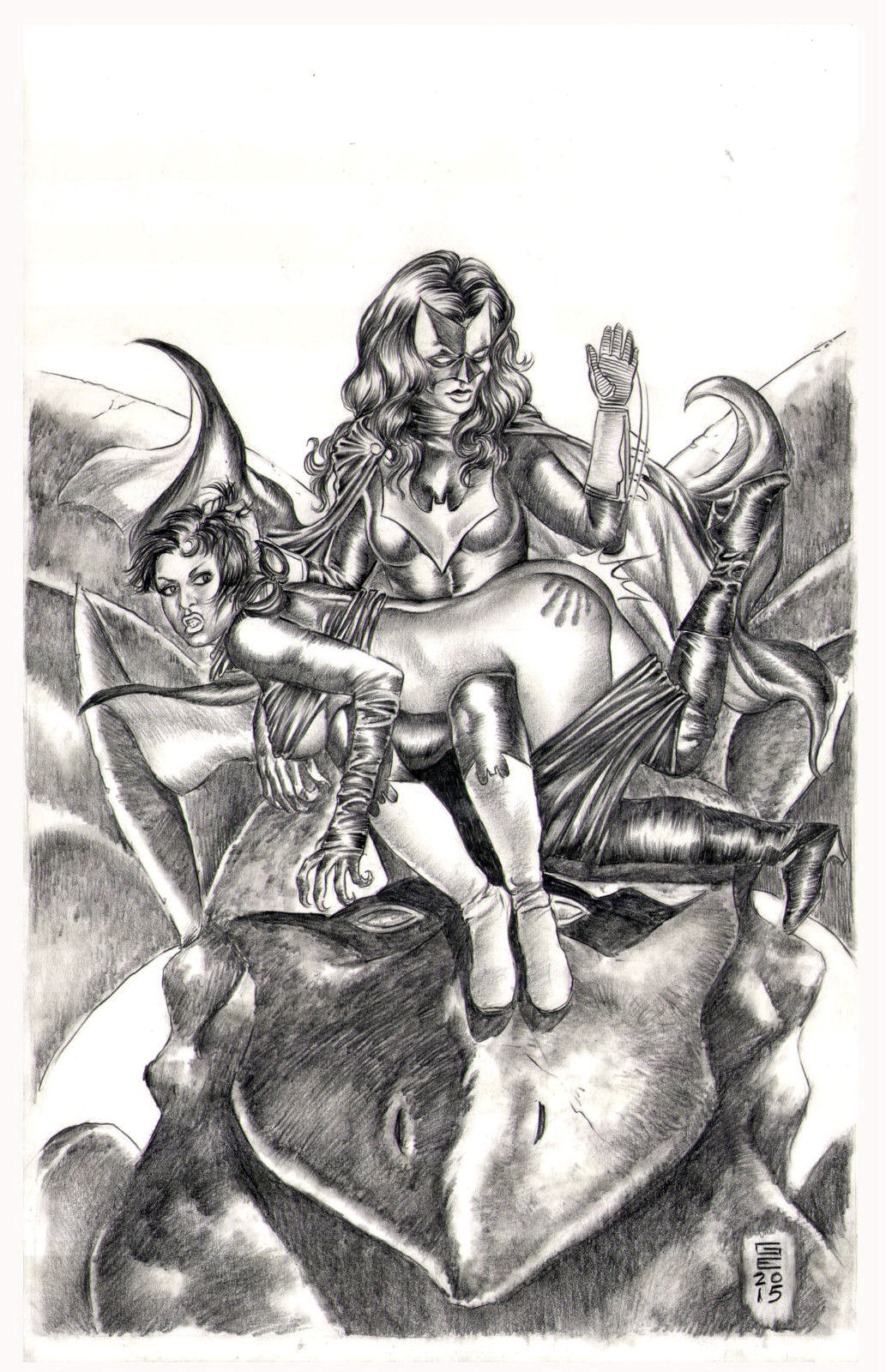 The same image, darkened for greater contrast. Characters © DC Comics Inc. Posted by the Web-Ed on 06/24/2016.
We hate to tamper in any way with a drawing this good, but its fine pencil work can't help but appear a little light when shown on a screen. Therefore, we heightened the contrast and darkened it a bit not to "improve" on Espy's work but to make it easier to appreciate.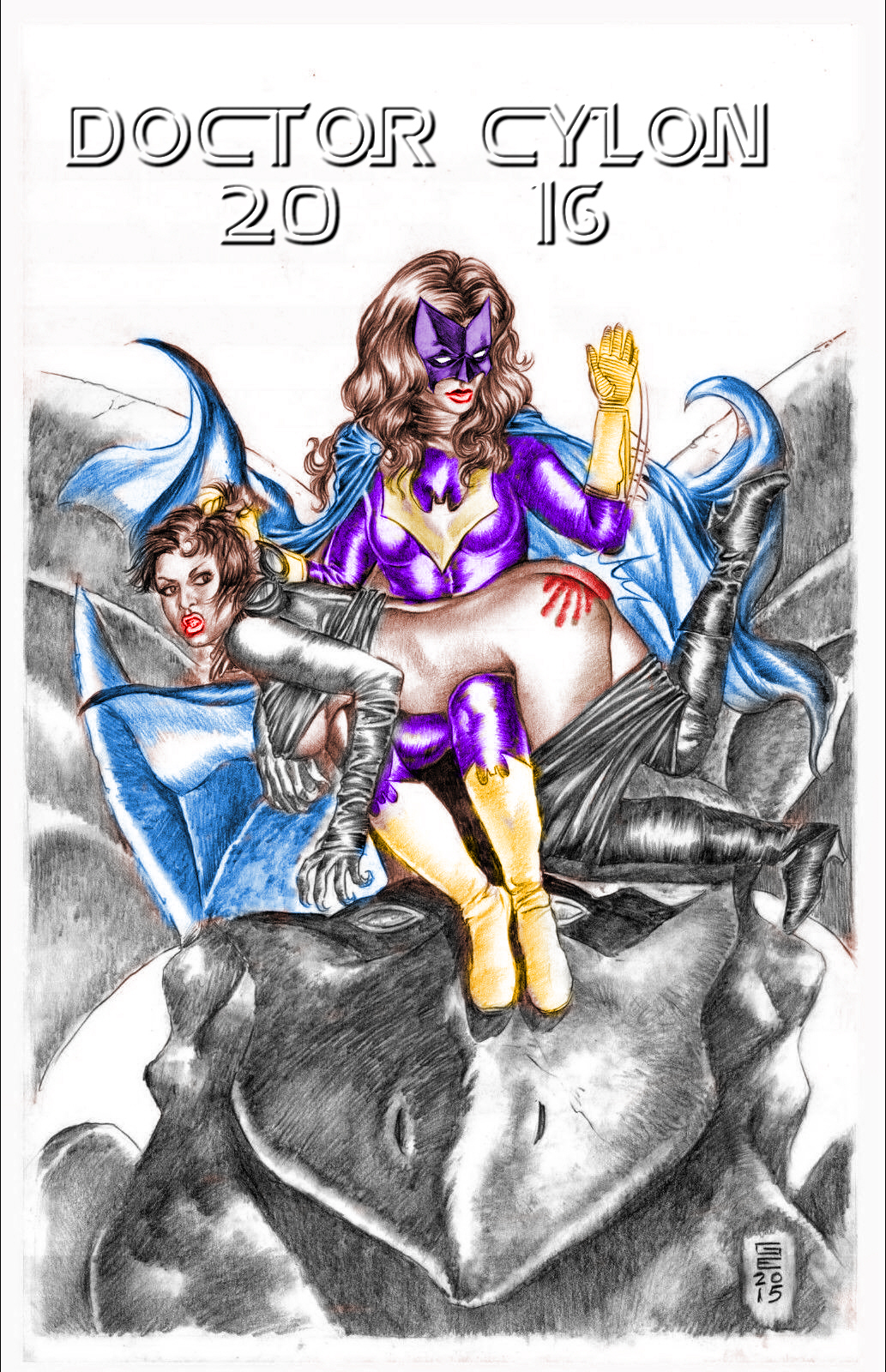 Colored by Doctor Cylon. Characters © DC Comics Inc. Posted by the Web-Ed on 08/19/2016.
08/19/2016 Update: After an absence of four years, colorist-animator Doctor Cylon wrote to us and told us he had decided to come out of retirement. Needless to say, we were ecstatic and eager to post some of his new material, but because we're in the midst of Super-Spanking Summer (of 2016) the only new work we can post at the moment is this one, which the good doctor colored from the original Gene Espy drawing above.
Now, we've done a tiny amount of coloring ourselves (we still smile whenever we run into our recoloring of an alteration of the famous Batman/Marcia Monroe spanking somwhere else on the internet) and we know how difficult it is. Espy's subtle pencil shadings make coloring this drawing much more difficult than one drawn in a traditional comic strip style where the artist knows color will be added later, and you can see this on the red handprint. The red lips of both women were apparently difficult too, with the costumes accepting their respective colors more readily. Doctor Cylon chose a tough nut here, but he was able to crack it as much as anyone could.
Color doesn't always improve a black & white drawing, but to us it does always seem to increase its eroticism.