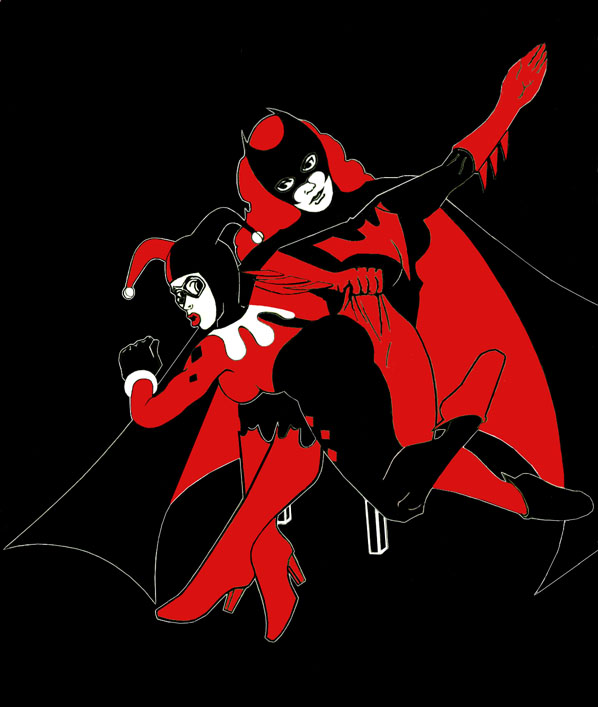 Art by TheGuerillaGorilla. Characters © DC Comics Inc. Posted by the Web-Ed on 7/22/2016 (click to increase in size).
In Batwoman Spanks Catwoman we explained who the new Batwoman was. Now let's see her apply some discipline to The Joker's assistant Harley Quinn. (Harley has been spanked so many times in this gallery that she should need no introduction unless you're new to CSR, in which case we recommend you peruse this gallery or use the search box on the Home Page to find out more about Harley and to see her spanked repeatedly).
The artist is TheGuerillaGorilla, whose name may be a play on "Gorilla Gorilla" the scientific name for - you'll never guess - the gorilla! He modestly styles himself a "hack artist" but the present drawing is far from hackery, as is his other work although this is his only spanking. He has his own approach to these characters rather than following the models in the comics, and uses the common color schemes in their costumes (both of which are contrasts of red and black) to good effect. The OTK positioning is good, although there is no need for Batwoman to pull on Harley's costume, which is already nice and tight across the seat - perfect for spanking! This was a commission for an unknown party.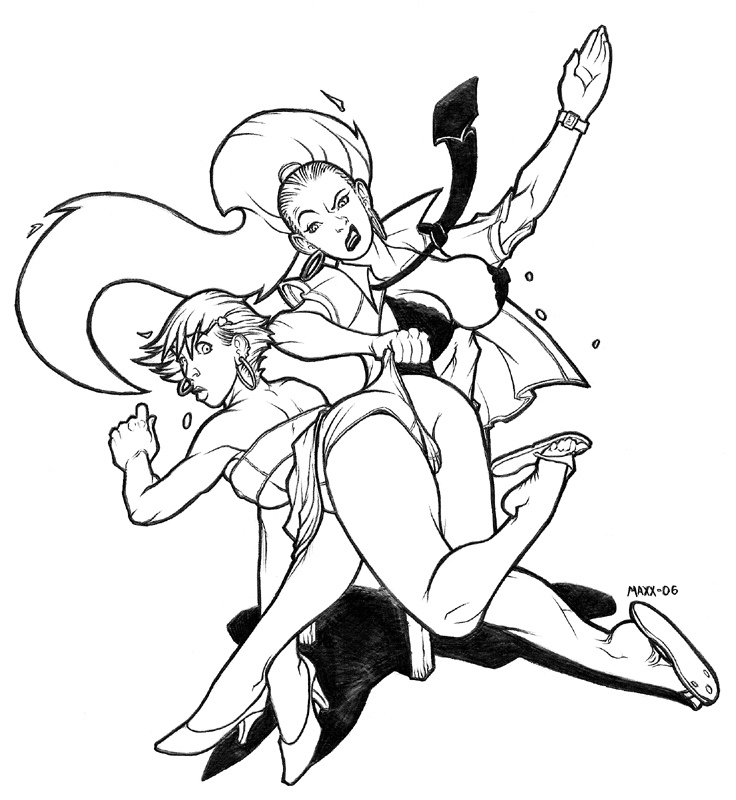 Art by Maxx. Posted by the Web-Ed on 8/05/2016 (click to increase in size).
08/05/2016 Update: Right after we posted this, sharp-eyed Wolfie138 alerted us to the fact that it had clearly been based on the drawing at left. We're embarrassed to admit we hadn't seen this earlier drawing and even now cannot identify its source or say with certainty if TheGuerillaGorilla and Maxx are the same person. Like Wolfie, we do prefer this earlier work in terms of raw drawing technique, and as daneldorado pointed out, the right foot is drawn incorrectly in the later one while it is correct here.
Of course the personnel are different and the spanker's bosom is so large it's basically getting in the way of her spanking arm, but whoever she is, she looks mighty determined!