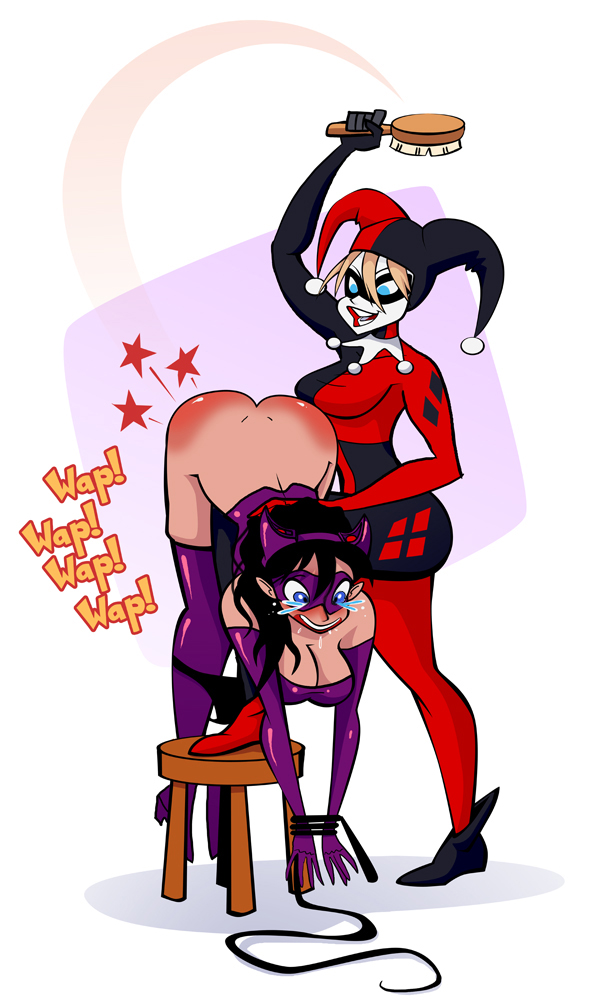 Art by SpankingToons. Characters © DC Comics Inc. Posted by the Web-Ed on 7/29/2016 (click to doublesize).
It seems a little strange to see Harley Quinn spanking Catwoman - for one thing, they're both on the same side of the law (the wrong one). For another, Harley seems mainly submissive as we're remarked upon before. But anyway, somebody requested this one from Spankingtoons, probably Vrratko, since it was an art trade with him. We've seen SpankingToons once before on CSR, but only indirectly and with another art trade: Bridgette by SP Anka as modified by Oxken. Why not more? We like Spankingtoons well enough, but his work is exclusively F/F and often features his original characters.
Let's examine his drawing here: nice bending-over position, red bottom, real distress on Catwoman's face, and with his usual clean lines. The drawing is somewhat angular and stylized, but not so much as to vitiate all eroticism. Catwoman being bound by her own lash is a motif we've seen elsewhere, but it's natural and well done as is the work as a whole. What the reason for the spanking is we can only guess, but it could be that Harley's boss The Joker thought it, well, a good joke.