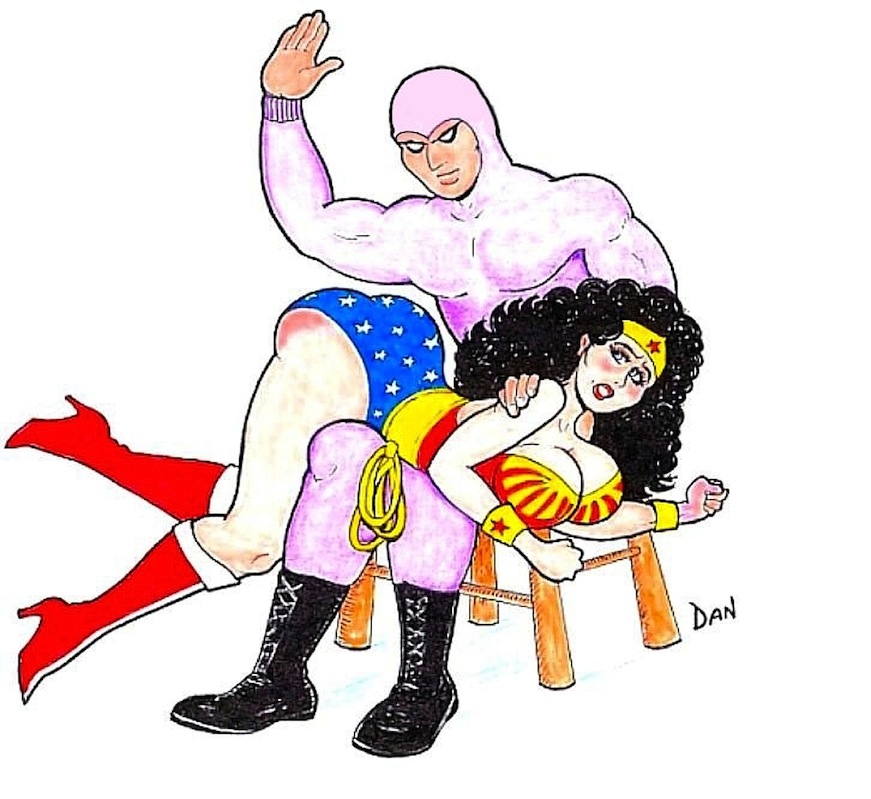 The Phantom spanks Wonder Woman. Art by Dan Rivera Phantom © King Features Syndicate; Wonder Woman © DC Comics Inc. Posted by the Web-Ed on 12/13/2013 (click to double-size).
CSR Resident Artist Dan Rivera did this cartoon of the Phantom spanking Wonder Woman a few years ago - we're not sure of the exact date - then posted it in his gallery in 2010. We honestly thought we had already re-posted it over here, but when it was time last week to present The Spirit Spanks Wonder Woman, which we think may have been inspired by Dan's effort, we found that we'd never gotten around to it! Well, it's time to remedy that little oversight now.
The Phantom did so much spanking in his actual comic strip (see The Phantom Spanking Index in Phantom Spanks Girl Explorer) and is such a natural spanker anyway that he's a logical choice among the fraternity of super-heroes to warm Wonder Woman's fanny. There are many things to like about this drawing, such as Wonder Woman's expression (and her bustline, barely contained in her traditional costume which had the eagle over it), but if we had to choose one thing in particular we'd pick the OTK positioning. This is important to Dan so he spends the time to get it right and it shows: WW is well bent-over Phantom's knee with her head and shoulders low enough that her rear end is raised nice and high, and directly into the line of fire! Overall, a fine example superheroine spanking.