<!- IMAGE ->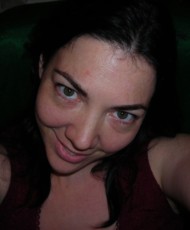 A Portrait of Jenna, the Spanking FemFatale!
Next in our Young Artists series, we welcome Jenna (also known as the Spanking FemFatale), who was first introduced in these pages when she commissioned her fellow artist Yatz to create a drawing of Wonder Woman spanking Deadshot. As might be surmised from the subject matter of that particular work, Jenna is strongly interested in both F/M spanking generally and comic-book characters in particular. She is, in fact, currently studying to become a comics artist and hopes to pursue a career in that field upon her graduation. Part of comics' appeal for her is no doubt the prevalence of women powerful enough to assume the dominant role, but it's clear her love of the medium extends beyond its fantasy female Tops and embraces all of its imaginative aspects.
Despite what we might call a "personal focus" on F/M spanking, Jenna is perfectly capable of drawing M/M, F/F, and even M/F works as well, as we'll see in several examples. In general, her female characters are attractive and slender even in the dominant role, as opposed to, say, the powerfully-built women of R. Crumb. Morality plays a strong but understated role in her work, with the spankee receiving his just desserts in most cases. This may in fact explain the variety of orientations she has drawn, where "good spanks evil" is a more important consideration than any particular orientation (e.g., F/M). Another characteristic of her non-commissioned comics work is the often unusual pairings, giving us spankers and spankees rarely if ever seen elsewhere.
This interview was conducted in March 2010 and copy-edited by the Web-Ed.