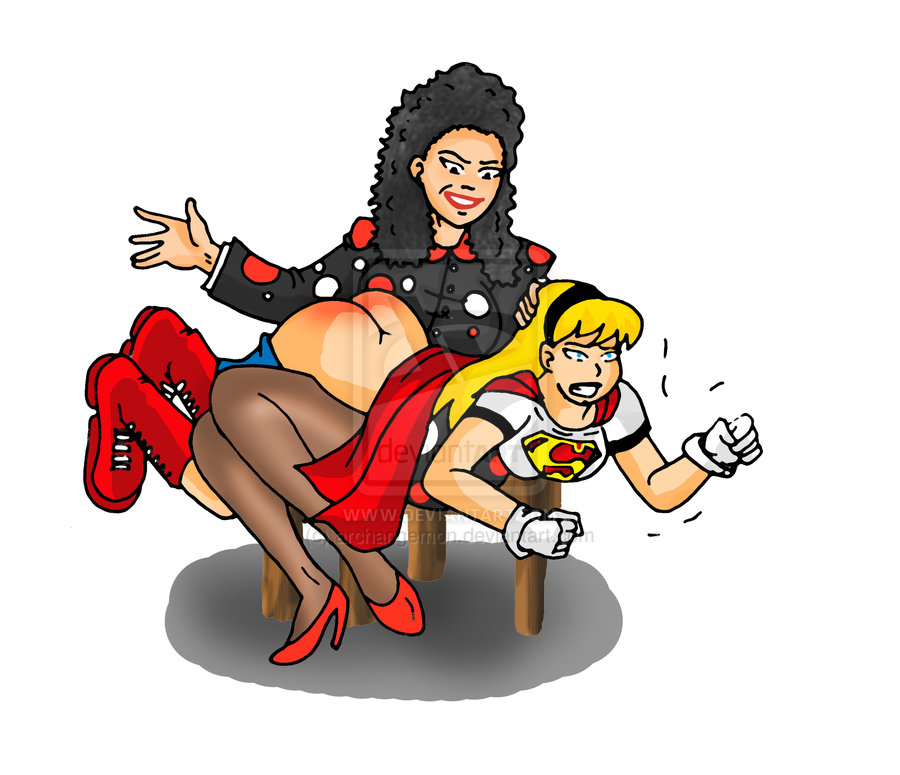 Nannies know about disciplining their charges, and Supergirl can apparently be spanked like any other naughty girl if her nanny is determined to paddle that fanny! Art by Archangemon. Supergirl © DC Comics Inc. The Nanny © Sony Pictures, INC. Posted by the Web-Ed on 08/16/2013.
We've seen Supergirl spanked many times, as she's one superheroine who doesn't lack for likely spankers, but this is probably the most unusual pairing we've seen: Supergirl spanked by Fran the Nanny from TV! We're not big on sitcoms or television generally, and all we remember about the series The Nanny is that the boss, whatever his name was, once threatened to spank Fran. The artist, Archangemon, is no stranger to the unusual, having done more wedgie drawings than anyone we can think of. As it happens, we hate wedgies about as much as we love spankings, and fortunately Archangemon has done a few OTK scenes as well, one of which we saw in this gallery last year ( Wonder Woman Spanks Supergirl) and some more of which we'll be seeing in the future. Most of both groups seem to have been done as commissions, as this one was, making him a rather successful artist.
We have a struggling Supergirl, good OTK positioning, and a nice red bottom, so the only thing more we could ask for is the M/F orientation. As we've observed before, the majority of spanking commissions seem to be F/F for whatever reason, and Archangemon has only done a few M/F.