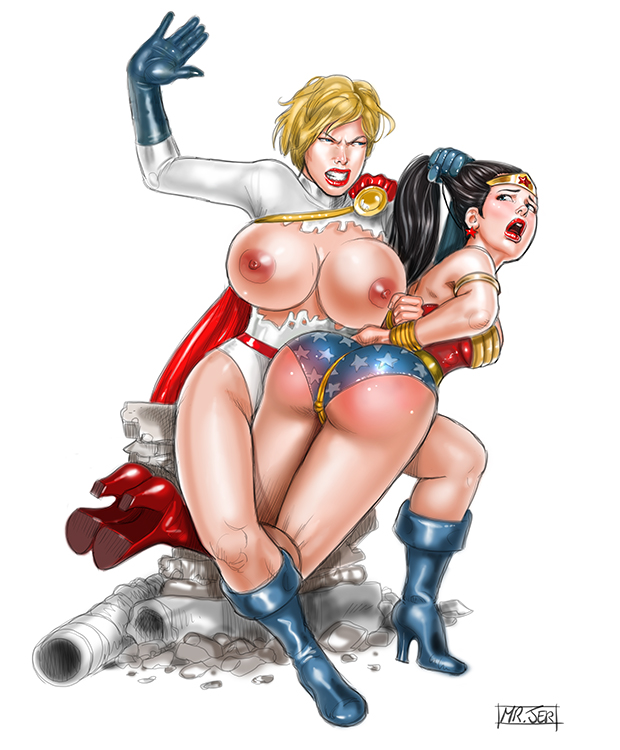 Art by Mr. Jer. Power Girl and Wonder Woman © DC Comics Inc. (click to increase in size). Posted by the Web-Ed on 06/09/2017.
For the second time in this gallery, Power Girl shows Wonder Woman what a power spanking feels like! (The first time was here). And if you thought Power Girl's boobs were oversized last time - hoo-boy! They're so large here they must be getting in the way of her spanking hand. PG obviously intends this session to be one Diana will remember for a long, long time as she's got her all bound up with her own lasso, her hair clenched firmly in PG's left hand, and a leg lock that guarantees Diana has no choice but to stick around for the festivities - ouch! In most ways a very good drawing, but the ridiculous boobs are a distraction.
The artist is Mr. Jer, whom we've seen in this gallery before and who seems to have retired from accepting super-heroine spanking commissions, which is too bad because his draftsmanship is pretty impressive. As a matter of fact, we believe "Mr. Jer" is a pseudonym and that we recognize his style as that of a fairly well-known fantasy artist, but we won't say more here. We thought we already had all of Mr. Jer's spanking art in our files, but Samantha (who takes the name "poopoopie") managed to find one we'd missed (a talent she's displayed before), so a tip of the cap to her.