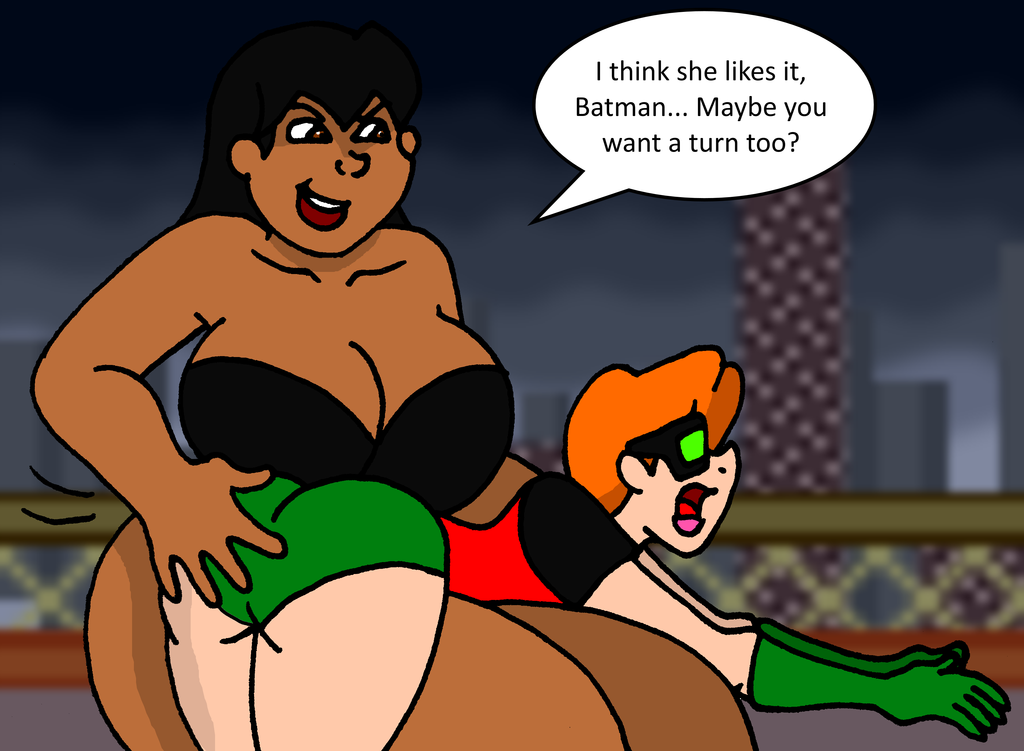 Art by PariahExileWrath. Robin © DC Comics Inc.; spanker © PariahExileWrath. Posted by the Web-Ed on 8/12/2016 (click to increase in size).
Whenever we hear "Robin spanked" we shudder and remember a couple of truly terrible scenes from 1950's Batman comics with Bruce Wayne and Dick Grayson. (We don't have all the details in The Comics Spanking Data Base yet, but sooner or later we will. Check back in the future if you really want them.) But if there is a bright side to the DC's determination to have as many versions of their characters as their fans can possibly stand, it's that we now have some female Robins to get spanked, and we have two examples, the first of which we'll see now.
This is the Carrie Kelly Robin, who was introduced introduced thirty years ago in Frank Miller's The Dark Knight Returns (set in the future when Batman is 55 years old). As to the spanker, she is an unnamed original character created by our artist, PariahExileWrath. P.E.W. generally draws in a "cartoony" rather than a realistic style and knows how to render a nice round bottom fit for spanking! It's hard to discuss the OTK position here because the spanker has perfectly enormous thighs, but Carrie is certainly well bent over that more-than-ample lap and doesn't seem to be enjoying the spanking despite the spanker's declaration to the contrary.
This was a commission for an unknown party. (PariahExileWrath is still accepting commissions, so follow the link if you're interested in commissioning something.) This is not his only spanking work, and we're trying to look at his entire output but he has been prolific enough over the past few years that we haven't been able to.