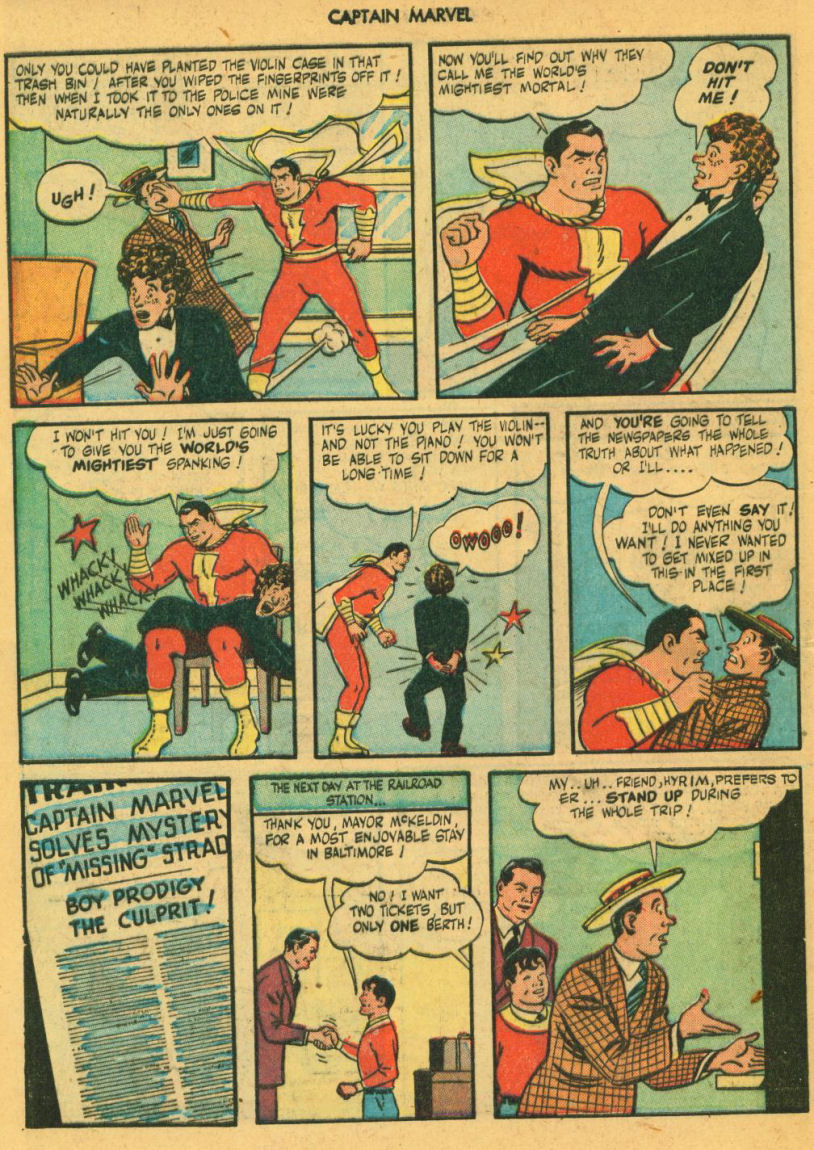 © Fawcett Publications.
Here is the complete page from "Captain Marvel Visits Balitimore" in Captain Marvel Adventures #68 (December, 1946). Having discovered that Hyrim, a violin prodigy, has faked the theft of his own Stradivarius, CM decides that a little extra-legal punishment is in order. There are two extended post-spanking references as well, something we always like to see. CM says to the prodigy, "It's lucky you play the violin and not the piano. You won't be able to sit down for a long time!" Then when a friend is buying tickets for himself and Hyrim, he tells the agent that he only needs one berth because "my friend Hyrim prefers to stand up during the whole trip!"
Of course, true spankos know that after a proper spanking (firm but not brutal), the spankee can indeed sit down (we hope with some reminder of the experience), but we've all heard the standard formulae, created by non-spankos, about not being able to sit down for awhile. We can really only complain about one thing: didn't the writer know there are female violin prodigies out there, too?
The art here is by C. C. Beck; the writer is unknown but as usual could have been Otto Binder. We've seen the influence of Al Capp's Li'l Abner on two previous installments of this series (here and here), and we wonder if this could be a third: a year before this issue came out, Abner spanked a child prodigy named Orson Waggon (recorded in the Comics Spanking Data Base but not in this gallery because we're tired of all these M/M spankings, especially when they're not from DC).