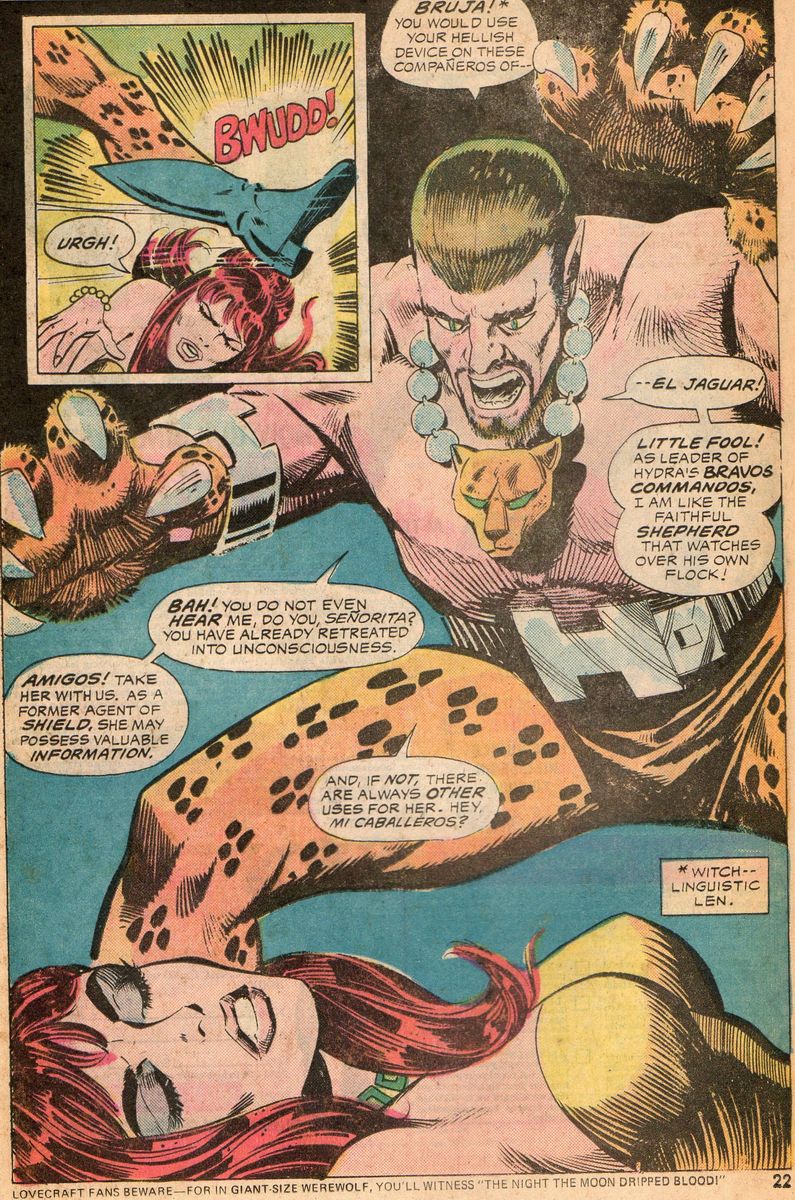 Behold El Jaguar. Art once again by Bob Brown and Vince Colletta. © Marvel Comics Inc. ¡Caramba!
Let's all go to a party - you know, the one Daredevil so politely suggested he and the Black Widow attend back in that spanking panel. Well, Natasha actually did put on an evening dress and they did go to the party, and who do you suppose decided to crash it? That's right - Kraven El Jaguar! He graciously introduces himself to Natasha, calling her a witch ("Bruja!") and kicking her in the head ("BWUDD!"). It may have been this display of conspicuous gallantry which convinced BW to stay with DD for another whole four issues. Compared to the hair-pulling, head-kicking, Spanish-interpolating El Jaguar, her butt-slapping boyfriend probably didn't seem so bad after all. All we can say is that it looks like the 70's were a tough time to be single and female in New York City.
If you look at her spotlighted picture on the upper right-hand side of the cover, you'll see that BW had full co-star status in DD's book at the time (in fact, the title had been "Daredevil and the Black Widow" until not long before). If this is how she got treated as DD's co-star, can you imagine what indignities she might have had to endure had this been a mere guest-shot? Dress blown up over her head by compressed air? More verbal insults? Being made to crawl on her hands and knees through a spanking machine formed by the party guests?
This exercise in how to treat a lady was written by Tony Isabella, who was sort of the utility infielder of the Marvel Bullpen, if we may be permitted to mix and mash our baseball metaphors. Whenever one of your second-tier titles needed a quick, slapdash fill-in issue, Isabella was your guy.
One final note: a discussion arose on the Bulletin Board about the spankability of various superheroines, and the Black Widow's name came up. Thinking back to our younger days, the Black Widow was at or near the top of the list of Marvel heroines we'd have loved to spank. Skin-tight costumes like hers and Batgirl's are just perfect for the purpose. But after seeing poor BW mistreated like this, we can't help feeling that it would be almost wrong to spank her. Oh well - there's still The Scarlet Witch (who never got spanked) and Moondragon (who did - but not nearly enough!).