Thus far in the first two out of our series of five spankings from the comic strip Etta Kett we have seen Etta spanked by her boyfriend and by her father, who will continue to be the spanker from here on out. But here in episode 3 we have one difference: Etta has been working as a double for the movie star Sandra Saunders, and when her father comes to the studio to visit her he mistakes Sandra for Etta and takes Sandra over his knee! Interestingly, this spanking comes only two months after the last one! Had Etta Kett continued to feature spankings at that rate, it would have been the spankingest strip of all time.
This spanking can't honestly be said to be justified on its stated terms as even in the event Etta was getting too big for her britches it's Sandra who receives the punishment, but CSR readers are unlikely to be too upset by this fact. And then again for all we know Sandra, like most young women, has done something on her own that would merit the OTK treatment.


Her father thinks he's spanking Etta Kett but it's really her movie star double, Sandra Saunders. Written and drawn by Paul Robinson. Publication date July 6, 1934. Discovered by and scanned by Sweetspot. White-balanced and posted by the Web-Ed on 08/04/2017 (click to increase in size). © King Features Syndicate.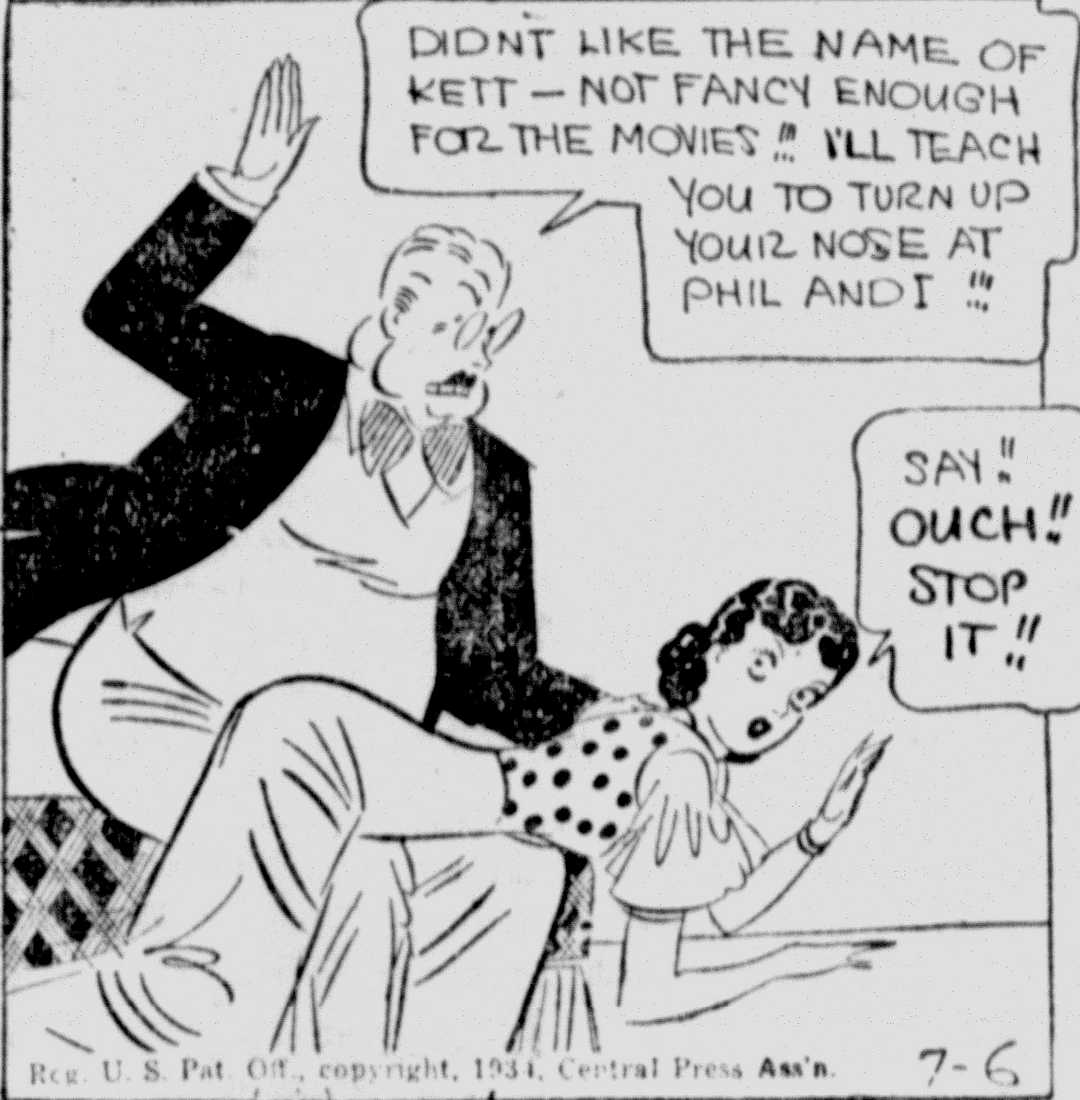 The spanking panel. Scan by Sweetspot. © King Features Syndicate.
The spanking panel is very similar to the two before it. There is for the first time a short line that begins to delineate Sandra's buttocks, but we still have the angular, skinny anatomy that is characteristic of American art at this time. As a matter of fact, Robinson never really changed his style very much with the passing of the years, so if any spankings in later decades are ever found, they'll still probably have the "skinny-butt spankee" problem. One nice feature is verbal: Sandra cries out, "Ouch!" so we know she feels it. (In the previous two spankings, Etta didn't say anything in the spanking panel).