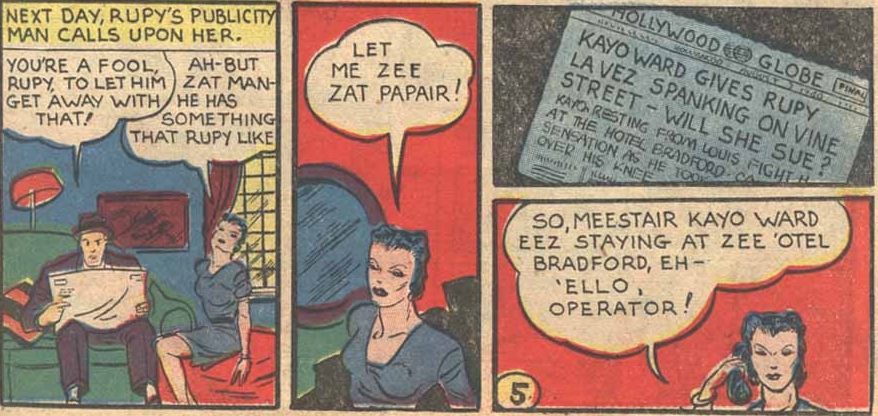 This is not only a good spanking scene, the follow-up is very well done also. First, Rupy rubs her smarting bottom as an unapologetic Kayo tells her, "So long - I hope that taught you a lesson!"
Next, we see that Rupy is attracted to Kayo because he spanked her - what could be more romantic than that? And the spanking even made the newspaper headlines!

"The only man who ever dare to spank Rupy."
So impressed is Rupy that she actually calls up Kayo on the phone and arranges to meet him in the lobby of his hotel. That must have been some spanking!
Now some more about the character of Rupy Lavez. Most modern readers wouldn't know this, but as a cinema buff Dan recognized her immediately as a take-off on the real-life actress Lupe Velez. Dan continued:
"At just about the time this strip was printed, the movies were running films featuring a Mexican star named Lupe Velez. She was notoriously fiery in real life, and her handlers wisely had her play all her roles that way. In one film, called "Hot Pepper" (1933), she was given a pretty good OTK spanking by Victor McLaglen. She was set up for another spanking in a 1943 movie, but it didn't quite happen. Anyway, Lupe Velez was ripe for satirization, as this comic strip shows. Joe Palooka (or whoever he was) is suitably embarrassed by busting up a legitimate movie stunt, and later must face the damsel. She approaches him, stealthily, and says: 'So... you are thee only man who ever dare spank Rupy Lavez, eh?....' What follows is predictable: The two fall in love, and have a brief romance. Brief, because Joe has other comic strips to perform in."
One final note about Bob Wood, who based on what we see here was a fairly capable writer/artist. A couple of years after PEP #7 appeared, Wood edited the very popular (and violent) Crime Does Not Pay for Lev Gleason Publications. Years after that, he was convicted of murder and sent to prison in 1958. Ironically, the editor of Crime Does Not Pay learned himself that, in fact, crime did not pay!
As for Crime Does Not Pay itself, it could not survive the sanitized requirements imposed by the Comics Code Authority in 1954 (see Frontier Romances #1 for discussion) and ceased publication in 1955. We had hoped that perhaps some spanking-type punishments might be inflicted upon the guilty, but a search through its available pages turned up no spankings of the many bad girls who appeared there.