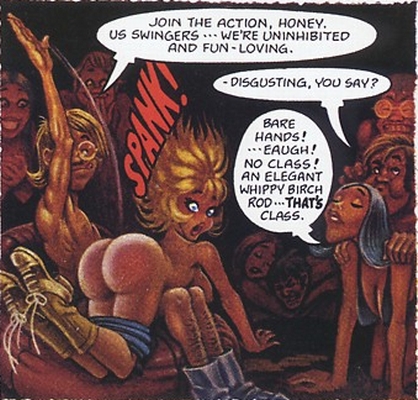 Little Annie Fanny's fanny on fire. Art by Will Elder & Harvey Kurtzman. © Playboy. Posted by the Web-Ed on 08/27/2010.
As we mentioned elsewhere, Hugh Hefner was a good friend to cartoonists, publishing a lot of their work in Playboy. And of all the work in visual media that Hefner published, Little Annie Fanny was the most elaborate and expensive by far. Written and laid out by Kurtzman, it was then fully painted by Elder, his long-time parter since their days together on MAD. No comic strip had ever been produced that way before, but then, no comic strip had been printed on slick paper before, either.
The title was obviously a take-off on Little Orphan Annie, and was the type of thing you'd have expected from the early MAD (which began as a Kurtzman-edited four-color comic book for EC, eventually outliving the rest of the EC line as a B & W magazine) but this was an ongoing strip and not a one-time parody.
Here Kurtzman's targets are the superficially-hip "swingers", as they were known. Believing themselves to be morally superior because they don't have the hang-ups of mainstream society, they reveal themselves to be as inhibited and judgmental as anyone (passing moral judgments is not a bad thing in our view, by the way, but to them, it was). Kurtzman uses the woman's reaction to Annie's spanking to make this point: "Bare hands ... no class! An elegant, whippy birch rod - that's class!"