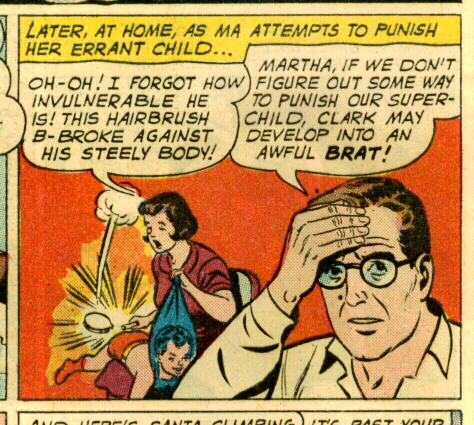 Artist and issue number unknown. Characters are © DC Comics Inc. Posted by the Web-Ed on 09/07/2012.
Twice we have had the extreme displeasure of witnessing Jonathan Kent attempt to spank his super-son Clark (Superboy #55 and Superboy #75 for the masochistic among you). In fact, he also made three other attempts(!) that we just didn't have the stomach to post (see the Comics Spanking Data Base for details). Unappealing as these scenes were, they were consistent with the traditional role of the father as disciplinarian. But of course in actual practice, women do most of the work in raising children, and as we all know, there are a lot of moms who spank. Until we chanced across this panel, however, we hadn't imagined Martha Kent to be one of them.
Here we see her break yet another hairbrush trying in vain to spank Super-Tot. We've said it before but we'll say it again: these people had to be the slowest learners around. This is not one of our personal discoveries - we should be grateful for small favors - and we turned it up on one of our image searches. Whoever posted it did not give any details, so the writer, artist, title, and issue number are unknown. Superboy is a good guess for the title, and George Papp for the artist.