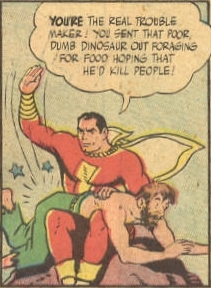 Captain Marvel spanks Hiram the Hermit. From Marvel Family #3 (July, 1946). © Fawcett Publications. Posted by the Web-Ed on 06/18/2010.
Marvel Family Spankings was scheduled to end with the previous entry, but we've been going through Golden Age comics page by page looking for spankings, and we found some more items involving the Marvel Family. Unfortunately none of these spankings are M/F (with one exception). We're disappointed, of course, but we'll keep searching and let the chips fall where they may.
Here we see the head of the family, Captain Marvel, spanking Hiram the hermit in Marvel Family #3 (July, 1946). We have remarked elsewhere that M/M spanking generally seems pretty gay. There are exceptions, however, and this is an example, taken from an era in which comics readers were generally very young and spanking was seen only as an innocent form of discipline.