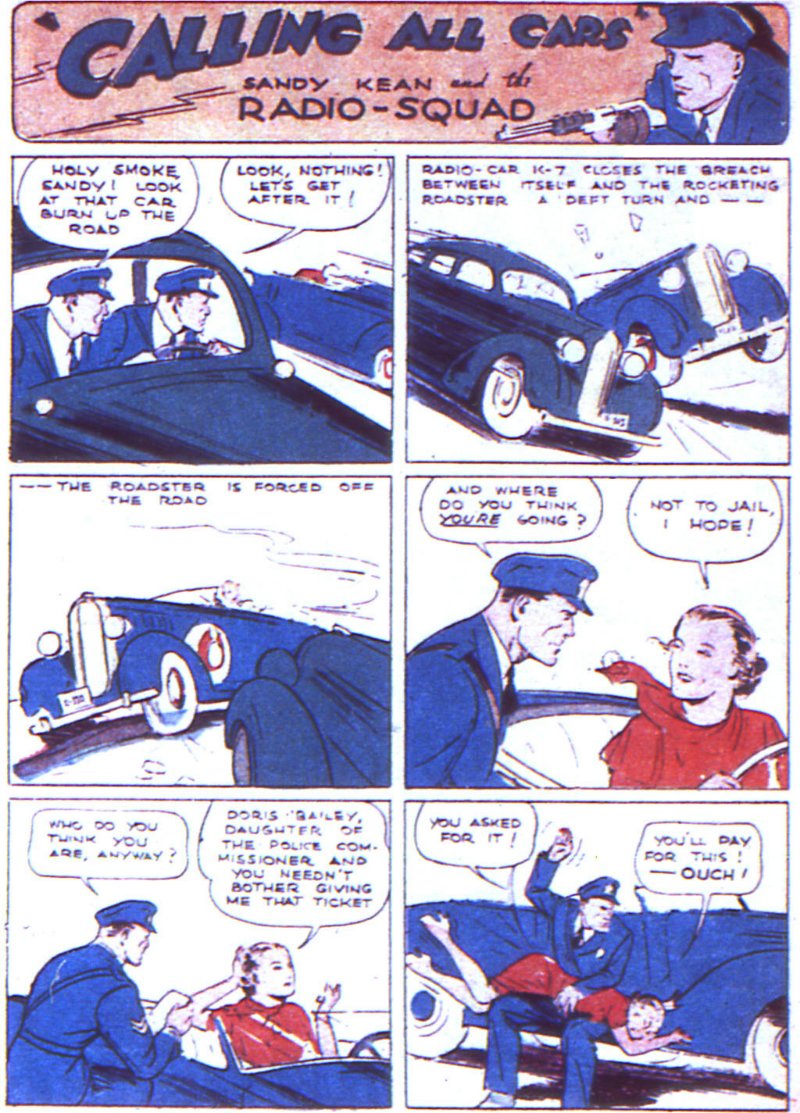 © DC Comics Inc. Posted by the Web-Ed on 07/16/2010 (click to double-size).
For the last in our series of spankings from SpankingPanels.com, we have something that's going to require some explaining. Actually, we've had the original version of this one (from More Fun Comics, hence our title "More Fun Spanking") in our files for some time, but SpankingPanels found a reprinted version we hadn't seen. Let's take a look at the original version first.
Sandy Kean (our spanker here) and the Radio Squad starred in "Calling All Cars", a feature that seems to have been serialized (two pages per issue) in More Fun Comics, with the story that interests us having run in issues #11-15 (July-Nov. 1936). (We're crediting DC as the publisher here, even though Detective Comics #1 had not yet appeared, because we think More Fun was one of their corporate predecessors. No indicia is available to us for this issue.) This is certainly the earliest spanking we have yet documented in an American Comic Book.
Let's talk about the spanking on its own terms for a minute - we have seen the haughty female (here the commissioner's daughter) given a deserved comeuppance before, only to fall for the handsome spanker, but this may have been the first time, and it's very well done. Numerous examples of a stern traffic cop spanking a female offender were to be seen years later in the Humorama line (we've got a few more in the files), but again, this may have been a first. It reminds us quite a bit of Evad spanking Queen Arda about ten years later in the Superman strip, and for good reason: they were both produced by the same legendary creative team, Jerry Siegel and Joe Shuster. This issue was published two years before they created Superman.