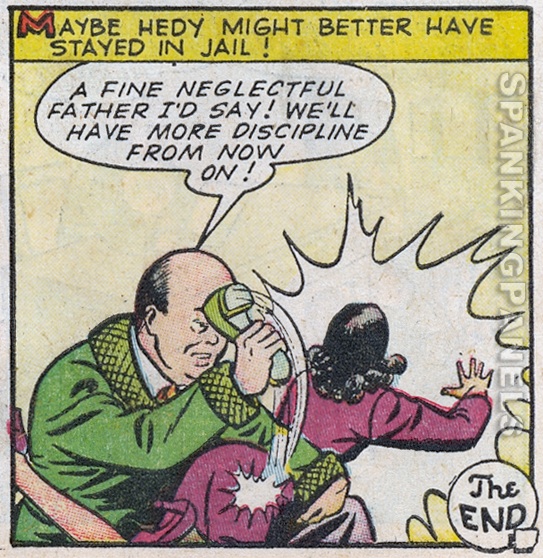 Deciding that he hasn't given Hedy enough discipline, her father decides to make up for lost time by spanking her with a slipper. The only other time we remember seeing a slipper used in an American comic-book spanking was the other Mr. Wolfe / Hedy one mentioned earlier. At least he's consistent.
Unfortunately, we have no information on the creative personnel who did this story. By 1946, Stan Lee would have returned to his civilian job as Timely's (Marvel's) editor after volunteering in the army during World War II, but was he the writer as well? It's hard to say, based on the few pages we've seen. As for the art, it could have been Pauline Loth or Mike Sekowsky - or any of a dozen or so freelancers. Sekowsky did at least some covers on Marvel's "Girl Books" during this period, looking much different than he did years later on DC's Justice League of America. We compared the available samples from this issue with some of Loth's and Sekowsky's known art, but could reach no conclusion.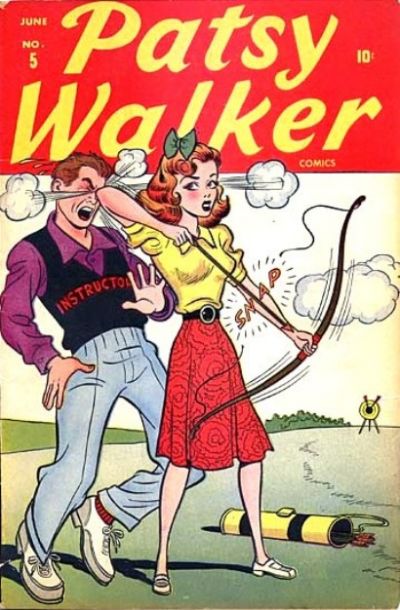 Here's the cover from this issue. We must say the gag on it doesn't seem all that humorous, but maybe tastes have changed. Patsy Walker was a humor/romance hybrid, perhaps Marvel's most successful attempt at combining these genres. We think only Millie the Model ran longer, and that not even Millie made more appearances overall.
Now of course the next thing you're wondering is, was Patsy Walker herself ever spanked? We don't know if Patsy got spanked in her own book or in the many other titles she appeared in during the 40's, 50's, and 60's, but she was spanked later, in 1979, and we posted the entire page some time ago. Don't remember seeing it? That's because Patsy was no longer a teen by then, and somehow in the intervening years had come across a costume belonging to a superheroine known as The Cat. Patsy donned the costume, embarked on a new career as The Hellcat, joined The Defenders, and found herself getting caned by Lunatik.
One thing's for sure - we're going to keep our eyes open for any more comics with Patsy or Hedy in them!