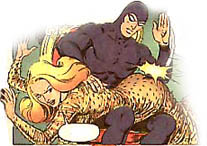 © King Features Syndicate, date unknown. Posted by the Web-Ed on 11/26/2010.
The last of The Phantom spankings we know of is unidentified but it's a good one: he's spanking what appears to be a villainess in the mold of DC's old Huntress (the one who fought Wildcat during the Golden Age), or maybe even better, a wayward Jungle Girl! If there were to be a superhero-spanks-jungle-girl scene, the Phantom would be the obvious choice for the Top role. We admit the leopard-pattern dress is a little long for either role, but that's what we'd like to believe. [Note: we later learned our "Jungle Girl" was none other than Queen Pera! See below.]
The Phantom employs his usual good OTK positioning, the bottom is reasonably well-defined, and it looks like the spanks are being applied with some vigor. Good work!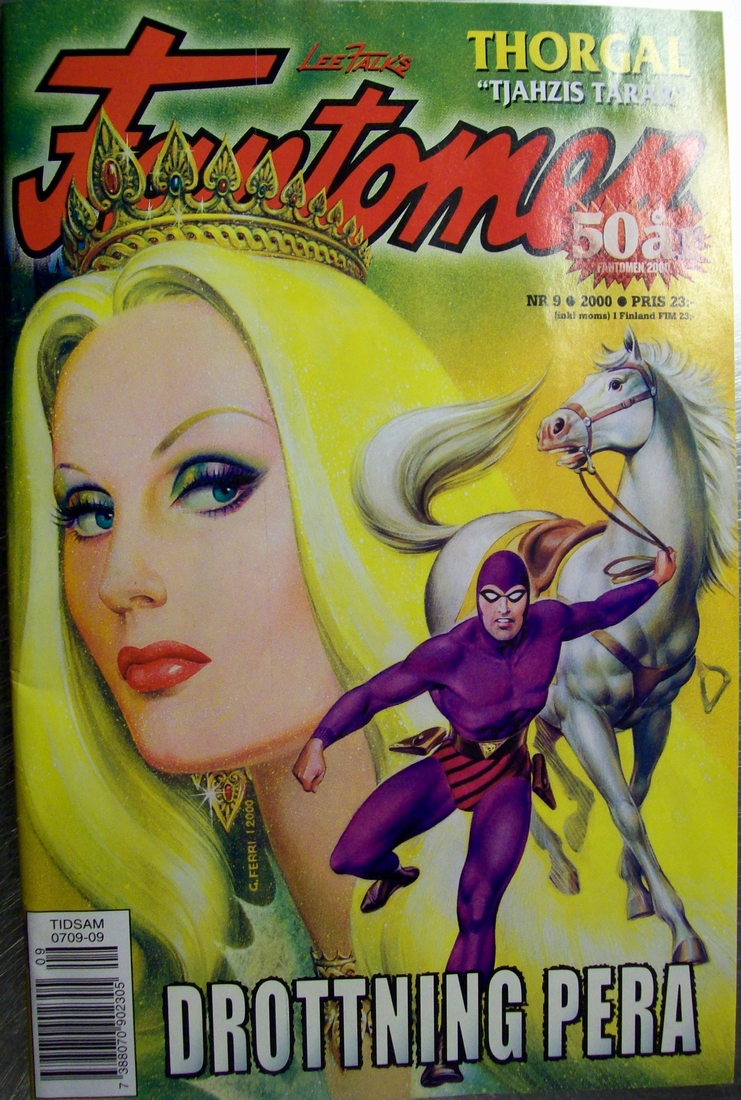 Swedish cover of Phantom #9, art by Germano Ferri. Month unknown but from 2000. The price indicates it was also distributed in Finland. © King Features Syndicate. Posted by the Web-Ed on 04/29/2011.
04/29/2011 Update: We now know this is another version of the Phantom/Queen Pera spanking. It's not a reprint of the original Sunday section; rather, it's from a Swedish-language comic-book retelling of the original strip - got that? Actually, it testifies as to the Phantom's enduring popularity in many lands. Now let's see it as it was meant to be seen, thanks to digital photos taken and sent to us by Mattias.
Nice painted cover, featuring our lovely spankee-to-be, Queen Pera. Her icy composure will soon melt as her fanny is warmed - twice!