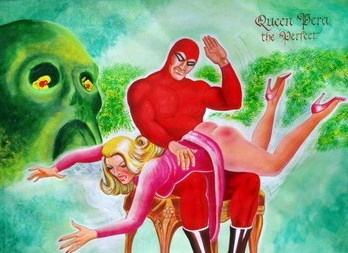 Spanking Queen Pera The Perfect, by Romano Felmang. The Phantom is © King Features Syndicate.
Romano Felmang did this fine re-creation of the Phantom Spanks Queen Pera episode of the strip using acrylic paints as a commission for a fan. Felmang was well-qualified for the task, having done the pencils for the Swedish-language version as well as many paintings of the great hero. To Felmang's surprise, this painting "scandalized the Scandinavian feminists" as he put it.
The Royal Rump has been bared on this occasion to ensure maximum comeuppance value. Nice work by Felmang demonstrating his high regard for The Phantom.