| | |
| --- | --- |
| Chicago Spanking Review | Smilin' Jack Spanking #8 |

© News Syndicate Co. Inc. Posted by the Web-Ed on 12/24/2010.
"Like father, like son" the old saying goes, and JS666 has identified the spanker here for us as Jolly, the son of Jack and Joy. Jolly certainly does seem to have inherited his father's ability to spank good and hard, in this case apparently turning Sully OTK because she stubbornly and unreasonably insisted on flying over the jungle alone. This is certainly just cause, and is one of the things Zack Mosley was consistently good in providing. He also generally gives us a good after-the-spanking panel, and in fact provided two here. Above, the sting is so intense that Sully is actually dancing around while rubbing her behind, while below we see the stinging effect lines still radiating from the affected region that her hands have not yet left - now that's a spanking!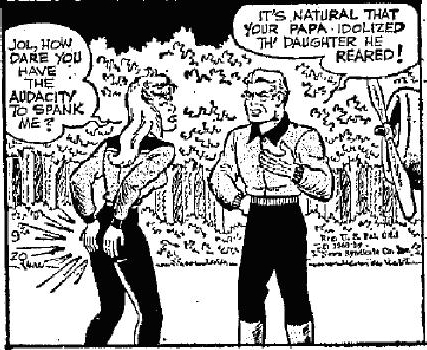 © News Syndicate Co. Inc. Exact date unknown but believed to be September 20, possibly 1968 - the trademark notice is too illegible to be sure.
01/15/2016 Update: Once again Luther is going to help us out with a new scan from The Toronto Sun (Sept. 17, 1960) - and in full color! We can see a few more details here of what led up to the spanking.

"You've always done as you pleased, you spoiled brat! You oughta be spanked!"

"You wouldn't dare!" (Famous last words.)

"EEEOW!"

We think we can safely say that in all of human history, every attempt by a female to avoid a well-deserved spanking by challenging the man with "You wouldn't dare!" has failed completely, and merely precipitated a stinging rear end! Such is definitely the case here, and Jolly shows that he does dare by turning Sulky OTK!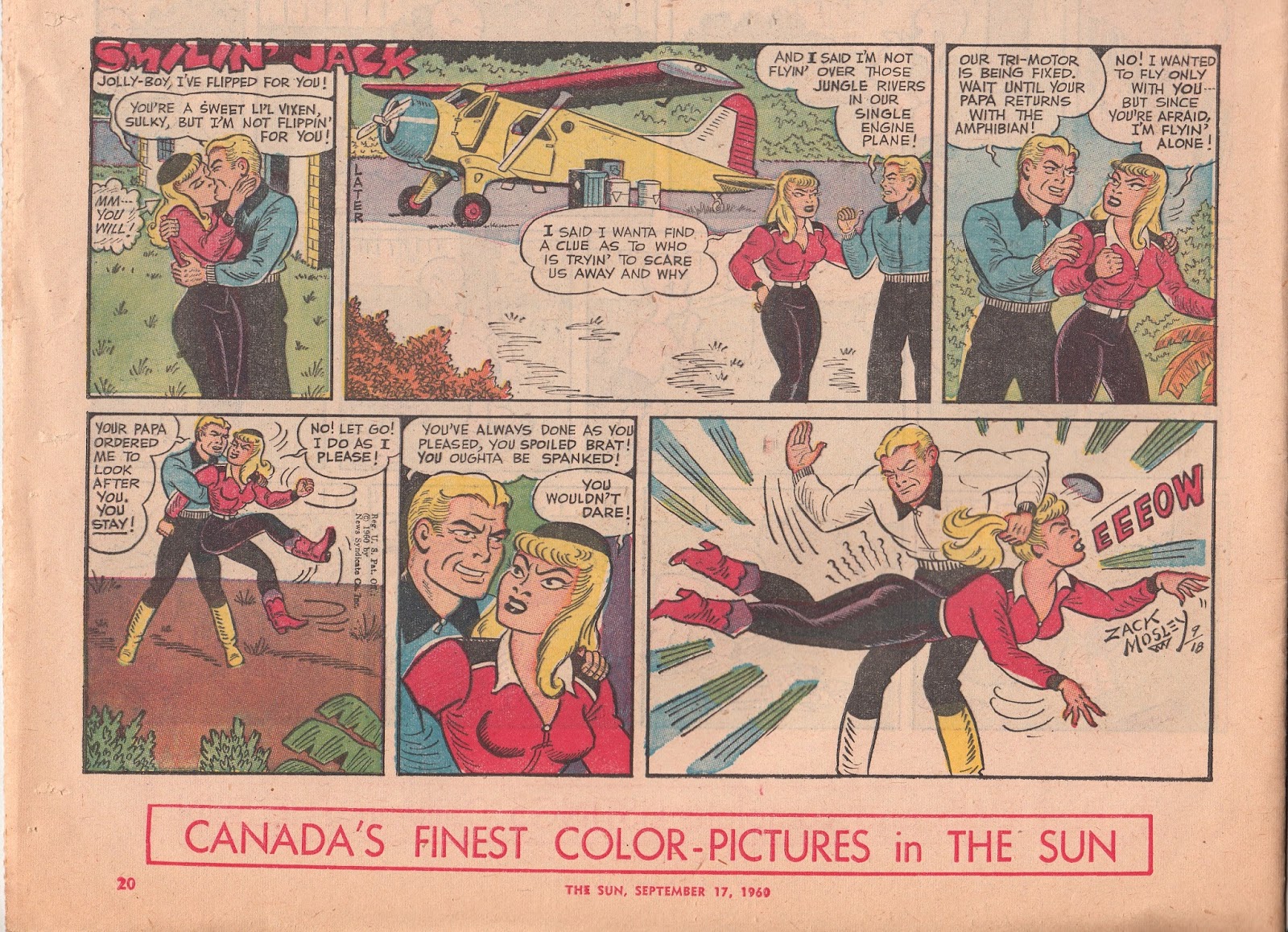 © News Syndicate Co. Inc. Posted by the Web-Ed on 01/15/2016 (click to double-size).
| | |
| --- | --- |
| | NEXT ENTRY - Smilin' Jack #9 |
| | PREVIOUS ENTRY - Smilin' Jack #7 |
| | COMICS PAGE 2 - Return to Comics Page 2 |
| | HOME - Return to Home Page |