| | |
| --- | --- |
| Chicago Spanking Review | Smilin' Jack Spanking #9 |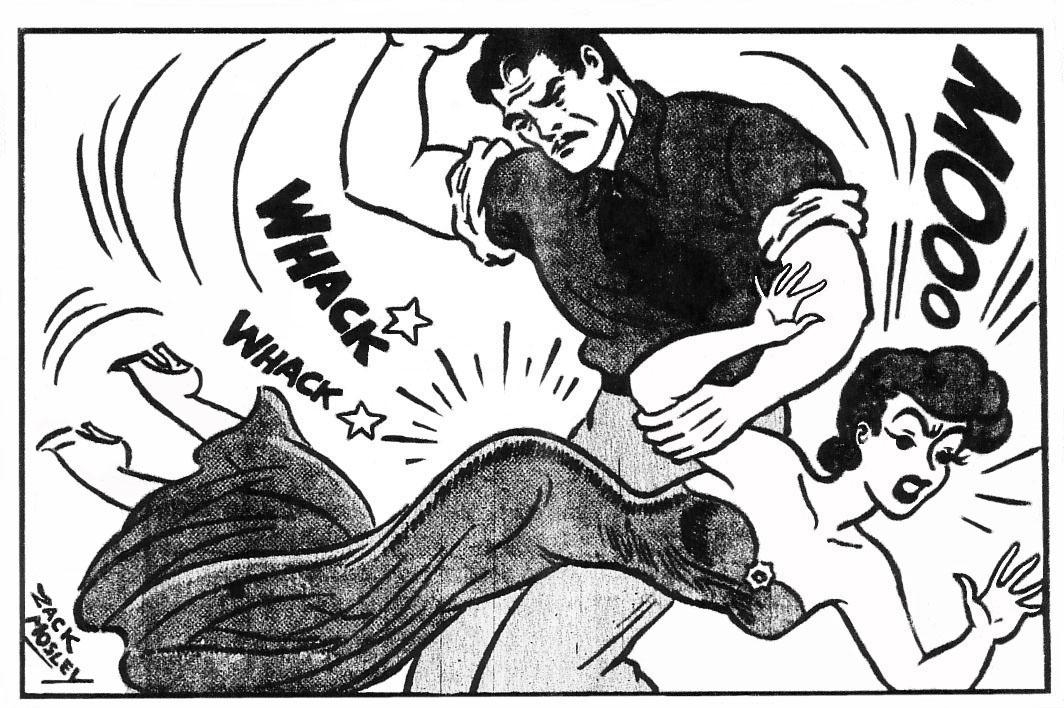 Posted by the Web-Ed on 12/24/2010.
We've saved this one for last even though it wasn't the last chronologically because nothing could be better than a man spanking the woman he is or will become married to, and here we see Jack spanking Joy Beaverduck (once again, our thanks to JS666 for positively identifying her). This may, in fact, be the second time Jack spanked Joy since the episode we saw in Smilin' Jack #4 was apparently the first time. Joy is again wearing an evening dress, so it could also be a recounting of that incident. Either way, as we have observed before, we can see that Mosley knows how to depict a vigorous spanking and is generally very good at providing both the lead-in to the spanking and its aftermath, although we don't have either here to share with you.
Here is an index of all eight known Smilin Jack spankings with links to the individual pages. We put the first three together on the same page for some reason - we no longer remember why.
Cindy spanking Cherry. Combined on same page with #1. This is the best OTK positioning of the set and the only one in which a hairbrush is used.
Jack spanks Joy Beaverduck. Color.
Jack spanks Joy. (On this page.)
| | |
| --- | --- |
| | NEXT ENTRY - Smilin' Jack #10 |
| | PREVIOUS ENTRY - Smilin' Jack #8 |
| | COMICS PAGE 2 - Return to Comics Page 2 |
| | HOME - Return to Home Page |