<!- IMAGE ->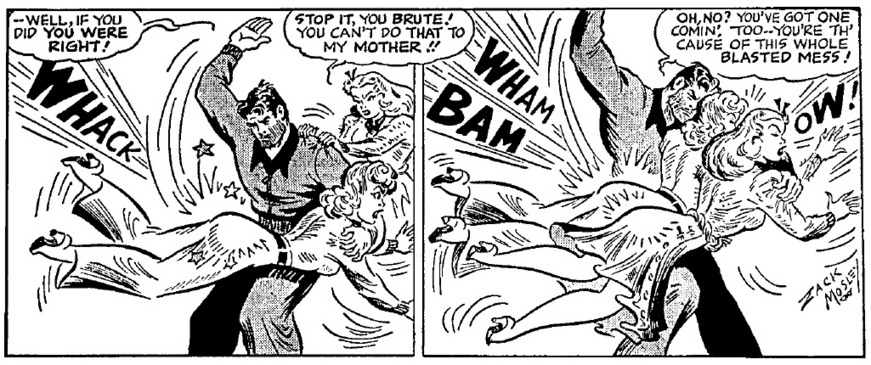 © News Syndicate Co. Inc.
Zack Mosley's Smilin' Jack comic strip had a long run (1933 - 1973) during a period when adventure strips, even some others with an aviator hero, were fairly common. Although it ran for forty years, we never followed it. That's how we missed this scene in which Jack is doing more spankin' than smilin'. In fact, he spanks both a woman and her mother, which may be some kind of comics first. As can be seen in the second panel, Jack has somehow managed to get both women over his knee at the same time! Actually, it looks pretty awkward, but like so many other comic creators who drew the occasional spanking, Mosley was not into the scene - he was simply representing life as he saw it, and the spanking of adult women was by no means uncommon during the years he was drawing the strip.

12/24/2010 note: We wrote the above before we knew who these ladies were or how many other spankings there were in this strip. JS666 has since identified the women (see below), while Dan Rivera has speculated that Mosley might indeed have been one of us (see Smilin' Jack #6 ).
<!- IMAGE ->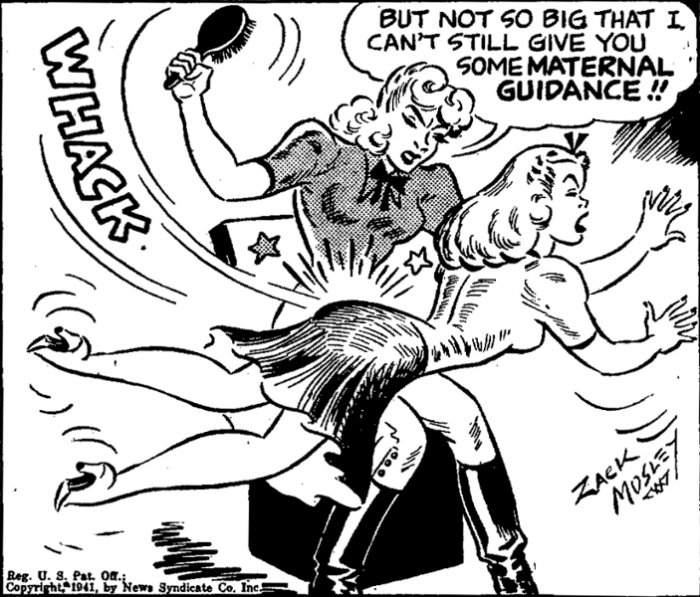 Published in 1941, month and day unknown. © News Syndicate Co. Inc.
01/08/2009 update: We had heard there might be more than just one spanking in Smilin' Jack, but until recently had never actually seen one. Then Chross posted this one, which caught our attention right away (Dave at Cherry Red Report was quick to notice it too). Here a mother shows her grown-up daughter she's never too old to get some "Maternal guidance" (the kind you get with a hairbrush!), and she won't be hearing any argument from us on this subject!
12/24/2010 update: JS666 has kindly pitched in by cataloguing the various Smilin' Jack spankings for us. According to him, this is indeed the same mother/daughter duo spanked by Jack in the panel above - Cindy and Cherry. We have created new pages for all the other scenes. The next one may be found here.
01/08/2016 update: With some help from Luther, we're now going to present full-color versions of all three spankings, which we know took place very close together in time in the original strip. This was obvious with the second two, but not so with the first. Let's take a look at the spanking panels first and then go on to see more of the story.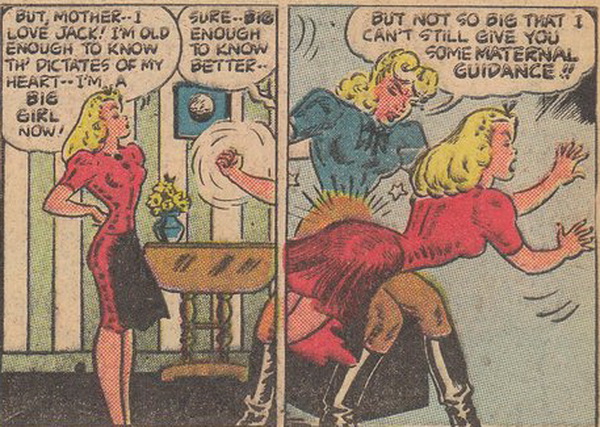 Cindy spanks Cherry. Notice that the spanking panel has been truncated - was this to save space (a very poor choice of panels to cut off if it was) or was it to disguise the fact that a hairbrush was being used? The hairbrush is missing from the previous panel, where Cindy now seems to be clenching her right fist for no reason. This was before the time of the Comics Code Authority, but comics were already coming under fire and we have to wonder if someone at Dell thought the hairbrush was simply too intense. We know that something like that happened with one of Bill Ward's Humorama spanking cartoons, but what a pity to see it happen here with this wonderfully intense-looking spanking by Zack Mosley.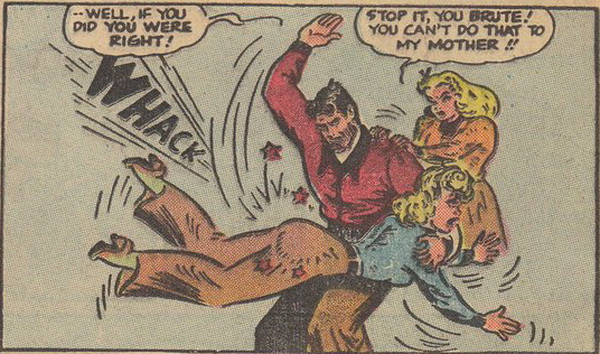 Jack spanks Cindy. She deserves it after basically beating him up (see the full pages below).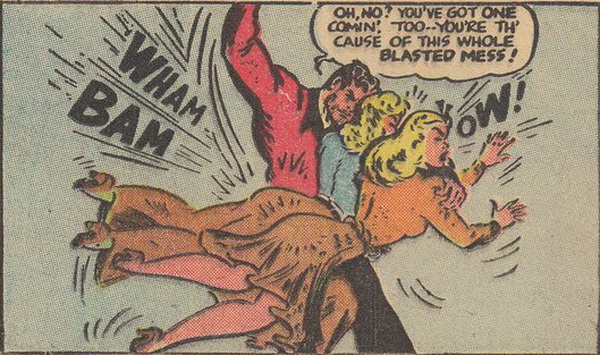 Jack spanks both Cindy and her daughter Cherry, and every smack is well deserved! Posted by the Web-Ed on 01/08/2016.
These scans are all from Smilin' Jack #3 (July-Sept 1948), which reprinted the strip from some time in 1941 - we still don't know the exact dates.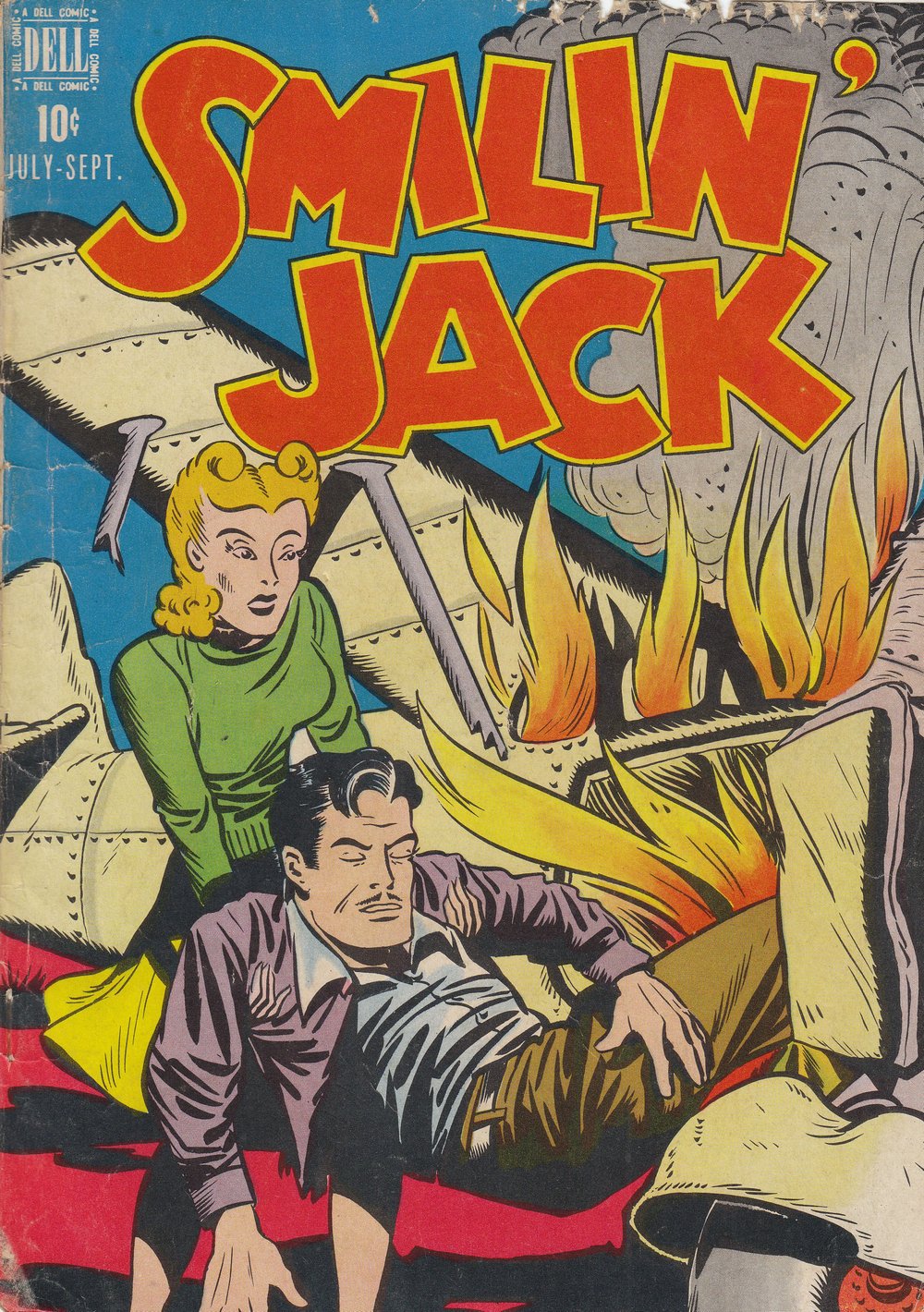 Cover of Smilin' Jack #3 (July-Sept 1948).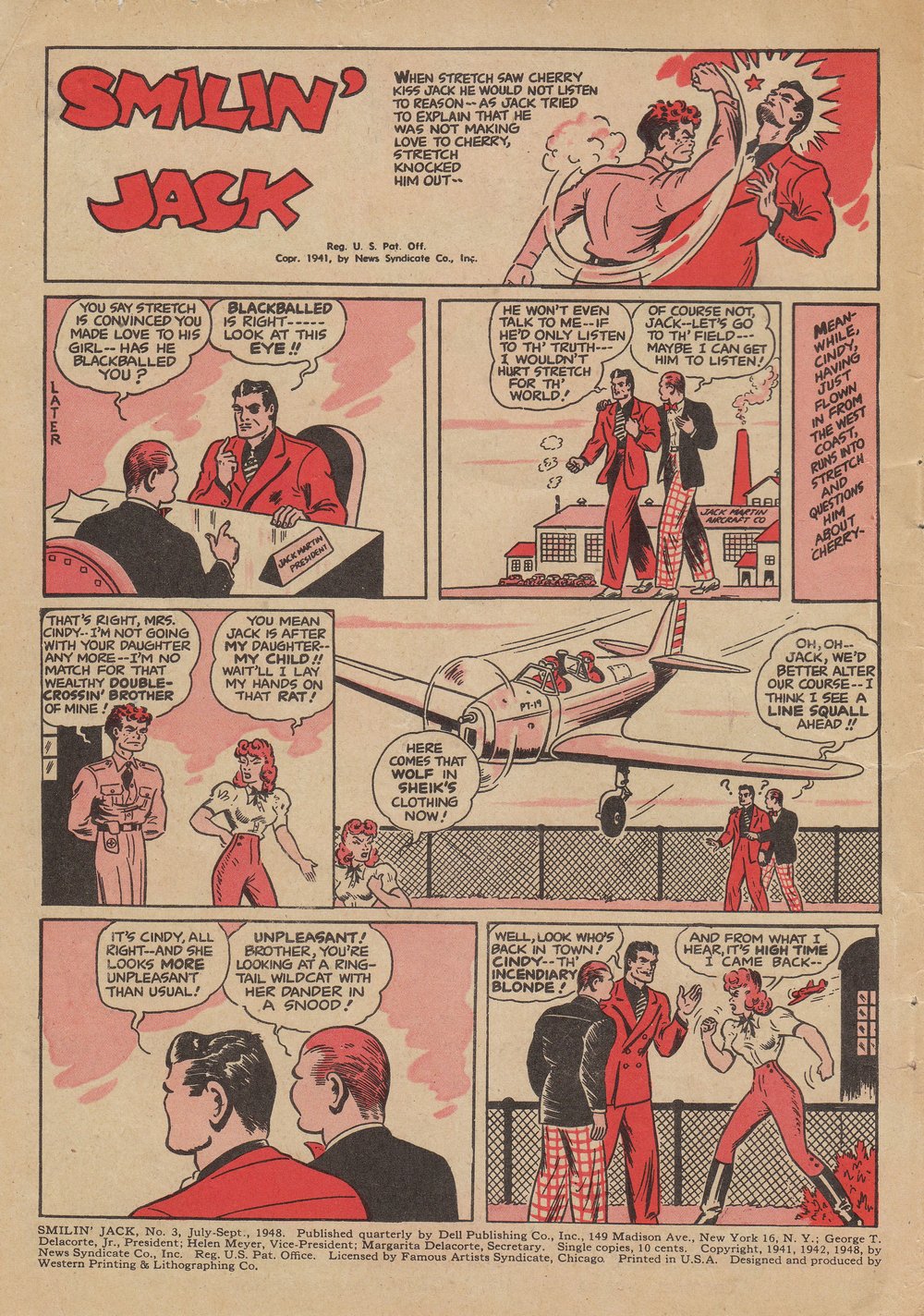 Jack's younger brother Stretch believes he was trying to make a pass at Stretch's girl, Cherry. He tells Cherry's mother Cindy who quickly resorts to violence - more than adequate justification for her later spanking by Jack.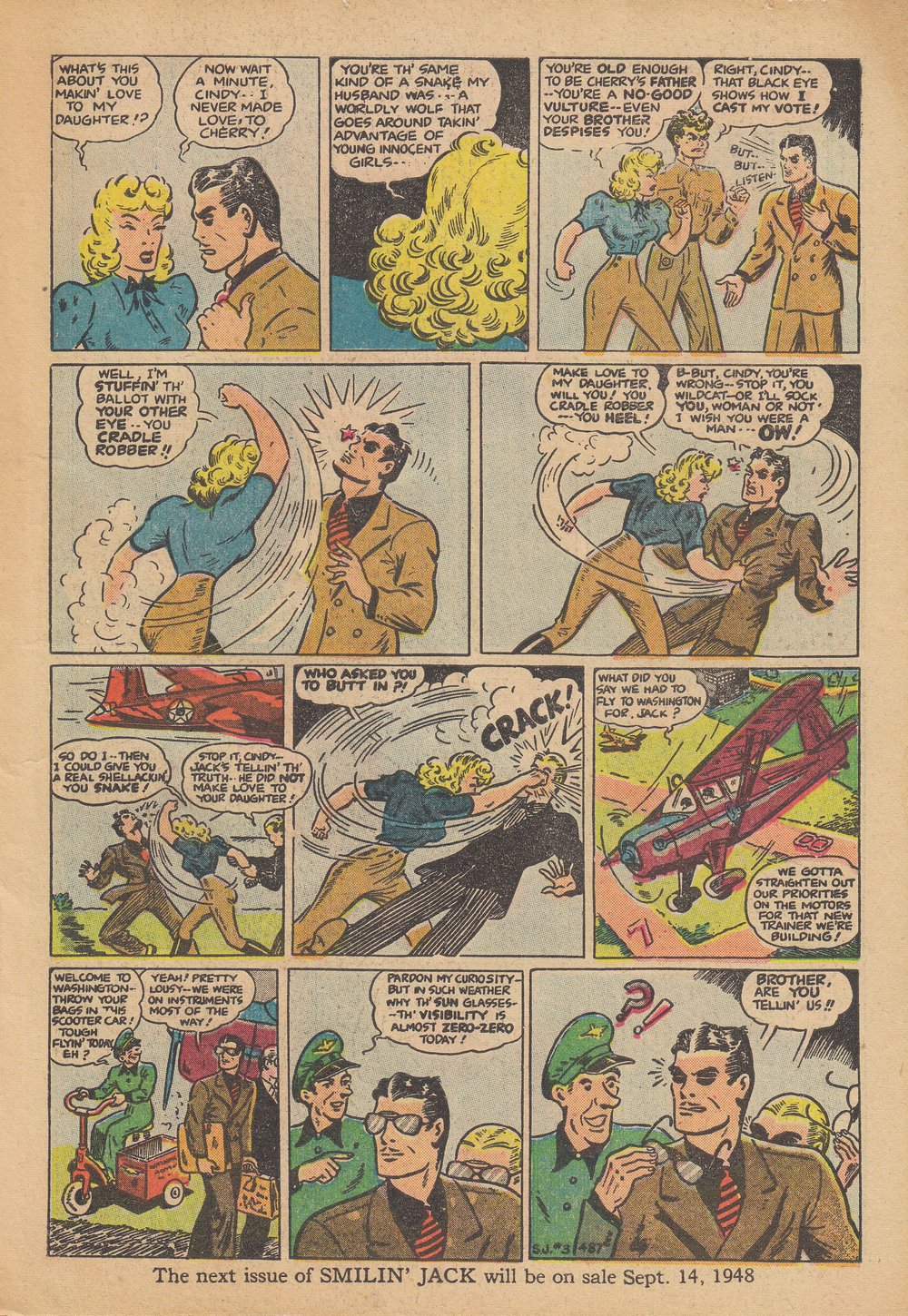 Cherry apparently has some sort of crush on Jack, but her mother is having none of it, and gives Cherry a hairbrush spanking (without the hairbrush in this reprint, as noted above) on the spot.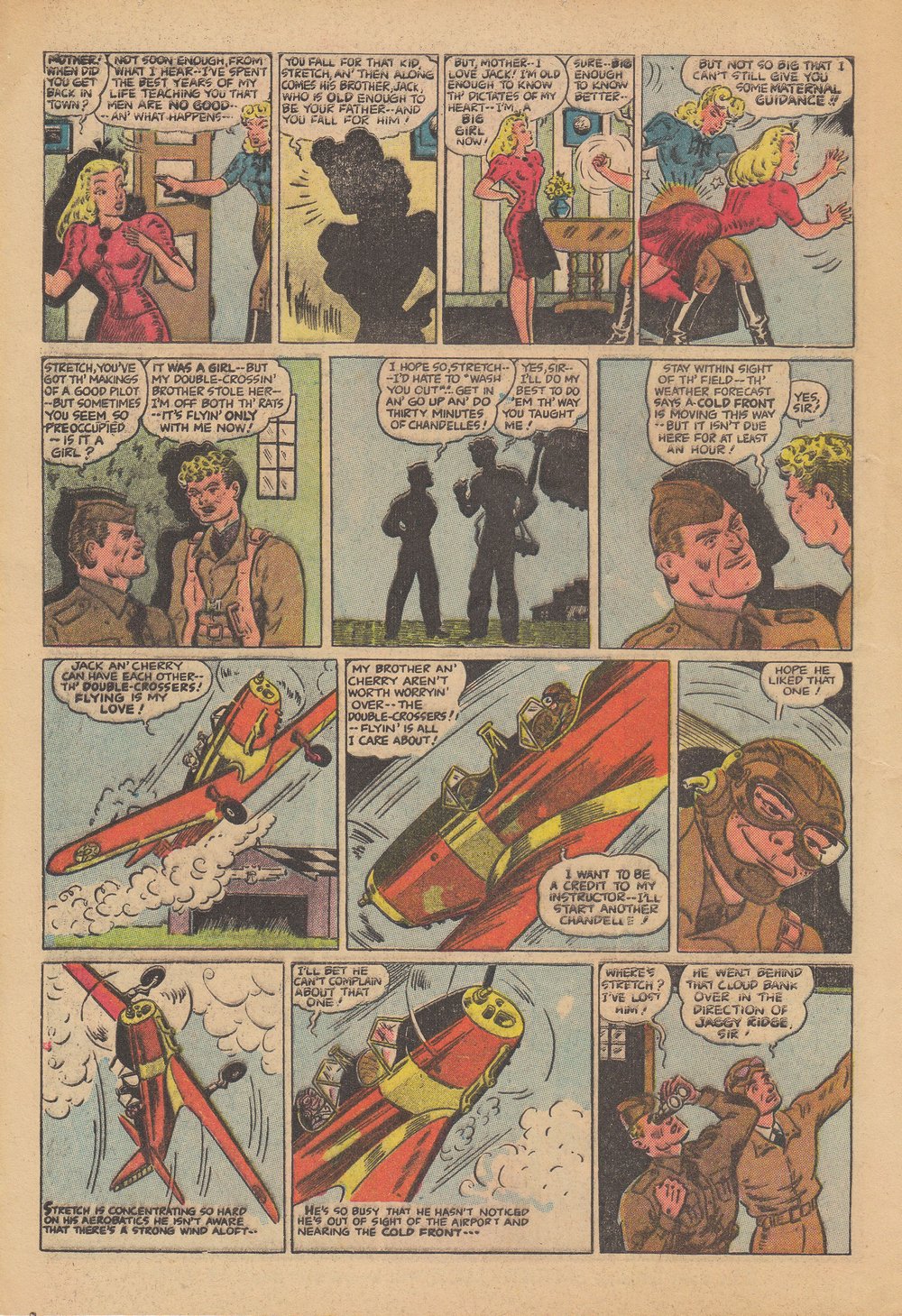 Meanwhile, Jack's brother Stretch, who's a pilot-in-training, manages to get lost in his training plane.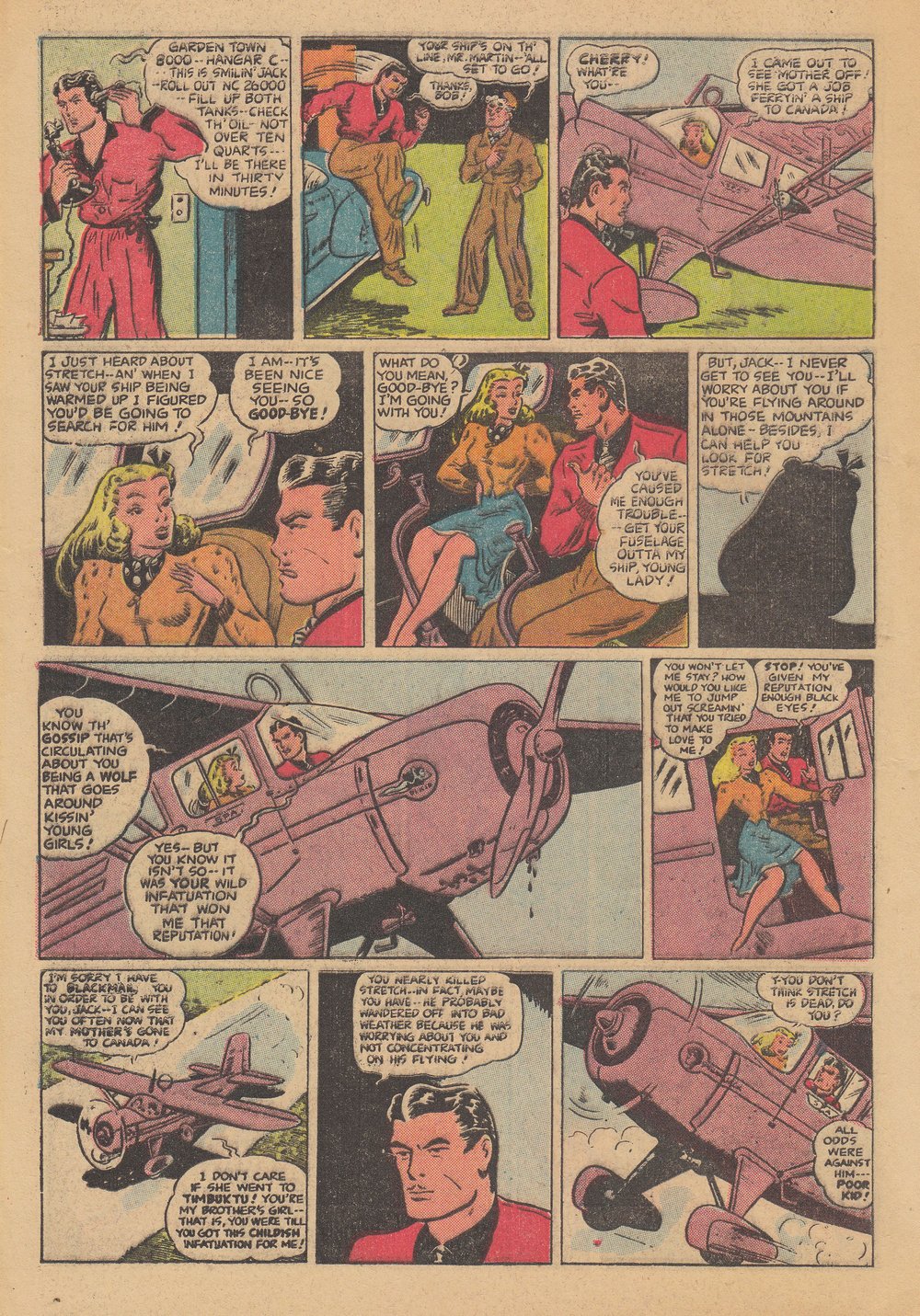 Jack and Cherry go to search for him. Cherry mistakes a mixture control for the cabin heater and manages to force Jack to make a crash landing.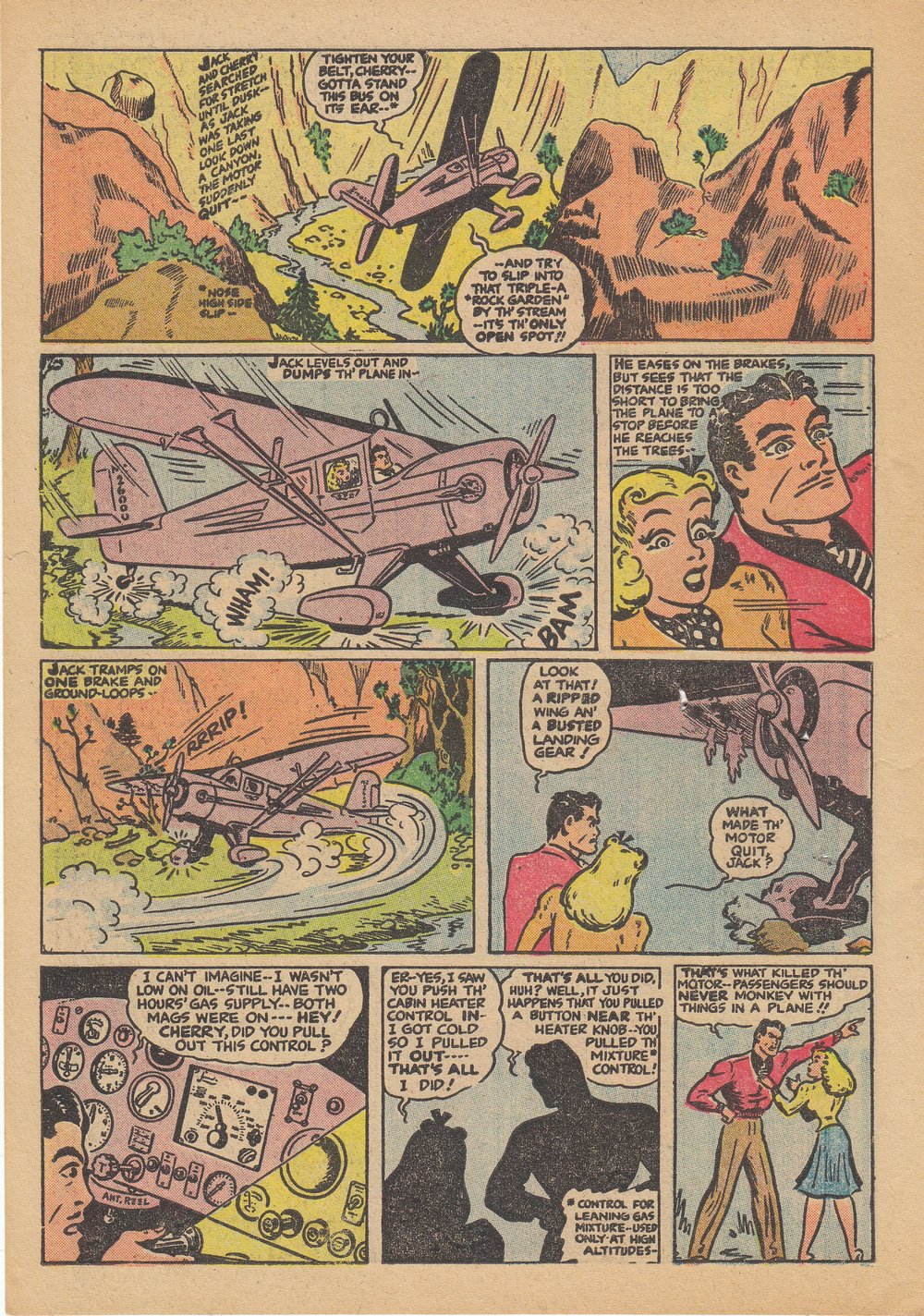 Meanwhile, Cindy has been building up her muscles, the better to beat up Jack again. But this time, after Jack and Cherry repair their plane and make it home, Jack punches Stretch and grabs Cindy's arm when she tries to strike him. And then it's spankin' time!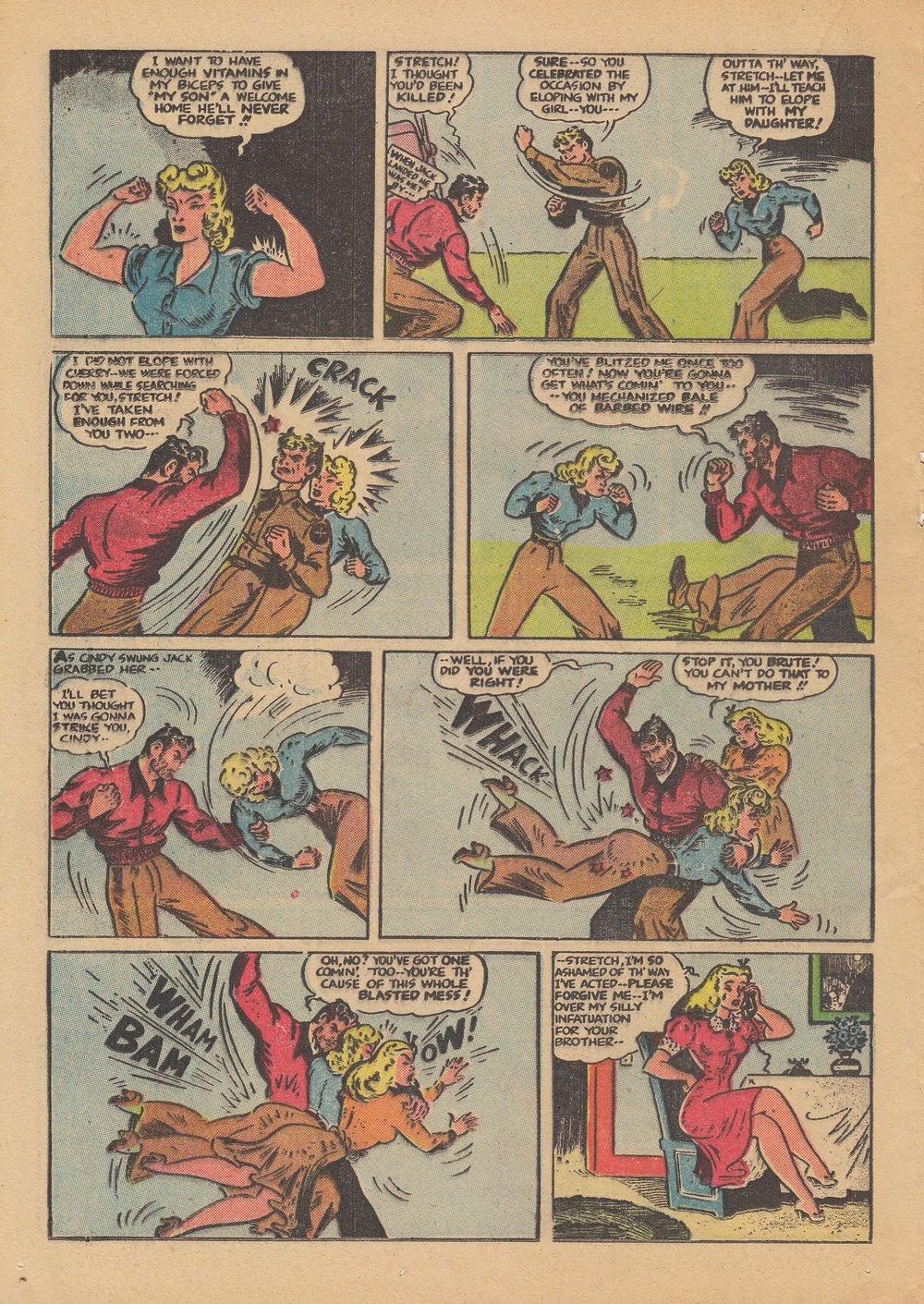 A rare (and well-deserved) double-spanking follows when Cherry protests Jack spanking her mother. Cherry is shown one panel later crying as she calls Stretch (Mosley was never much on elaborate transitions). A pillow underneath her seat would have been a most appropriate addition to the scene. Posted by the Web-Ed on 01/08/2016.