<!- IMAGE ->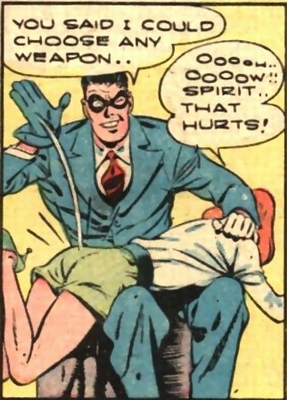 The Spirit here spanks someone other than Ellen Dolan. We didn't know who she was, since there were a lot of women in the strip's long run, until recently when Helena, one of our readers, informed us that the spankee is Diana the Huntress. The strip first appeared on September 13, 1942. Thanks Helena! Good OTK positioning.
<!- IMAGE ->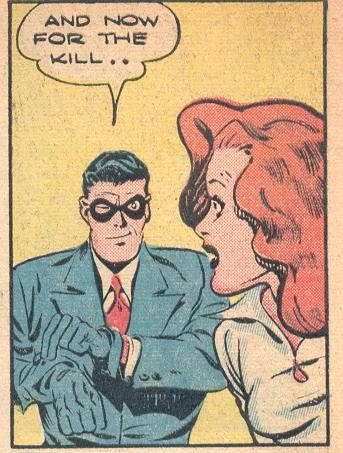 02/05/2010 update: Here is the panel just prior to the spanking. This was not a consensual spanking, but since Diana was trying to kill him, The Spirit was certainly justified in spanking her good and hard. "Let justice be done" we say, when confronted with this type of spanking. But note that Ellen's spanking, where there is an undercurrent of attraction between her and The Spirit, is much more erotic than this one. Her rather juvenile misbehavior there was sufficient to warrant that punishment, but was less serious than Diana's attempt at murder. Also, Ellen's expression and behavior in the panels preceding the spanking were an implicit admission she deserved it.

The art of course is by Will Eisner.