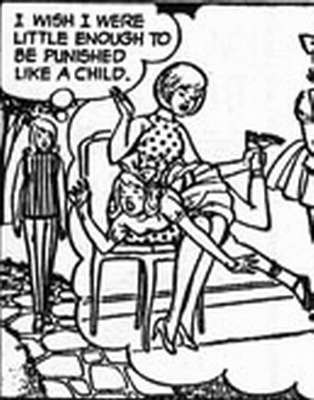 Good OTK position, but Winnie is spanking with the wrong hand, a problem we have seen many times before.
As good as this scene is, we were a little reluctant to present it at first because of our "no child" policy, but after careful examination we realized that Wendy is picturing herself not as a child, but as an adult in child's clothing. We've spanked adult women dressed as schoolgirls ourselves, so no problem!
03/25/2011 Update: After this page appeared, we were notified of several errors by JimC and JS666, and we've corrected these now (we hope). Among other things, we mis-identified Winnie as Wendy's sister! Jim commented that "you would have had to see the whole storyline about how Wendy had come to be punished to appreciate the whole dream sequence." JS666 gave the date of publication, informed us that it was originally in color, and then gave us some more of the strip's history:
"'Winnie Winkle, Breadwinner' started out in the 1920's and portrayed a young woman as the sole support of her working-class family. A lot of the humor was derived from Winnie's incessant , and frequently insufferably priggish social-climbing; she was constantly humiliated by her family, especially her little brother Perry, who ran with a street gang called the Rinky-Dinks. AFAIK, she was never spanked herself -- though she frequently deserved it -- and at least once she had to run from her father in the last panel. By the 40's, she was a successful businesswoman, and she met and married a man named William Wright, with whom she had twins, Billy and Wendy. Mr. Wright (!) came in and out of her life for a while and then disappeared; I don't know if they ever explained it properly. By the mid-60's, the twins were teenagers, and the strip had degenerated into the most preachy and morally self-important strip around. People were laughing AT it. (In one memorable storyline, Billy somehow got mixed up with a delinquent named Mark Lowly, who got him in all sorts of trouble. At one point Billy came to school and was greeted by a kid saying, 'Ha ha! Billy is a truant!') By that time it was more freakish than truly funny, and I'm not sure how much longer it lasted." [Until 1996, I think - Web-Ed]
As always, thanks for the help, guys.