04/20/2018 Update: Once again, CSR Chief Strip Researcher Sweetspot decided to look into this to see if he could solve the mystery. It turns out this spanking was from the strip Miki by Robert Kay. Here are the surrounding episodes with scans and explanatory notes by Sweetspot:
"Henry Twiddle spanks under the influence of a special pill supplied by the title character's diminutive, perhaps magical, Uncle Harry. It reminds us that the spanker in Polly and Her Pals #2 spanked because he was hypnotized. In similar cases Oaky Doaks went on his spanking spree because of Morgana's magic potion, Popeye spanked Olive [#2] controlled by Swee'pea's "royal brainpower" and "Mother" spanked Betty Cooper while possessed under sorcery. I'm not complaining because a spanking is a spanking and these "supplements" merely brought out dormant desires of the previously oppressed."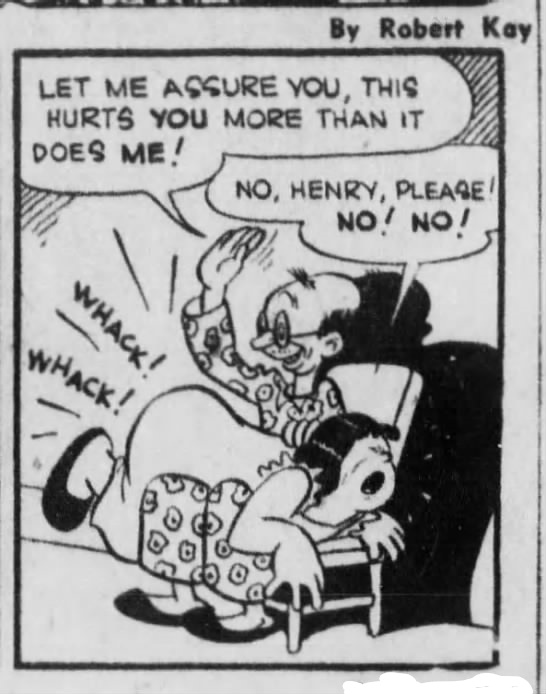 April 22, 1949: Henry uses the same, "this hurts you more than it does me" statement that we previously read in Polly and Her Pals #1 - Sweetspot (click to increase in size).
Web-Ed concludes: Henry and Mr. Mason come across as complete milquetoasts - "Oh no! I couldn't have done that!"
But Sarah Tiddles had no problem with being spanked, admitting she deserved it! And this reminds us of the interesting fact that even some women not into spanking, meaning they don't find the idea very exciting, will accept a spanking under the right circumstances. The "right circumstances" usually means they feel they had it coming. Our estimate is that about one in four women fall into this category. So the next time a woman you know tells you she feels really guilty about something, be bold and tell he she deserves a spanking. If she lowers her head or shows any other sign of recognizing the truth of this statement, go ahead and tell her you're going to take her OTK - she may very well go along.

By the way, Willjohn added this explanation of the phrase "The worm turns":
"It is an old expression regarding oppressed people turning on their oppressors. It was first recorded in a book of proverbs by John Haywood, written as "Treade a worme on the tayle and it must turne agayne." Looks like wifey got her tail more than turned in this case."
Yep, her tail wasn't turned, it was tanned

!

We couldn't find anything more about Miki or Bob McKay, although we do see a resemblance between Uncle Harry and the leprechaun-like character in Mr. Rumbles. (One more link: see the Mr. Rumbles spanking here).