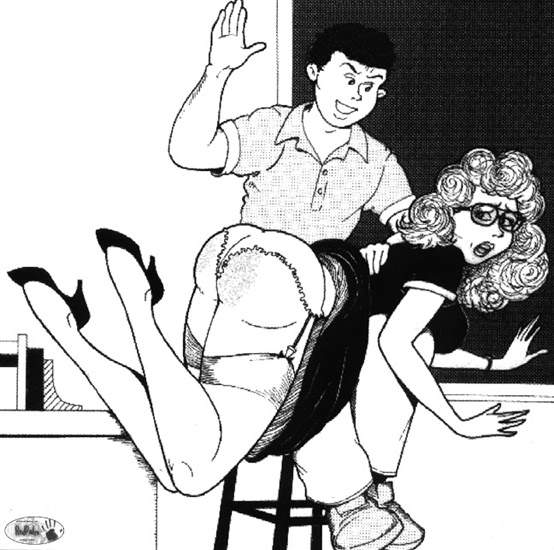 © Dan Rivera. Posted by the Web-Ed on 07/09/2010
Recently we posted Dan Rivera's series Spanky Sal and Captain Woodshed in Comics Page 2. Here we have another cartoon of Dan's. This is similar to the ones of Tommy spanking his teacher, Miss Johnson (there have been several of these you can find on the drawings thread at Chross' forum). It has the "Red Palm" insignia which we have mentioned before and which we cannot trace back to anyone specifically, although we're sure it has nothing to do with Dan.
Every artist grapples with problems both technical and artistic, and this might be a good time to talk about how Dan deals with some of them. Not every work can or should feature bravura drawing technique, and Dan decided to economize, making the most of what he had, concentrating on the basics: keep the figures simple, carefully position the spankee OTK as ideally as possible, and have the spanker lay it on with obvious pleasure, inviting the reader to join in the fun. We think it was a winning strategy, because it works!