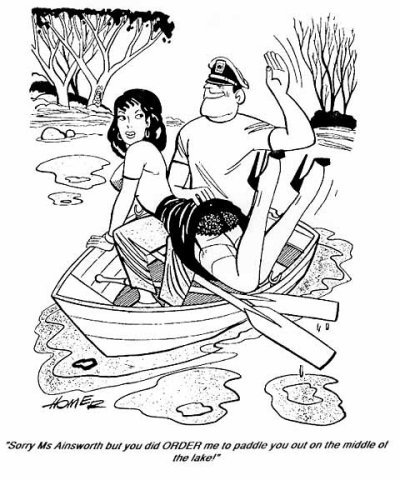 Posted by the Web-Ed on 10/22/2010
The sixth entry in our series on the work of Homer Provence is based on the double meaning of the verb "paddle". It reminds us a little of Groucho Marx in the movie Go West (1940) telling a pretty Indian maid, "Go find a canoe and I'll paddle you!" a fairly risque double-entendre for the day.
"Sorry, Ms. Ainsworth," says our Captain here as he turns her (none too apologetically) over his knee, "But you did order me to paddle you out in the middle of the lake!"
In furtherance of the gag, the spankee's expression is a little startled, so we can't tell if she wants to be spanked like most of Homer's females, or if she just felt obligated to accept the spanking since she did ask for it, and perhaps in more ways than one. This ambiguity is not characteristic of Homer, although the positioning is - OTK with knees bent but no hip flexion (we take this opportunity to mention again how much we hate it when someone like Bill Ward ruins the positioning by allowing flexion at the hip, pulling the buttocks out of line because the thighs are no longer parallel).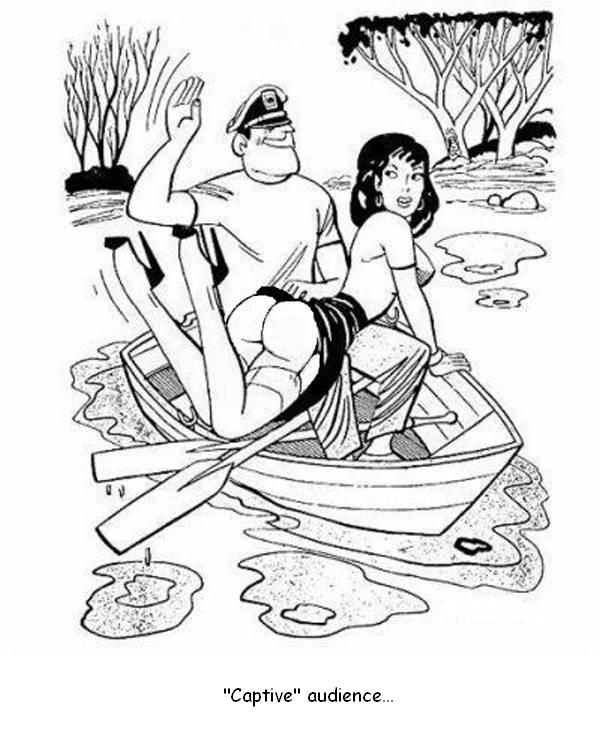 Funbun finds fun in baring the spankee's bum!
Here is an interesting variation on the cartoon above, and this time we know that it was indeed Funbun who made the alterations. In addition to baring the bottom, which adds to the excitement, Funbun also likes to make it a little rounder as he did here. We regard this as a definite improvement, for as much as we like Homer, his angular style resulted in his spankees' bottoms being a little on the flat side for our tastes (as we mentioned in Health Spa Spanking).
Funbun also reversed the drawing, for what reason we can't say, but in any case this is our favorite of all the altered Homer cartoons we have seen.