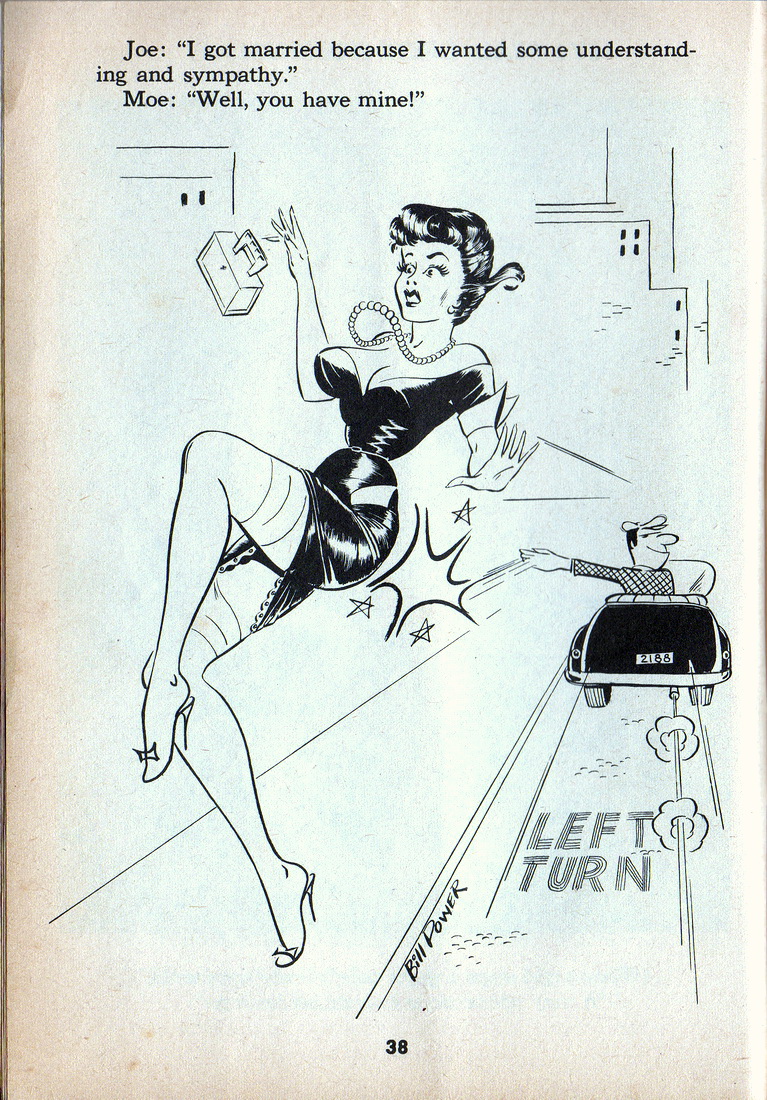 From the October 1962 issue of Laugh Digest. Scanned and posted by the Web-Ed on 08/24/2012 (click to double-size).
This unusual cartoon by Bill Power is a rather late discovery of ours, and it appears here for the first time anywhere on the web. We have seen Power once before, in Secretary Spanking #16, a fairly typical secretary scene except that she's getting spanked for bad punctuation rather than the customary bad spelling. This time, a motorist spanks a pretty pedestrian using the ingenious excuse of signalling a left-hand turn!
It's a clever gag, but the inherent compositional problems are tough to lick. The way it's drawn, the spanker's car is in the distance and doesn't take up too much valuable space, but its momentum carries his hand into her body from the front, not the back. That problem could have beem solved by having the spankee walking in the opposite direction, but then we couldn't see her face. Or Power could have drawn the car travelling in the opposite direction (towards us), but you don't signal a right turn with your right hand, and the motorist couldn't have reached far enough to his right to apply the swat anyway. Drawing a good spanking cartoon can sure be tough sometimes!
We still think that "Bill Power" is a pseudonym, and we still have no idea who he really was. The spankee here is drawn somewhat in the style of Al Capp, but it can't be he because Capp had no interest in spanking and because with an income that was certainly greater than that of The Big Five Plus One combined, he had no need of Abe Goodman's paltry $15.00 per cartoon (maximum) remuneration.