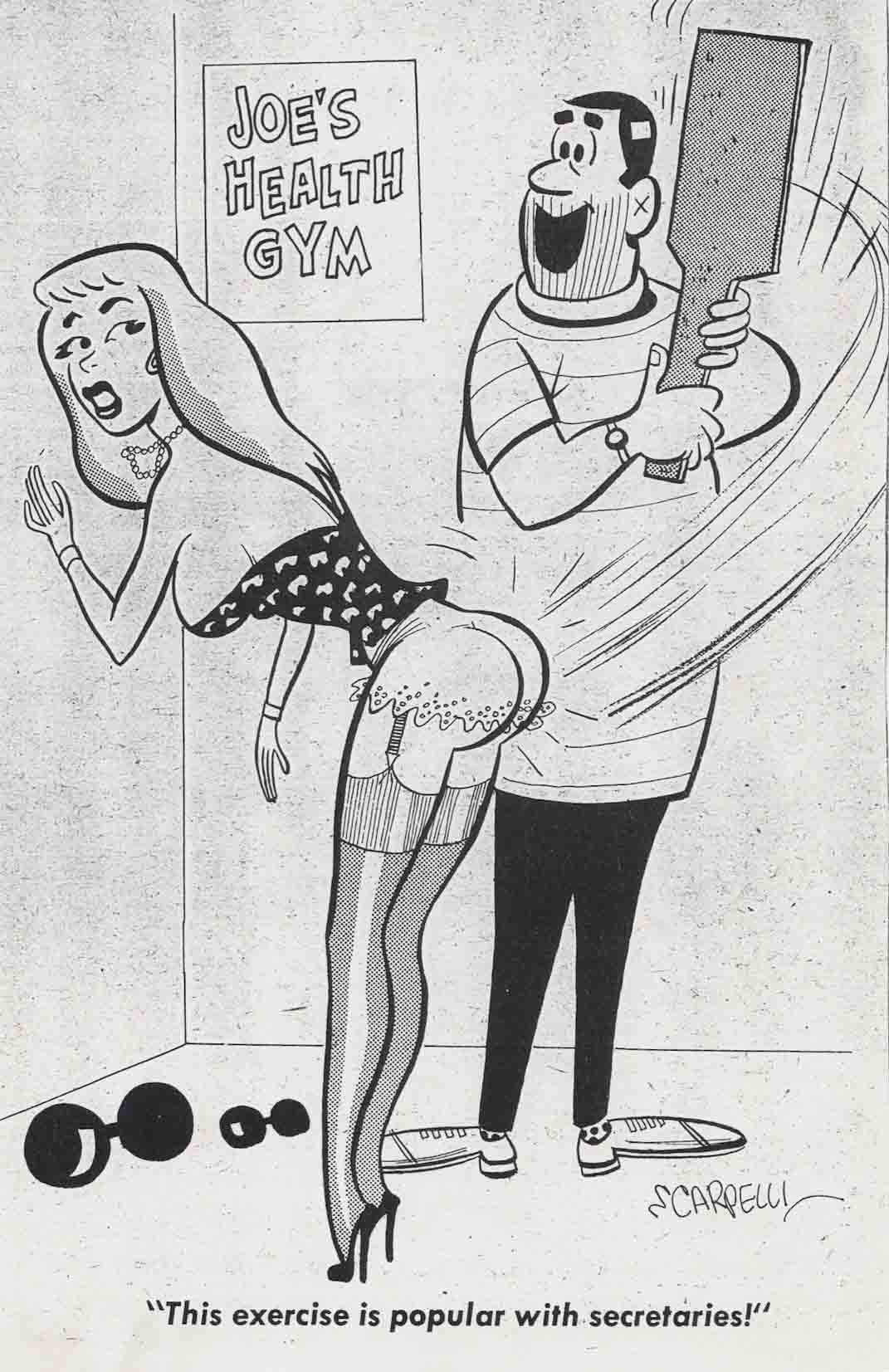 From the collection of Dan Rivera, original digest source unknown. Posted by the Web-Ed on 08/31/2012 (click to triple-size).
Dan Rivera provided this cartoon from his personal collection in a post on the CSR Forums, so now it's time to incorporate it into the Humorama Series. Not only does it have some interest in its own right, thanks to Dan we can now answer a question that was raised back in Secretary Spanking #13. We had thought that one might be by Jack O'Brien, but always questioned its authenticity. It's obvious now that it was actually the same artist who did this cartoon, and that he basically swiped O'Brien's technique.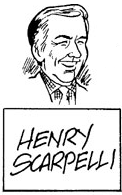 First, who was the artist? Although we resisted this conclusion at first, close examination of the signature reveals he was Henry Scarpelli, who died in 2010 after a long career in comics working mainly on teen humor books. (It would not surprise us if he were the inker on Date With Debbi #3). The strange thing is that as a competent artist had no reason to swipe from O'Brien, unless he were trying to disguise his own style so that the conservative publishing houses he worked for (Archie and DC) wouldn't know he was doing the occasional girlie cartoon for Humorama. But in that case, wouldn't he have used a pseudonym as Frank Beaven (mostly) did rather than a thinly-disguised version of his normal signature? It seems Scarpelli thought of his comics and cartoon work as two separate careers, which in fact they were, and therefore decided to use two slightly different signatures.
As to the cartoon itself, much as we absolutely love bending-over paddlings this one is marred by the spankee not being particularly well-drawn (although her bottom, being swiped from O'Brien, is at least nice and round) and not displaying a clear reaction to the swat. Did it hurt much? Does she believe that it's really a kind of exercise? She looks doubtful, but we can't tell for sure. "This exercise is popular with secretaries!" Maybe this was intended as an in-joke. We suppose that in Humorama-world, secretaries were spanked so often they might have needed this kind of training to keep themselves in condition!