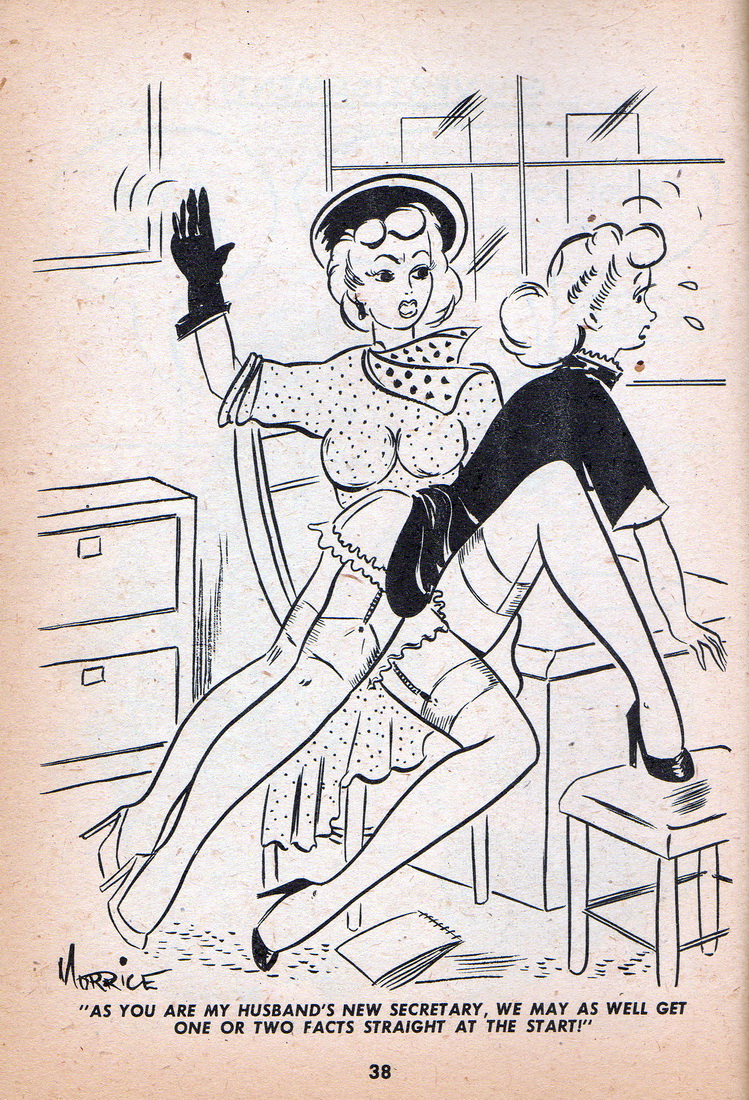 First printed in the April, 1956 issue of Joker. From the collection of and posted by the Web-Ed on 06/14/2013 (click to double-size).
The second of two cartoons by George Morrice we located only days ago in the April 1956 issue of Joker is also the second Humorama spanking cartoon in which the secretary is spanked not by her boss but by the boss's wife! (The first was Secretary Spanking #18 by Bill Ward). The humor derives largely from the fact that after so many secretary spanking cartoons, we've come to expect to see a secretary turned OTK by her boss, so substituting the boss's wife as spanker comes as a surprise. As we've mentioned before, Morrice generally structures his "spankers" around a genuine disciplinary spanking in which the spankee's discomfiture figures prominently, which fits right in with having the wife do the spanking instead of the husband. We've also stated before that we thought Morrice had modeled some of his "spankers" on those of his American colleagues since they were a lot closer to Humorama editor Abe Goodman than he was, but in this case the reverse was true: this cartoon was published a year and a half before Ward's.
Despite being F/F, most of the aspects of this spanking are quite satisfying, and in fact superior to Secretary Spanking #38 which Morrice must have done around the same time since they appeared together in the same digest. To begin with, we have the OTK position, even though the spanker is raising the wrong leg (the one forward relative to the spankee) if either is to be raised, lifting up the spankee's torso instead of her hips. The expressions are also good, with the wife looking very determined and the secretary spankee very humiliated! And humiliating the spankee provides much of the pleasure in spanking, after all.